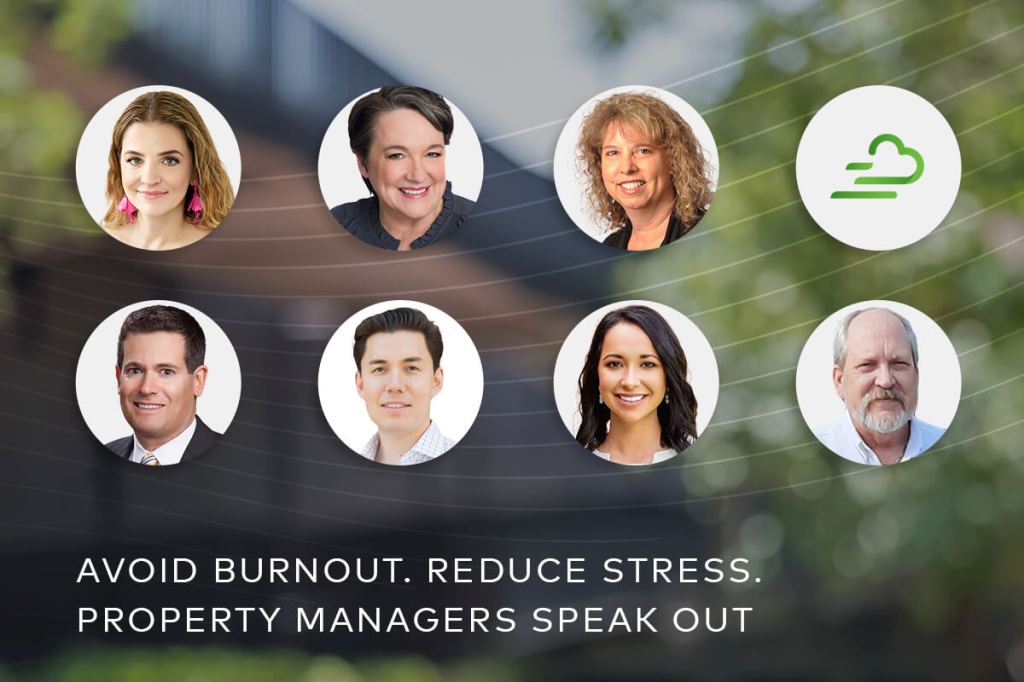 We asked property managers, owners, CEOs and real estate brokers to share how they avoid burnout and reduce stress. All responses are in alphabetical order and represent simple health tips and relaxation ideas for real estate professionals.
This may be surprising, but I find continuous software training helps me avoid burnout and reduce stress. I get excited to learn more about the tech I use every day and feel less stressed when I can better utilize software. When I improve the way I do monotonous tasks, I don't get burned out as quickly and can feel more excited about my day.
Rob Chiang, CEO & property investor
I lean on my life/business coaches to give clarity and reveal the blind spots causing me to feel overwhelmed. For big projects at work, we make sure they are chunked into boxes that are manageable. Personally, I make exercise and proper diet non-negotiable. I don't drink alcohol or take drugs. I make time for self-care (working out, massage, sleeping well, regular checkups). My family and team need me at the top level of my performance potential. Therefore, with a clear mind and energetic body, the "perceived stress" created at work is easily managed.
I enjoy various hobbies and spending time with my kids. We hike, draw, read, play outside, etc. I spend free time mountaineering, hiking, camping, running and just being outdoors. All of these things refresh my soul.
I try to keep myself as organized as possible (lots of lists). If I can view what needs to be done, I feel more in control and less likely to forget things. I keep paper and pen near my bed so when I'm trying to fall asleep, I can write down anything that pops into my head. Once I write it down, I can let it go and sleep.
Pre-pandemic, our office had a small, unleasable office we set up as a workout room. Three or four of us would work out there right after work, which was great. My coworkers made me join them and put down my work. Once COVID-19 hit, no one wanted to work out together in a small room. Now I am big on my yoga practice and go after work consistently during the week. It makes me leave work on time, so I'm not consistently staying late.
However, another way I relieve stress is to stay late on Fridays to get caught up on emails and larger projects I need to complete. It makes me feel good going into the weekend. I try not to work weekends very much anymore.
I have experienced burnout twice in my career, and on both occasions made significant changes to my career path. Each change involved furthering my professional education as well. The new positions also coincided with the development of my children and my involvement in their activities. Most recently, I have divested myself of several businesses and exited partnerships as I work toward retirement.
This has freed me up to engage in non-revenue-producing activities that I find very rewarding. I've been able to get more involved in Rotary projects, providing safe drinking water and sanitation in the Amazon jungle area of Peru. I also serve on the board of directors for a local disabilities and special needs board, tend to the orchard at my property in the Virginia mountains (including new strains of apple and almonds) and help my daughter and son-in-law build a home in his family village in Eastern Morocco.
We work with our team and guide others on ways to start the day, what to do throughout the day to stay at the highest level of productivity and how to wrap things up at the end of the day. We also discuss how to foster a nurtured home environment, a strong connection to a community and physical/mental health. You're welcome to check out our blog for useful tips and articles on these topics.
Avoiding burnout and managing stress is important in our line of work. We are constantly dealing with emergencies and managing personalities so being able to remove yourself from that is essential. I am able to disconnect by running on my treadmill with headphones at full blast or a workout class that builds strength and stamina while upbeat music shoots out the speakers.