Jason Korb owns property management and development company Capstone Communities LLC. His business operates both affordable housing and market-rate housing using the same property management software, Yardi Breeze Premier. We checked in with him to see how our technology is helping Capstone Communities save time and money. Here's what Jason has to say about working smarter in a modern property management office.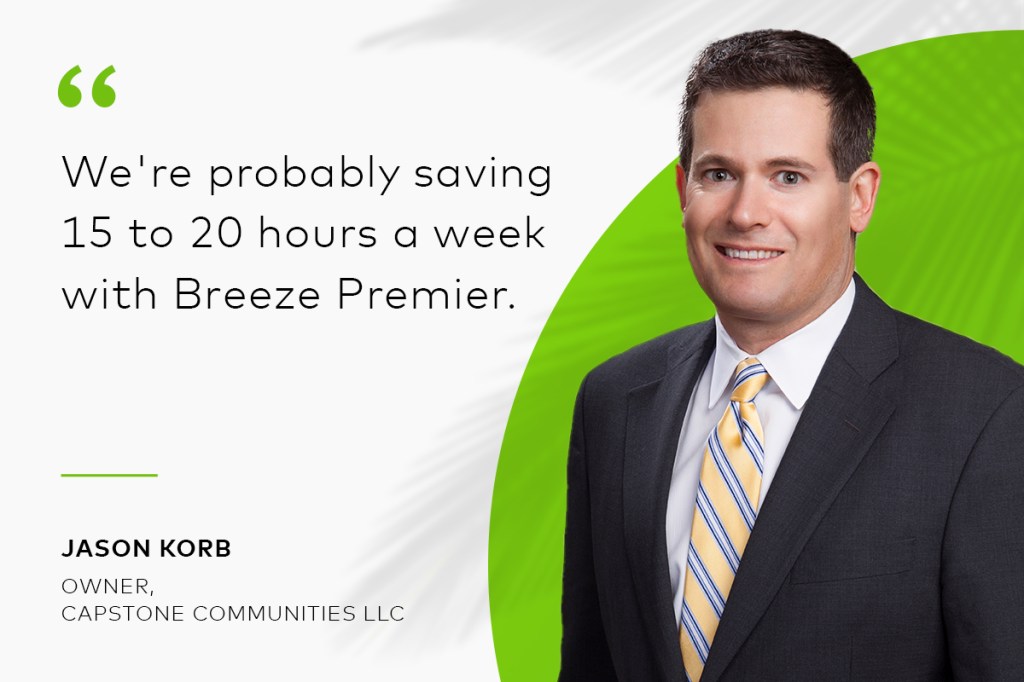 Jason, please tell us a little about your portfolio.
Capstone Communities is a development and management company. Within it, I've built up an affordable housing portfolio and a smaller market-rate portfolio. We use Breeze Premier to help manage and track development work on the affordable side. The software helps us operate all 200 doors under our management.
We really love the automation in Breeze Premier. It makes life a lot easier. For example, some members of my small staff were cutting checks manually at their old jobs. They absolutely don't do anything like that anymore.
Can you measure how much time and money you've saved with property management software?
We're probably saving 15 to 20 hours a week with Breeze Premier. That's a lot for a small company, and it means we're able to do more deals on the development side. I'm also just able to get my life back in a lot of ways. I'm not sitting at home on a Friday night thinking about putting checks together and mailing them one by one.
We've saved a ton of money with the features in Breeze Premier. For instance, we used to send wires between entities at different banks. Now we've eliminated the need to even go to the bank. All you do is push a button in the software and everything happens automatically, so it's really nice. We no longer spend time and money on wire transfers. We no longer spend time and money on wire transfers. Every transfer is $25, and we would do 20 per month. It's almost like Breeze Premier is another employee, and it eliminates errors. That's important because every time there was a calculation error previously, we had to spend a lot of time trying to find and fix it.
Does software play into the long-term growth and development of your business?
I'm always excited to see what else Breeze Premier will roll out. It's probably saved me from having to hire a new employee, and I don't have to review everything as carefully as I used to when we were more manual. I know the data is being automatically — and correctly — processed.
Are there any particular features that you think other property managers will like?
Invoice processing. With Yardi Bill Pay, our invoices are processed very quickly. From the second we get an invoice to when it actually gets paid is a pretty easy process. I don't have to touch it very much. Overall, Breeze Premier has so many automation features that save time and make life that much easier.