We're excited to share Larendee Roos' success with cloud-based property management software. She's been in the self storage industry since the '90s, but her experience goes beyond facility management. Roos Advisors is a dual threat in both the storage industry and as managers of others' portfolios, generating $500,000 a year in self storage revenue and $15 million through their strategic advisory portfolio. On top of that, they are the founders of Centershift, a popular self storage management system that was acquired by Yardi in 2014.
We talked with Larendee about what Yardi Breeze Premier has to offer management businesses like hers. If you're looking for online facility management software to boost efficiency and work from the cloud, you'll want to check out what she has to say.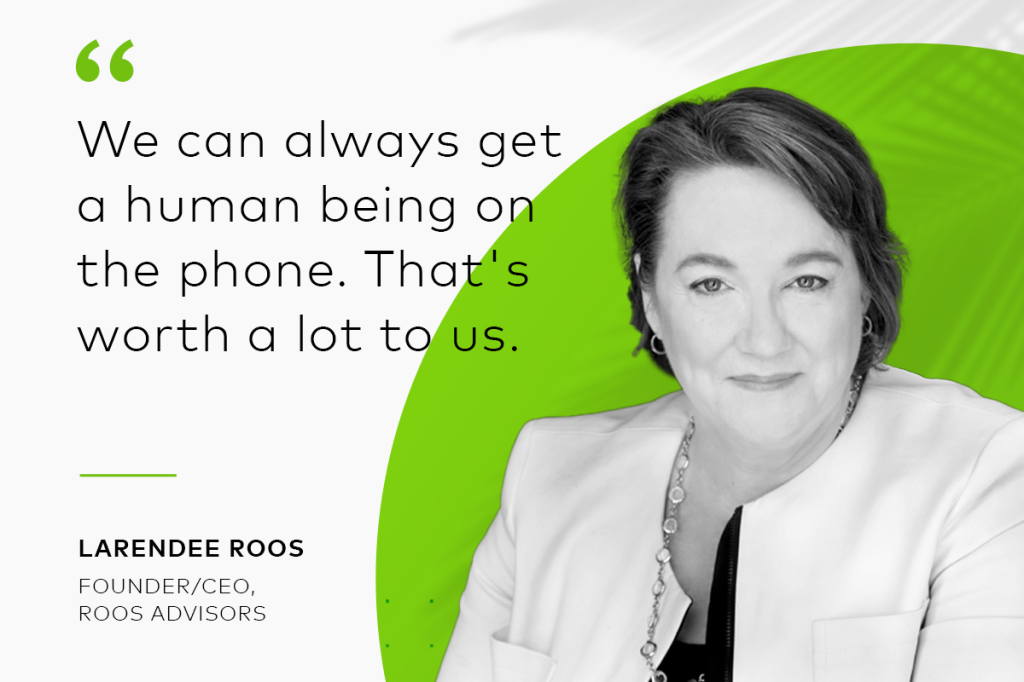 Larendee, please tell us a little about yourself. What's your background, and how long have you been in property management?
I started in property management with a company called Extra Space Storage back in 1986, so I've been doing it for about 35 years. I love property management, I love the self storage industry and I love real estate. People talk about finding your passion. My passion actually found me, and I find it very easy to do my work. And what I've transitioned now to is more strategic advisory, so I'm less day-to-day property management, although we still manage a couple of self storage facilities, and we're very involved on an advisory level with other real estate management companies.
How big is your team?
In our strategic advisory, we have a 10-member team. Four of us use Breeze Premier on a day-to-day basis.
Prior to Breeze Premier, what tools did you use to help market your properties, keep your books, do accounting, generate owner reports, etc.?
For more than 20 years, we were using Centershift prior to converting to Breeze Premier. When Breeze Premier came along, we saw the benefits, ease of use and the full functionality for sales and marketing, so it was a pretty easy choice to transition.
What are some of the benefits you mentioned?
What was really attractive to us with Breeze Premier is that we can give ownership to our customers. They love the fact that they can really take ownership of their payments, how they make those payments, etc. That made it easier for our managers for sure, but it put the responsibility where it should be, and that's with the customer.
Another great aspect is the immediacy of noticing inquiries. Previously, with Centershift, we had to also use a third-party marketing system. So for our website, we had to use a completely different system to meet potential clients. These systems weren't compatible, and they weren't even talking to one another. That just made work harder than it is for us now.
What makes work easier with cloud-based property management software?
Through Breeze Premier, we're able to instantly find out when a customer has shown interest, so we can follow up rapidly. And again, there's continuity in the client lifecycle from the moment of awareness clear through to when they decide that they no longer need storage as a service, so those two factors are really exciting to us.
What else tipped the scales in favor of Breeze Premier?
We were handling all of our customer payment processing and credit card processing outside of our management system. It was one more step, and it became really messy. We found out that Breeze Premier had ACH and credit card processing, and we could choose who paid for those services. That was really helpful for us. It was one more integration that we didn't have to outsource.
Let's talk about your customer service experience.
I work across a number of different platforms. That's one of the things I think is challenging with a lot of web-based based companies. One thing I can say about Breeze Premier is that support is always available. Of course, it has a responsive chat function, but when it comes to more complex issues, whether it's our accountant, site manager or me, we can always get a human being on the phone. That's worth a lot to us.
How has work changed for your team since you've implemented Breeze Premier?
We're able to spend more time on customers rather than account administration. That is the biggest difference because the customer can care for a lot of the administrative factors themselves. Some of our site managers are pretty far removed from day-to-day client interactions, so one of the ways we've been able to keep properties highly occupied is through a high-touch, customer-centric focus. It's just a lot less stress on our managers and a lot more comfort for our bookkeepers to know that the proper controls are in place.
What's the roadmap for the future of your business?
We actually have a few projects in development. We'll retain and manage some of them, and some we'll likely sell to other operators. But we do have a modest development, acquisition and operation plan. Within the next five years, we could be operating 25 properties ourselves that we actually own, and we would be looking to continue to use Breeze Premier as the solution for our day-to-day management.
What would you tell someone who is considering cloud-based property management software?
If you want to solve the customer-centric part of your business, if high customer focus is important for you, Breeze Premier checks that box. It's a system that has all the financial controls you need in place, so you can ensure your investment profits are coming into your pocket.
Yardi keeps its finger on the pulse of the industry, and you definitely want to be with a company that's responsive like that. They're always thinking ahead.
Final question, what's more important, saving time or saving money?
Both time and money are tools for our use. I am learning how to be the master and designer of my business and life using these tools. They are the two things all our clients ask for help with. In both cases, the right mindset, the right knowledge, the right advisors and some patience will get us more than enough of what we need. Both time and money are meant to be spent to benefit our lives and the lives of others.