How do you feel when you get a bad online review? Angry? Surprised? Defeated? These reactions are normal, but negative reviews are not necessarily a bad thing. They let you know which areas of your business can be improved, and they give you a second chance to win over upset customers.
All reviews, good or bad, can impact your business. You can't control what any one person says, but you can manage your online reputation, which includes reviews. With that in mind, let's explore how to get positive property reviews.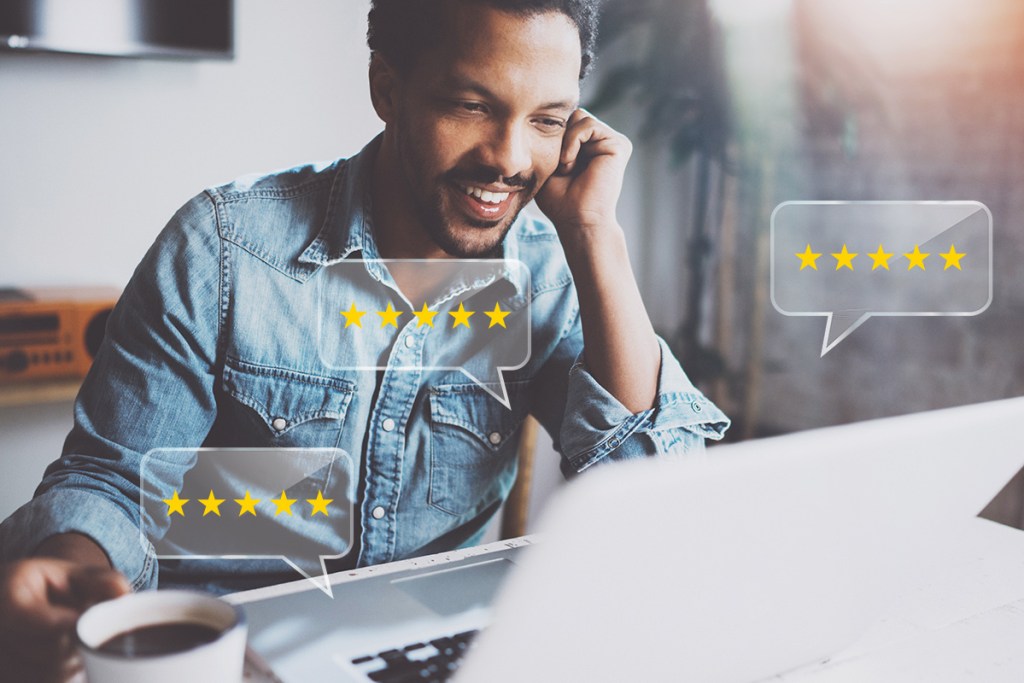 1. Understand the effect of online reviews
About 72% of residential prospects read online property reviews before making a purchase. That means most renters want to know what other renters think, so positive reviews are important for bringing in residents. To earn and maintain a healthy positive-to-negative review ratio, you need to achieve two goals:
Collect as many positive reviews as you can.
Respond to all reviews in a timely and professional manner.
You may have noticed that negative property reviews can be very long and detailed. All those specific details can paint your business in a bad light.
Positive reviews, on the other hand, are often short or say nothing at all—the reviewer just gives you five stars. It's possible that some readers will skim over these brief reviews and linger on the longer negative ones.
To make the good ones stand out, you need to acquire many more positive reviews than negative. Even if the good reviews are short, as long as they are in the majority, your property or business will look good. When you do get a long positive review, treat it like it's a big deal. Be sure to show public online appreciation for this reviewer.
2. Ask your tenants for property reviews
People deserve to know that you work hard to provide great customer service. When you close a deal with a tenant, don't let it stop there: Ask them to review their experience. If you're thinking, "That would never work," consider that 80% of renters say they will post positive reviews if asked. It really is that easy.
It's up to you to ask for good reviews. Your residents are less likely to leave one on their own. Plus, a good review is free marketing and exposure.
3. Respond to negative reviews
It's always easier to talk to people who like you. It's more challenging, but just as important, to interact with someone who is upset with your company on Yelp, ApartmentRatings, Apartmentguide, Facebook, etc. Responding to negative reviews can be tricky, so here are some tips on how to do it.
Validate complaints
Thank negative reviewers for reaching out and always show empathy. You might say, "That sounds frustrating. We'd be upset too if that happened to us."
Bring the conversation to a private place
Nothing looks worse for a brand than a heated back-and-forth with a customer. Let everyone see that you reached out to fix the issue. After expressing empathy, request to continue the conversation one-on-one. Even if they don't message you back, the public will only see your professional response as the final word. This shows you care and increases the chance that others write about their positive experiences.
Let them vent
Some reviews are downright heated in tone and language and may even include incorrect information about your business. Take a deep breath and respond to the review in a professional manner. In many cases, the reviewer will alter their angry tone to match your professional one in return. If you can win them back, that's one more positive property review for you.
Bad reviews can often be changed to good reviews, as long as you fix the problem in a timely manner. Simply ask the tenant if they don't mind updating their review.
4. Accept that bad reviews happen to good people
Your renters want good experiences, but they really want to avoid bad ones. When people have a bad experience, they're more likely to talk about it in person and post a bad review. There's not much you can do to stop this from happening, especially as your business grows and your overall review numbers increase. But that doesn't mean you have to let it hurt your business.
If you handle negative reviews appropriately and encourage people who had positive experiences to leave reviews, you will wind up with more positive property reviews.
5. Time your requests strategically
As with most decisions, timing is everything. You don't propose at your friend's wedding, you don't ask for a raise on your first day of work and you don't roller skate in a buffalo herd. If you read this article and realize that you haven't asked for reviews in a while, it's better to think through the timing than to immediately send an e-blast to all your residents.
When to ask for property reviews
You just settled an issue amicably
A new resident just signed a new lease
You provided rent assistance and the payment plan worked out
A maintenance request was executed to the resident's satisfaction
Your community is enjoying a special event
When any of these above cases apply, ask for a review then and there, while the positive vibes are flowing — don't wait!
When not to ask for property reviews
During a health crisis, natural disaster or other times when residents are struggling
You're unable to accommodate a resident's request
A resident has recently left a review (satisfaction surveys can be sent annually)
Use Breeze to request reviews
Email tools are built right into Yardi Breeze to help you contact residents. These are great tools, but it's important to know when you should email your tenants. If you have property news, tips and tricks or other benefits, it's always a good idea to send an email. This way, you're offering your residents something valuable to them.
Just don't send requests by email too often (or they'll just be ignored). It's also wise to keep all email communications positive. If you have bad news, don't send it through email. Pick up the phone! Keeping your emails positive will increase your chances of getting a good review when you ask.