Recycling offers one of the easiest and most cost-effective ways to reduce waste and live a little greener. Still, not every resident recycles. Maybe the collection point is too far away. Maybe they don't have a bin at home. It's possible they just don't think about it, and recycling may not be a habit they grew up with or adopted over time. If you want to help residents residents recycle, we have some simple (or simply genius) ideas you can use to make it happen.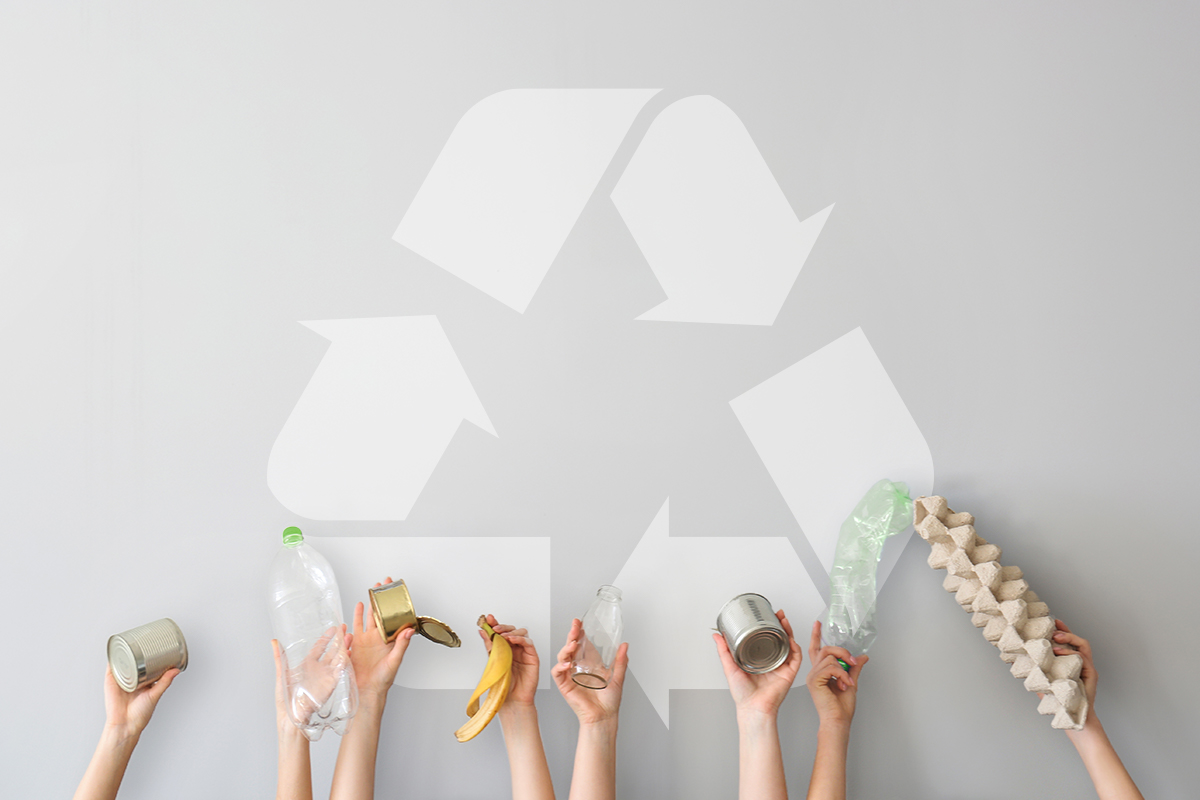 1. Offer residents complimentary recycling bins
There's nothing like a blue bin with those iconic arrows to remind people, "Hey, this thing is for recycling! You should recycle!" Some people put recyclables in paper bags on their counter, but those can tear when overloaded and easily fall apart when wet.
If you have a blue bin ready for your residents on move-in day, you're saving them a trip to the store. It's also a nice gesture and an inexpensive part of a welcome package.
2. Help residents understand what can and cannot be recycled
There are some common misunderstandings about what can go in the recycling bin. If your residents are recycling things willy-nilly, the recycling plant workers will have to sort through it all (by hand, in some cases). That takes time, taxpayer resources and ultimately leads to objects being thrown away and not recycled.
What can usually be recycled?
Paper products
Plastic bottles (emptied and rinsed out)
Clean, empty aluminum cans
Plasticware
Used cleaning products or consumable containers without residue inside
What cannot be recycled?
Anything with food or drink residue
Fruit stickers, packing tape or other adhesives
Grease-soaked bags/pizza boxes
It might be a good idea to make a list of recyclable and non-recyclable items and post it in public places or near the communal recycling bin. Be sure to laminate any sheets of paper to protect them from the elements. You can also email the list via Yardi Breeze or post it to your resident portals. Check with your community's local recycler for specific guidelines. They will usually put this information on easy-to-read posters, their website or other materials.
3. Put a sign on your residents' doors
Looking for a simple but direct way to communicate important messages to your residents? Post signs on their doors reminding them to recycle, where the bins or dumpsters are located, what items can be recycled and what day(s) recycling is collected.
This involves door-to-door activity, so you or someone on your staff will have to do it. If it's not worth the time, you can probably get away with sending the list electronically and/or posting it in public areas (e.g., your main office, laundry room).
4. Encourage composting when possible
We already mentioned that food scraps can't be recycled, but they can be composted. So why compost food scraps and leftovers?
Add nutrients to the soil
Cut down on landfill waste
Prevent trash build-up at your property
Composting is easiest in single-family homes with a backyard because residents can designate a large composting area. This is especially useful for creating nutrient-rich garden soil. However, multifamily residents can compost too. Smaller composting bins are ideal for apartments, and some are made to contain odors so they can be kept indoors. You can help residents recycle by offering a small composting bin as a welcoming move-in gift.
Of course, some cities will compost for you. San Francisco, Boulder, Denver, Seattle and Portland, Oregon collect compost free of charge. Other cities have non-profit and small business programs that may be able to collect your residents' compost.
5. Help residents recycle through motivation
Motivation comes from different sources. When we think about what motivates people to recycle, we probably think of environmental benefits:
Less waste sent to landfills
Energy savings
Reduced pollution
Conservation of resources
We're all about taking positive environmental actions, but there are economic benefits to recycling that are worth mentioning:
757,000 recycling jobs in the United States
$6.7 billion in tax revenue
$36.6 billion in wages
The EPA's Recycling Economic Information (REI) Report has lots of great tips you can use to help residents recycle. Check it out and share some of that data with your residents (we included some stand-out points above).
Final thoughts
Recycling is important to many people, so advertising it on your ILS can help you find the best residents. In fact, millennials and baby boomers are two eco-friendly groups who also make up the majority of all renters in the U.S. It's smart to cater to their interests whenever possible, and recycling services are just one way to stand out from the competition.