If you're wondering what the future of property management has in store, you're not alone. Like you, we want to know what insiders are saying about an industry still grappling with the impacts of COVID-19: What's new, what's working, what isn't and how are property management associations helping facilitate these changes?
We're honored to have the opportunity to share our discussion with Amy Groff, Chief Operating Officer at the National Apartment Association (NAA).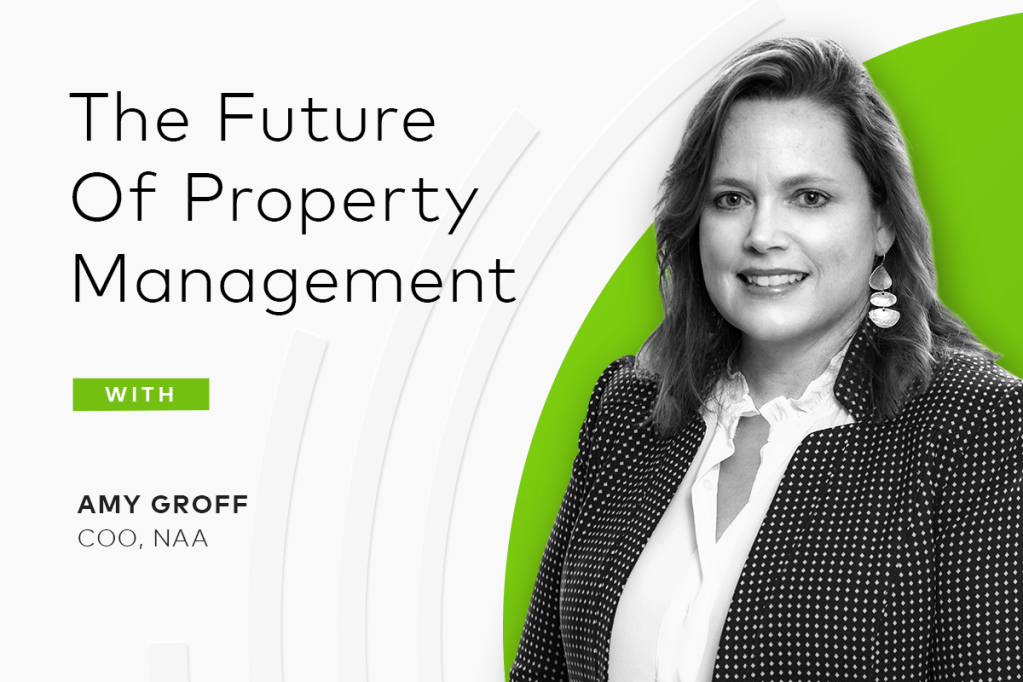 How have industry practices changed since the strictest pandemic restrictions were first enacted in 2020? Do you see all these changes as permanent?
Our industry has weathered tremendous and unprecedented challenges over the past 18 months. Despite these hurdles, the industry has responded with great flexibility and adaptation.
More communities are featuring coworking spaces designed to offer flexibility to residents who are working from home. This change is likely permanent. Along the same lines, many new apartment communities are incorporating in-unit workspaces too, reflecting an adaptation to an ever-changing work environment.
What other adaptations are you seeing?
With the change in working environments, high-speed broadband internet is now a necessity in apartment buildings, and this is certainly a permanent adaptation. Touchless products (faucets, lights, paper towel dispensers, doors, etc.) are becoming more frequent in apartment communities, another change that is likely permanent.
Apartment communities are becoming more flexible in their leasing and marketing, often in the ways that tours are conducted. Instead of all in-person tours, many apartments are providing options in the ways that prospective residents can view their future homes, with virtual tours and self-guided tours as the newest choices. More communities are switching to online rent payment collection. These too are likely permanent changes.
What's a practice that you think has to be eliminated going forward?
In the height of the pandemic, many communities increased their common area cleaning. This is unlikely to continue at the levels seen in the early days of the pandemic. This can be expensive for apartments to maintain, and the CDC has prioritized other prevention methods as more effective in mitigating the spread of disease. Further, it is likely that shift schedules will phase out and onsite teams will work normal schedules on the property.
What should property managers be doing to future-proof their businesses?
The pandemic has underscored that flexibility is key to long-term success. Property managers should consider the following to help ensure that their business is prepared for the future:
Use technology wisely and take advantage of where it can increase operational efficiencies and positively impact customer service.
As the past 18 months have shown us, it is crucial to have reserves in place to allow you to continue to operate in difficult economic times.
As always, businesses should invest in their staff in every way possible (training, career development, compensation, recognition). Your staff is what shapes your apartment community, and they are your greatest asset.
Have hiring practices changed? What should businesses be doing to not only build their team, but retain current talent?
Hiring practices have certainly changed. In many cases, virtual interviewing and onboarding have become the new norm. Further, internal recruitment provides a sustainable path forward for businesses, especially as finding external candidates becomes more difficult. Your internal recruitment should have well-defined and documented processes.
Again, this all emphasizes how critical it is for property managers and businesses to invest in their staff. As a part of this, consider how your team members are motivated and act on these motivations. You might create flexible remote work options or even clear bonus programs so your team can work toward measurable goals and make a lasting impact.
NAA can help you prepare for the future of property management
NAA continues to work alongside its members to proactively foster an industry that is prepared for the changes of today, tomorrow and the future. For instance, NAA's dedicated industry research team is constantly evaluating trends in our field. NAA works to communicate these trends with members through consistent communication and interactive webinars, in addition to live programming each year.
Check it out: Visit NAA's Education & Careers center to find all of their training resources, credential programs and career information. The future of property management is in your hands!