Are you a member of any property management associations? Joining a professional association is a great way to network, gain access to continuing education and stay up to date with industry trends and news.
Keep reading to discover five of our top property management association picks. Learn what makes each one unique and how to become a member.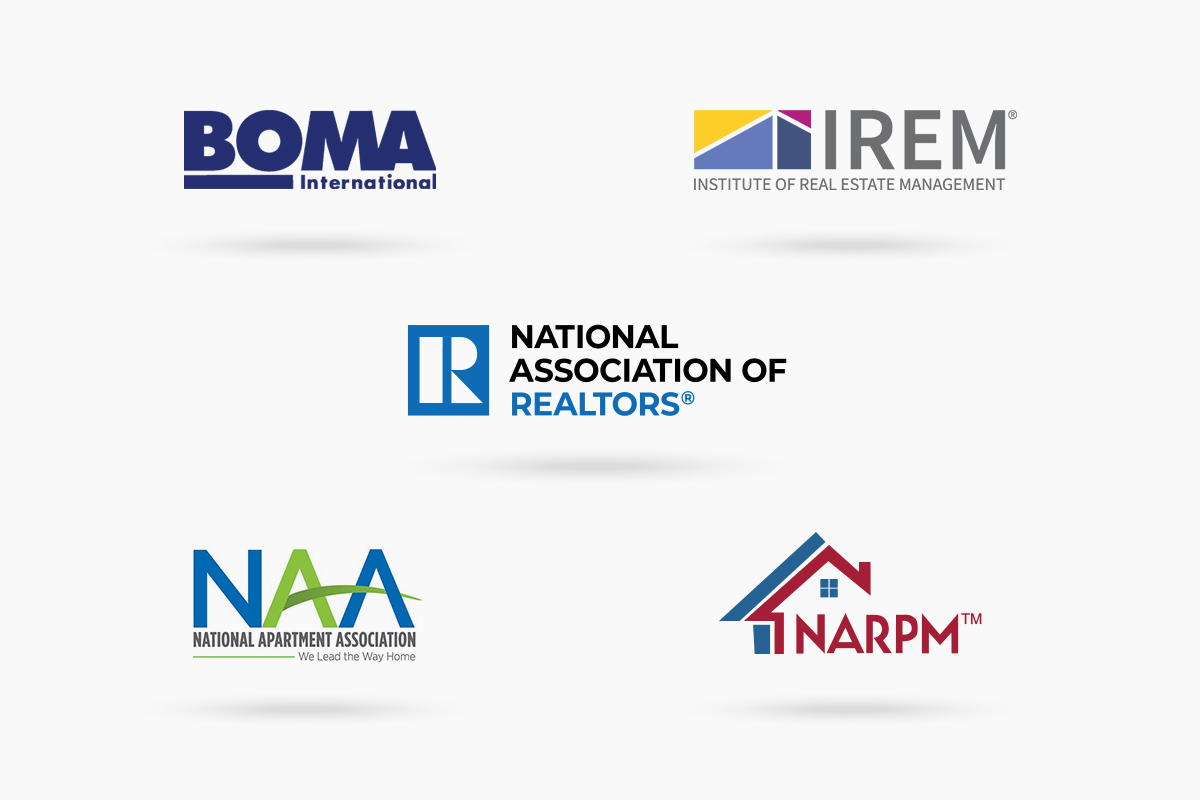 1. BOMA International: Building Owners & Managers Association
Founded in 1907, BOMA is a property management association for commercial real estate professionals. There are BOMA local associations in states across the U.S. as well as multiple international affiliates. The BOMA mission is to "advance a vibrant commercial real estate industry through advocacy, influence and knowledge."
Membership details
BOMA's membership base consists of more than 16,500 commercial real estate professionals, including building owners, managers, developers, leasing professionals, asset managers and more. BOMA delivers professional development programs to meet members' educational needs and protects member interests through legislative advocacy efforts. Membership benefits also include access to industry benchmark research and discounts on industry publications, seminars and programs.
Events
Association events include the BOMA International Conference & Expo, on-demand webinars for continuing professional development credits and specialty education tracks. Check out the BOMA calendar of events.
How to join
Find a BOMA association in your area for dues rates and more information.
2. IREM: Institute of Real Estate Management
IREM is an international community of residential and commercial real estate managers dedicated to promoting ethical business practices, maximizing the value of investment real estate and promoting superior management through education and information sharing. Read the IREM Fact Sheet to learn more.
Membership details
With training, professional development and collaboration, IREM supports its nearly 20,000 members through every stage of their career. IREM members can earn credentials including the Certified Property Manager (CPM) and Accredited Residential Manager (ARM). Both are designed to advance your career, demonstrating a commitment to property management best practices. Also, members receive complimentary or discounted prices on all IREM programs and services.
Events
IREM hosts multiple regional, national and global education and networking events throughout the year. Visit the IREM events page.
How to join
Learn more about the four IREM membership types to choose the one that suits your needs.
3. NAA: National Apartment Association
NAA is a leading voice in the rental housing industry and represents more than 82,000 member companies. NAA's Independent Rental Owner (IRO) program is specifically tailored to individuals who own or manage rental properties. Like many Yardi Breeze users, these are often owners with smaller portfolios who have their own money invested in the property and are actively involved in management.
Membership details
NAA IRO members have access to exclusive education and training, discounts and industry publications. As an IRO member, your member services include webinars, designations and resources specific to your market. Topics range from fair housing concerns and hiring to bed bugs and rent increases.
Events
See the schedule of upcoming NAA meetings, conferences and expositions. Apartmentalize, held in the summer each year, includes programming tailored to independent rental owners.
How to join
Find your local NAA affiliate and get in touch or email [email protected].
4. NAR: National Association of REALTORS®
With over 1.4 million members, NAR is the largest trade association in the United States. Residential and commercial brokers, salespeople, property managers and other real estate professionals belong to one or more of NAR's 1,200 local associations (boards).
Membership details
NAR offers a variety of educational material (training, certifications, continuing education, etc.), advanced research and statistics, professional development and more. Their leadership promotes a strict code of ethics, which guides them as they advocate for political/social causes that matter to their members and help advance the real estate industry.
Events
Check out active and planned NAR events for an in-person or virtual event happening near you. Conferences and trade shows are held at national and local levels.
How to join
It's easy to become a member and join the NAR family. Right away, they'll provide new member orientation as well as programs and services designed to help your business grow.
5. NARPM: National Association of Residential Property Managers
Like its name suggests, NARPM is a professional organization for residential real estate professionals. Founded in 1988, NARPM provides a permanent trade organization for the residential property management industry and currently represents more than 6,000 members comprised of real estate agents, brokers, managers and their staff.
Membership details
Why should you be a NARPM member? NARPM members enjoy a host of membership benefits, like educational opportunities, mentoring and discount programs. Members can earn nationally recognized designations for roles ranging from management and maintenance to bookkeeping and support. Additionally, local chapters host smaller events at the state level to make it easier to get involved, network and access association resources.
Events
NARPM conferences combine speakers, education sessions and networking events coordinated to boost your professional development. The Annual NARPM Convention & Trade Show is one of the most significant conventions and vendor expos for property managers. NARPM State Conferences focus on laws and guidelines specific to the region.
How to join
Submit your NARPM membership application online.
Here at Yardi, we're happy to work with these outstanding property management associations to support their initiatives for real estate owners and managers. If you attend one of their events, there's a good chance you'll see us there! Check out our events page to find out where to meet us next.