One great thing about using Yardi Breeze to manage your properties is that syndicated property listings, application processing and resident portals are included for no extra charge. But what is RentCafe?
RentCafe helps you manage how prospects and residents find and interact with you online. A dedicated RentCafe tab makes it easy to manage which properties appear online. You can also control what information gets displayed. Your property photos, real-time pricing and availability will automatically pull from the Breeze database.
You can use RentCafe to post listings, accept applications and more. In fact, it makes your most important marketing and leasing activities a breeze, including listing syndication, website management, online leasing, resident services, payments, maintenance requests and communications. Keep reading to learn a little more about each one.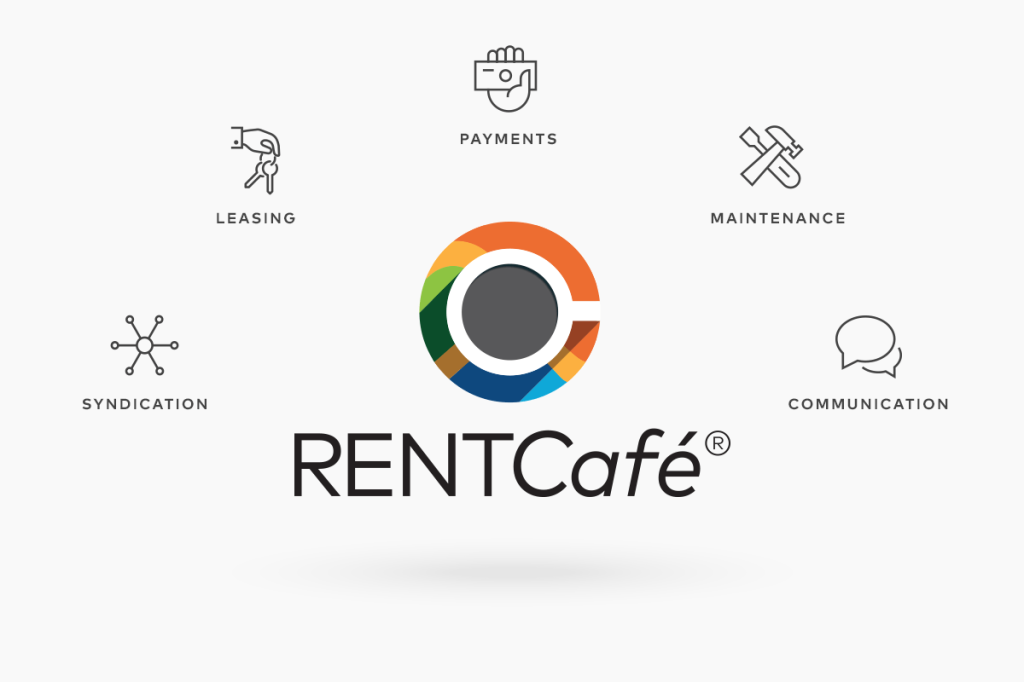 Listing syndication
Listing syndication is a critical marketing tool in today's online rental environment. Using RentCafe, you can automatically post your listings on dozens of internet listing services (including RentCafe.com) to reach thousands of potential renters. It's quick, easy and free.
If the pricing or availability of your rentals change in your Yardi Breeze database, RentCafe will update that information for you on the other websites daily. Let us automate the listing syndication process so you can stop wasting time on duplicate manual data entry.
Online leasing
With RentCafe, you can accept online applications, screen residents (requires ScreeningWorks Pro) and manage leasing too. Online leasing services are more convenient for prospects, allowing them to apply whenever and wherever they want. It also saves you the time and hassle of associated with incomplete, hard-to-read and easily misplaced paper applications.
Once you move a resident in, they can use the RentCafe resident portal to access and review their signed lease documents. You'll never hear, "I lost my copy" again.
Resident services
Offer your residents self-service tools so they can review their balance, pay their rent and submit work order requests via RentCafe's highly adopted and trusted mobile app.
Whenever residents need to check on their account, make a payment or follow up on a maintenance request, they can just open the app on their phone or tablet. Check it out: RentCafe Resident for iOS and RentCafe Resident for Android.
Payments
Online rent payments make it a lot easier for you to collect rent. If a resident is on vacation, out of stamps or doesn't have a check, they can still pay rent on time through RentCafe. Check out these five surprising benefits of online rent payments to see why you should set up electronic payments as soon as possible.
Maintenance requests
RentCafe makes maintenance easier by helping residents submit maintenance requests online. They can describe the issue, add photos and give you access notes on the online work order form. That way you don't have to rely on incomplete notes or panicked voicemail messages.
Your maintenance users can log in to see maintenance requests and post progress updates in real time, so everyone stays in the know without a bunch of back-and-forth calls.
Text communications
Prospects and residents using RentCafe can opt into SMS text notifications, making communications a breeze. Here's a neat fact: Text messages have a 98% open rate, compared to just 20% for emails. That's a pretty convincing reason to use texting to communicate with prospects and residents.
Of course, you can (and should) still use email in Breeze and Breeze Premier!
Corporate websites
For an additional fee, you can implement corporate websites to promote your business online. Attract new prospects by creating individual property marketing sites to showcase what's unique about each of your properties.
Pro tip: You can save time and money by letting Yardi make a professional website for your business.
Do more with Breeze Premier
Yardi Breeze Premier unlocks the full potential of your business. Here's just a little of what happens when you upgrade:
Prioritize follow-up activities using the CRM queue
Work faster with built-in corporate accounting
Control security for all users down to the menu level
Use approval workflows to automate invoice processing
Track job costs and contractor payables
Breeze Premier also unlocks the full potential of RentCafe. Let's take a closer look at three RentCafe features you gain access to with Breeze Premier: two-way texting, property marketing websites and a unique chatbot service called Chat IQ.
Two-way texting
Breeze lets your property management team send text messages to prospects and residents, but Breeze Premier opens up two-way texting. All texts will be displayed in Breeze Premier's CRM Queue for your agents to pick up, review and reply to.
Additional benefits of two-way texting:
Get prospects the answers they need in real time
Keep phone number and contact information for any additional follow-ups
Create prospect records from those conversations directly in Breeze
Send and receive text messages to/from owners, vendors and residents
Use texting to inform residents of scheduled maintenance, inspections, emergencies or even local events (and they can use it to ask questions and get answers in minutes)
Retain permanent records with automatic time stamps on every text message
Text records are a great tool for busy minds. A quick trip through your thread with a resident can jog your memory on that leaky faucet, an issue with a rent check or any other matter that needs attention.
Property marketing websites
Highlight features unique to each property with premium property websites (additional fees apply). Tailor each site using our easily customizable templates. You can pick your theme, color scheme, and use built-in widgets (drag-and-drop items) that make it easy to arrange the sites to your liking. Add videos, photos, social media buttons, contact information and virtually all website content with just a few clicks. Built-in prospect portals offer online applications and the ability to execute leases online with e-signatures. Our new website platform, RENTCaffeine, ensures a mobile-first design, faster page speeds and increased accessibility on your property sites.
Chatbot for prospects & current residents
RentCafe Chat IQ, available as an add-on to Breeze Premier, frees up your staff, letting them focus on higher-value tasks. Our chatbot ensures that all visitors to your site receive prompt and accurate responses to their questions with 24/7 availability. Its powerful artificial intelligence understands typos, improper grammar and multiple phrasings for the same question. It even gets smarter the more it's used!
Going from Breeze to Breeze Premier
If you're already a Breeze user, we simply need to "turn on" Breeze Premier. In many cases, this takes less time than it took to get you set up with Breeze. Ask for a free demo to learn more.
Not a Yardi Breeze user yet? Get in touch and let us show you how we can make property management refreshingly simple.