We just wrapped up our second virtual IRO Summit, co-hosted by NAA and Yardi Breeze. The session lineup tackled some big topics as well some deeper dives into topics related to marketing, leasing, accounting and more. The live chat wall gave attendees an opportunity to ask the session leader questions, and we're truly impressed by many of the discussions that took place there.
Did you miss the event or want to check back on a session you missed? No worries! Here's a quick recap of the IRO Summit and you can view all session recordings on our YouTube playlist.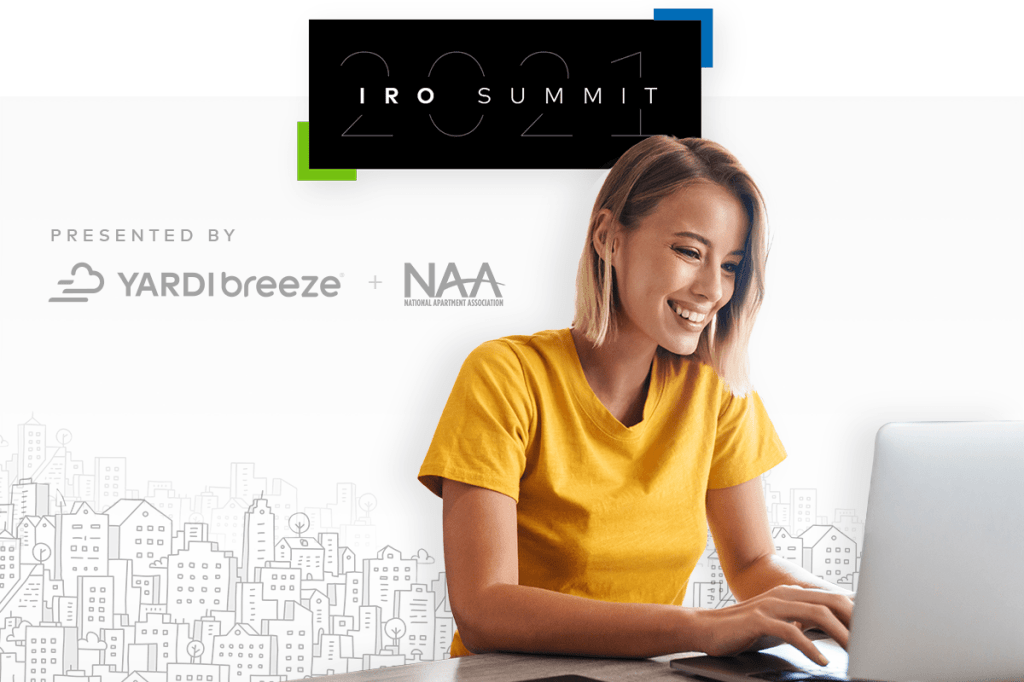 The CDC Order, which stays some residential evictions for nonpayment of rent nationwide, is scheduled to end on June 30 (pending ongoing litigation). Whether the federal eviction moratorium is extended or not, apartment owners and operators must contend with the results. The session covered the latest legislative and regulatory developments and how the industry should operationalize these evolving requirements.
In this session, we explored the current state of the economy and how the recovery is taking shape, including a review of the stimulus bill and its impacts. Hear GDP projections for the rest of the year and learn about consumer inflation concerns as input prices increase and the labor market experiences a K-shaped recovery. This session featured the latest insights and data from Yardi Matrix, the industry's most comprehensive source for market intelligence.
COVID-19 propelled migration out of gateway markets and urban cores as people desired more space at lower costs. Are these trends temporary or permanent? We reviewed migration trends and their longer-term impacts, multifamily fundamentals and occupancy trends for less than 50 units (plus insights from consolidated Yardi Breeze data). Attendees took away a better sense of what's to come, including which markets are poised for the strongest recovery.
Does the thought of creating videos intimidate you? Think you don't have time to manage your portfolio and come up with content promoting your properties on social media? Think again! As an award-winning social media ambassador, national speaker and IRO, "Smart Chick" Megan Orser shared her blueprint on how to create winning content for social media. It's time to get your properties the attention they deserve, discover new prospects and have some fun along the way!
Every IRO shares the same concern: You want to know your prospects are who they say they are. Fraudulent representation and resident safety are routinely listed as major concerns by IROs. We learned the four pillars of fraud prevention and how anyone can apply them to the application process — and beyond — with the same tech tools and best practices used by the largest property managers.
This session explored how to move beyond "checking boxes" and learn to highlight the unique features of your properties. Optimized listings offer prospects and residents an experience that ensures your websites are delivering leads and helping drive retention. If you haven't thought about updating your property and/or corporate-level websites in a while, this session is for you!
Attendees attended this session to brush up on their accounting skills. We uncovered the basics of accounting in a way that's easy to understand, fun and highly informative. Attendees learned about the chart of accounts, got the lowdown on debits and credits, dug into financial statements and covered the differences between "cash" vs. "accrual" accounting.
And finally…
Thank you to our amazing speakers and everyone who attended the IRO Summit. If you're looking for a closer look at Breeze, check out this brief intro video. Or, simply contact us for a custom demo.