Brian Wilkerson is not your average accountant. His real estate management startup is growing, fast. A small business is hard to start in any economic condition, so it's credit to his determination and expertise for seeing it through. Find out how Brian uses Yardi Breeze to best manage challenges and opportunities at Fig Services, LLC.
As he puts it, Breeze has been central to his success, but that's only half the story. Success in commercial real estate comes down to having the right tech, but also knowing how to use it to save your business time and money. 
We'll let Brian tell you how he uses Breeze to better manage the challenges and opportunities in the industry today.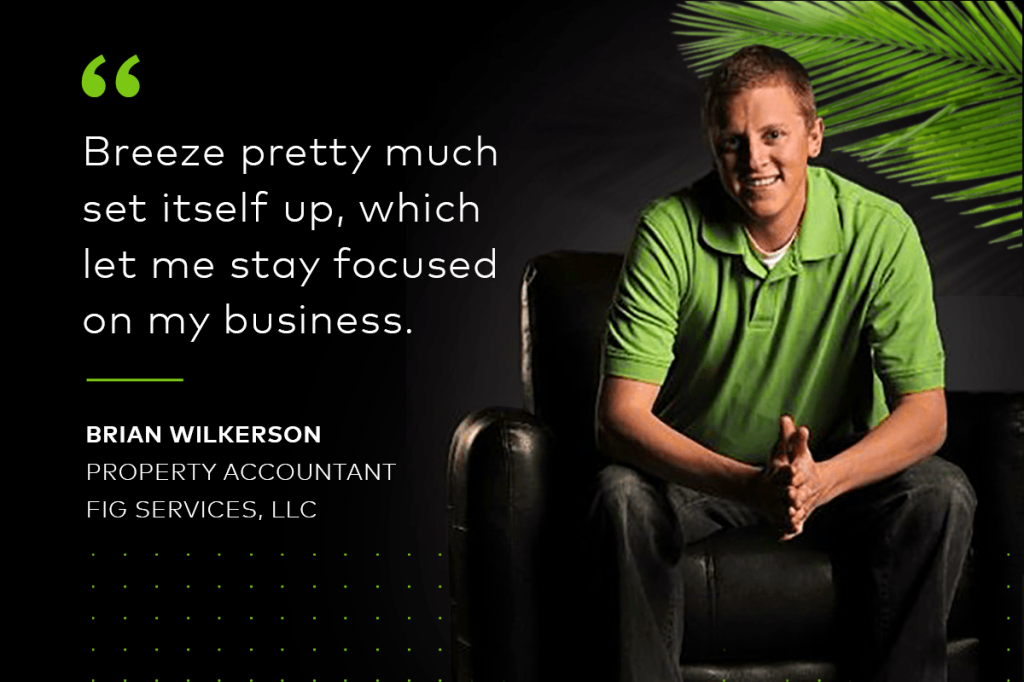 I'd like to start by hearing a little bit about your background and the commercial properties you manage with your new business, Fig Services.
I have been involved in all sorts of real estate, from individually owned houses to industrial spaces and multi-level office buildings. My background's actually in engineering. I went over to accounting, but some of the aspects of managing a property pull on my knowledge base of being an engineer.
Currently, I have one client that has one office building. They have a condo development that's pretty much done and a couple of ancillary businesses that I run through Breeze. The accounting in Breeze is such that I can do everything in the system without having to buy a separate accounting software. It's really helped me focus on growing my business rather than the day-to-day work of running an accounting system.
It's great that your business is growing, especially considering that you started up at a difficult time, September of 2020.
We've been growing over the last few months. We've had some changes with the property itself, cost increases that are starting to pop up, etc. But we've been able to revise our budgets and things like that, so it's been good. We're growing pretty steadily, just slowly adding ancillary companies and services.
How long did setup take?
Really, within a day, maybe two days. Setting up checks is literally so easy because it's all handled for you. All you have to do is make sure they print out correctly.
Breeze pretty much sets itself up, which lets me stay focused on my business, making sure that, as essentially a startup with one client, I could pay the bills.
Have you used systems other than Breeze?
There are other systems out there, accounting and other programs, but they're either not property-related or the interfaces are outdated. I like the clean look of Breeze, and functionally, it's very easy to navigate. I can literally spend minutes versus hours doing what I need to do on the accounting side.
What are the biggest challenges you face now, and how do you overcome them?
Probably the scariest thing is when you go out on your own. Everything's very uncertain, and during the most uncertain times, things can be extra challenging. To manage that anxiety, I made sure that we had some clients to bring on. I also made sure we found the right software at an affordable cost — that was very important to me. I needed to find something quickly, something I was not going to have to take a ton of time to ramp up and get acquainted with.
Breeze was that solution for me. Not only from a price point angle, but just being able to operate and market my business — we can let the system do most of the work. Breeze makes everything very simple and allows me to just focus on the customer. It's allowed my business to grow and my reputation to be upheld.
What changed for you once you adopted Breeze?
One of the things I love about Breeze is that it's really, really functional, really easy to set up and run for anybody that's familiar with properties.
The budgeting process is simple. I can operate anywhere with any sort of basic computer and manipulate reports very easily, whereas with some of these other systems it's kind of burdensome.
Being nimble, that's the most important part for me. I need something that's professional without it costing me an arm and a leg, that allows me to focus on what I do best: getting the right reports and allowing the owners to see how their properties are performing.
Small owners are very cost-conscious. Providing a high level of service with reports that they need — with a very clean dashboard and user interface — is great for me as well.
How do you manage to grow, having come in a time when there was so much uncertainty in commercial real estate?
Breeze is the center point of that. I don't have that huge software cost, and it's nice that Breeze payments are broken out on a monthly basis rather than hitting me all at once for an upfront annual fee. That makes it easy to budget for building your startup.
Have you ever utilized the live chat feature on our website?
All the time. Live chat helps a lot. Breeze is so functional, so easy to navigate, that it's pretty easy to figure out with a little guidance.
I want to ask you about three functions in Breeze that are important to most, if not all, commercial property accountants: batch payments, financial statements and CAM reconciliations.
Just being able to sit down and once a week or so to knock out all these payments, it's hard to beat. So that's batch payments.
Financial payments have been pretty good so far. I can create my own report and report packages, so it's very easy in Breeze. That includes putting cover sheets together and things like that.
I would say one of the areas where I potentially want to look at is a debt service coverage ratio report. At my previous company, the owners I was working for wanted to see that revenues were enough to meet the debt obligation requirements.
CAM reconciliations are something that I needed to have, and it's a big reason why I chose Breeze, but I haven't needed to use them yet. I will, though, soon.
Editor's note: We agreed to check back in with Brian in a few months to see how CAM recoveries went.
Do you expect to use Breeze to work remotely, not just now, but in the years to come?
Yes. Right now, Fig Services is myself and my wife. Being able to work remotely has become something that is important for me. I have five kids, and the youngest is a year old. Working from home, I'm not having to pay the cost of daycare, and if I'm traveling somewhere, I can take everything with me.
Was that something before the pandemic that mattered to you, or did that take a new emphasis?
It took on a new emphasis. In the two hours I was commuting every day, I lost family time. Remote work makes all the difference in the world, and kids grow up so fast.
One of the benefits of remote work, and it's also a drawback in some ways, is that if an owner needs something right away and it's Saturday morning, I can take care of it. I don't have to wait until Monday to go to the office and send out a payment or whatever it is.
So that gives you that customer service edge that all these property managers, all these property accountants are striving for. Being nimble, quick and responsive is what owners want. You can do it quickly, no matter where you are, when your software is in the cloud.
To close out, please share your hard-earned wisdom with the world. Is there anything else you think property managers should know about staying competitive?
One thing I've always done, and it's always helped me grow, is to think outside the box. Things that have been done in the past aren't always the most efficient. You should be constantly striving and thinking, "How can I do this better? Is there something out there that can help me be better, be more efficient, be more cost effective?"
That's how I found Breeze. I started researching and found the right software to help my business be better. Leaving the status quo may not always be easy, but in the long run, it'll help you.
We'd like to thank Brian Wilkerson for giving us his time, as well as the opportunity to share his expertise on the commercial real estate industry, property accounting and Yardi Breeze. This interview was edited for clarity.