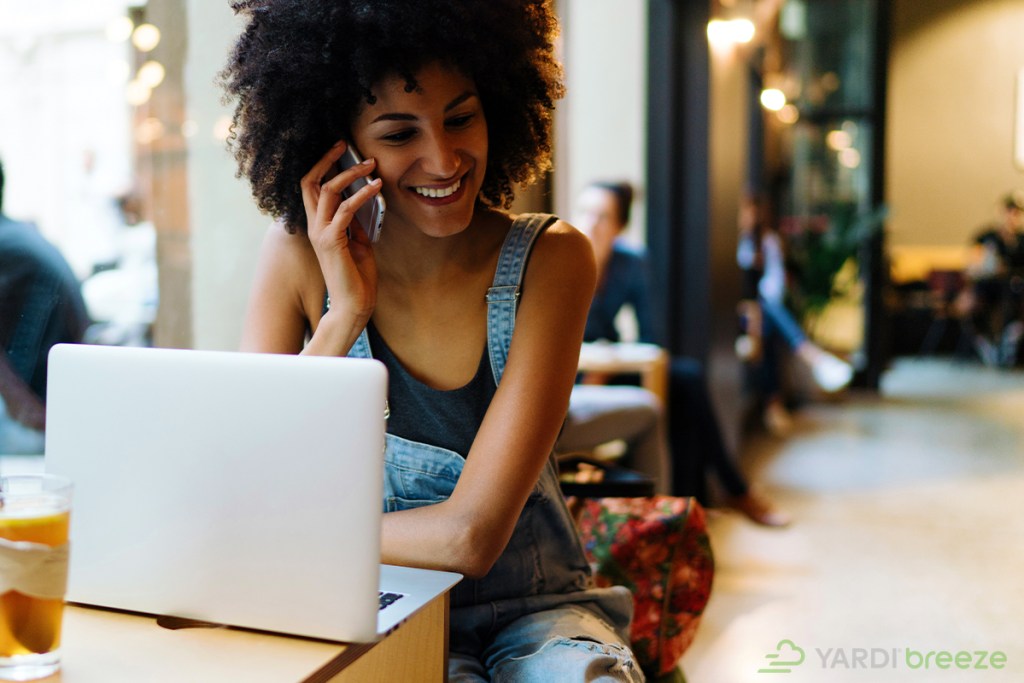 Customer service is important to your business. If you understand this, press 1. Otherwise, press 2. If you're frustrated because hitting numbers on your screen or keyboard doesn't make any sense, and you would like to speak to a property management specialist, please keep reading.
To hear these instructions again, press 0.
I'm sorry, all of our lines are busy. Please try this article again later.
And we're back! If the above scenario felt familiar, then you've probably a bad experience with customer service. There are many reasons to provide better customer service:
Attract more applicants
Improve your reputation
Get better reviews from current tenants
Prevent employees from leaving
Enjoy your daily work life without negative distractions
Increase efficiency and make more money
Let's explore three ways you can provide great customer service for prospects and current tenants.
1. Simplify complex procedures for better customer service
If you use Yardi Breeze to manage your properties, you already have a powerful customer service tool.
So, how can you improve the service aspect of your business?
It's easy! Use your property management software to automate or simplify complex procedures. Here are a few ways software can improve customer service:
Track maintenance requests and keep records for tenants to see and follow
Collect rent and process payments automatically—less hassle for you, your staff and your tenants
Communicate via text or email through the software for fast, professional responses
Generate easy-to-read owner reports (owners aren't customers, per se, but it's important to provide them with great service too)
By the way, our software offers one way to provide you with great customer service (if we do say so ourselves). Have you ever used our live chat? It's free and can be used as much as you like.
Without this user-friendly feature, customer service would be a longer, more complicated procedure.
2. Ensure you and your staff are trained on all software
Once your software is up and running, your office is going to need to know how it works. Luckily, Yardi Breeze lets you set up user roles, so each staff member can have access based on their position.
If you need help, Yardi Breeze has a built-in Help Center that's full of videos, tutorials and help pages.
The Help Center makes training easier. If your staff is using it, they won't have to track you down for help with every little thing. In turn, they will be able to provide better customer service for your tenants.
Remember, good software should be easy to use and provide training resources, but it is important that you and your staff take the time to learn and use all the features. That's the best way to provide great customer service.
3. Don't let software replace human interaction
Property management software can automate workflows and speed up processes. But it's not a replacement for human interaction.
Think about it this way: Have you ever heard of someone leaving a positive property review because the they liked a company's automated emails? Consider this highly unlikely review:
"The emails they sent were so timely! Definitely recommend!"
Property managers are most likely to earn great online reviews when they go above and beyond for their prospects and tenants, connecting on a personal level.
Technology will help streamline the daily work, but it doesn't do the work for you. For instance, tenant portals make it easy to collect payments and track maintenance requests. But if the service goes undone or gets delayed for too long, people aren't going to blame the technology – they'll be looking at the property manager.
The good news is that, used correctly, software will free you and your staff up from time-consuming manual tasks. This means you'll have more time for meaningful interactions with your residents and prospects. Take advantage of this by identifying some positive actions you can take every week, whether it's walking the property and greeting renters by name or hosting a tenant reception hour in your office.
In this business, the best customer service combines easy-to-use technology with outstanding human interaction. Press 1 if you agree.