The internet is a treasure trove of questions and answers on property management. We delved into Reddit to find the most common questions property managers are asking other property managers. We thought it might be helpful to take those questions, consult with experts and assemble the answers here in one place. (It's better than scrolling through Reddit threads.)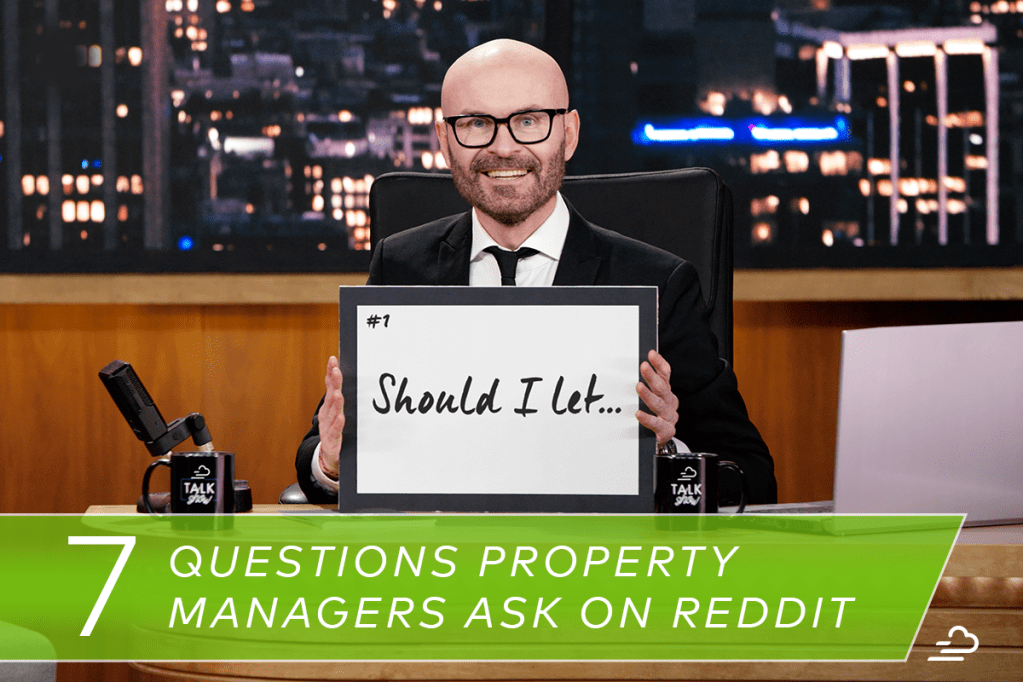 1. Should I let the real estate agent who found my prospect handle resident screening?
This is probably not a good idea. The property manager is the one responsible for the protection of the property, not the referring third-party entity. The real estate agent doesn't have to live with the consequences of making an error in judgment. If you have the right property management software, screening will integrate with your platform for fast, affordable and accurate screening results.
2. What should I do about all these applications for emotional support animals?
It's not just your imagination! Emotional support animals (ESAs) are increasingly common. Approximately one in five renters (20%) has one. We actually wrote our most popular article on the subject, covering what landlords need to know about ESAs.
The short version
If a licensed mental health professional has prescribed an emotional support animal, they should write you a letter on official letterhead. Save this letter for your records and log it in your property management software. Beyond that, there isn't much you can do. Never ask for details about an individual's need for the animal, as this is a violation of fair housing rights.
Don't call them pets
Emotional support animals, like service animals, are not categorized as pets. It is best to avoid that word when discussing them with prospects and residents. However, if you do allow pets at your property, you don't have to worry about obtaining a letter from a medical professional or dealing with upset tenants who think your no-pet policy is not being administered equally.
If anyone asks why someone else is allowed to have an animal, just say something like, "Thank you for bringing this to our attention. However, we may not be able to follow up with you." Don't say anything that could imply the person has an assistance animal or disability. Even a vague implication can be a Fair Housing Act violation.
3. Should I let a resident pay six months of rent up front instead of showing proof of employment?
It's ultimately up to you to make the call on this. There are pros and cons to accepting or rejecting a request for upfront payment.
Pros
You guarantee that rent income for a set amount of time
It's easier to track their payments
You can rent to someone with little or no rental history
Cons
Evictions can be complicated to handle
Balancing your books (and tax considerations) will involve extra work
You cannot increase the rent for the time they've prepaid
4. What should I do with previous tenants' mail that keeps arriving?
The important thing is to never open someone else's mail. This is a felony. Additionally, you don't want to ignore their mail, as this can have legal complications as well.
There are some simple actions you can take to correct the situation. For instance, you can always take the mail to the post office and tell them this person no longer lives at the address.
But there's an easier way!
Take a pen and put an X over the recipient's address, taking care to ensure it's still legible. Write "Return to sender" or "RTS" on the envelope, then put the letter with your outgoing mail. The mail carrier and post office will handle it from there.
5. My email was hacked. I can't recover important files. What can I do?
A hacked email account is a damaging situation personally and professionally. It's invasive of your privacy and may compromise sensitive data. There are three steps you should take.
Contact your local police to file a report, but don't dial an emergency line unless there is an immediate physical threat to you or others
Report internet crime to the IC3, a division of the FBI
Consult your attorney for specific advice on next steps
Preventative measures can (and should) be taken to protect your data. For example, cloud-based property management software such as Yardi Breeze Premier is especially useful. Not only can you store important, sensitive information in the cloud (getting it out of your email inbox), the best software platforms will also let you control security for all your employees at the menu level. That means you can set up specific roles (e.g., leasing, maintenance, accounting, admin) with access to only the data pertinent to a given role. This helps you monitor who sees what within your software.
6. I feel like I'm on the verge of burnout. Is there anything I can do to keep my sanity?
As a housing provider, you are the one on call when emergencies pop up. Emotions can run high, and you may find yourself on the receiving end of harmful myths about the rental industry.
However, it's possible to be a dedicated property management without suffering from burnout. Beyond "expecting the unexpected," here are a few quick tips (which might not apply to remote workers):
Go for a short walk once or twice a day to listen to music or just enjoy the quiet (not to answer calls and schedule property visits)
Take a full lunch every day
Drink a lot of water
Eat healthy snacks
Pack your lunch to save money (but go out once a week with colleagues)
Be kind to people
Automate repetitive, time-consuming tasks
Let's look at that last point a little closer. If you're constantly balancing your accounts, updating listings, creating monthly reports and manually paying bills, we can only guess how many hours you're working that could be spent reclaiming your sanity. This is another area where property management software is a time saver and stress reliever.
7. Where can I talk with other property managers about my problems, ideas, successes, funny stories & everything else?
If you're looking for community responses, there is no shortage of information (and entertainment) on the internet. But is it trustworthy? It can be hard to say. For professional resources, training and networking, check out a local chapter of a property management association that suits your business.
Disclaimer
Please note that this article does not constitute or replace professional legal, financial and/or health advice. We hope this information is helpful, and we encourage you to do more research. Consult federal and state law as well as your attorney before taking any action requiring legal input.