In early 2020, we introduced Yardi Breeze Premier, a refreshingly simple software upgrade to Yardi Breeze. And just a few short months later, the April release of Breeze Premier packs an even bigger punch. If your business requires more advanced accounting, CRM, marketing, leasing and operations functionality, we encourage you to check out Breeze Premier — even if you're already a Breeze user.
Here are some signs that you should consider Breeze Premier.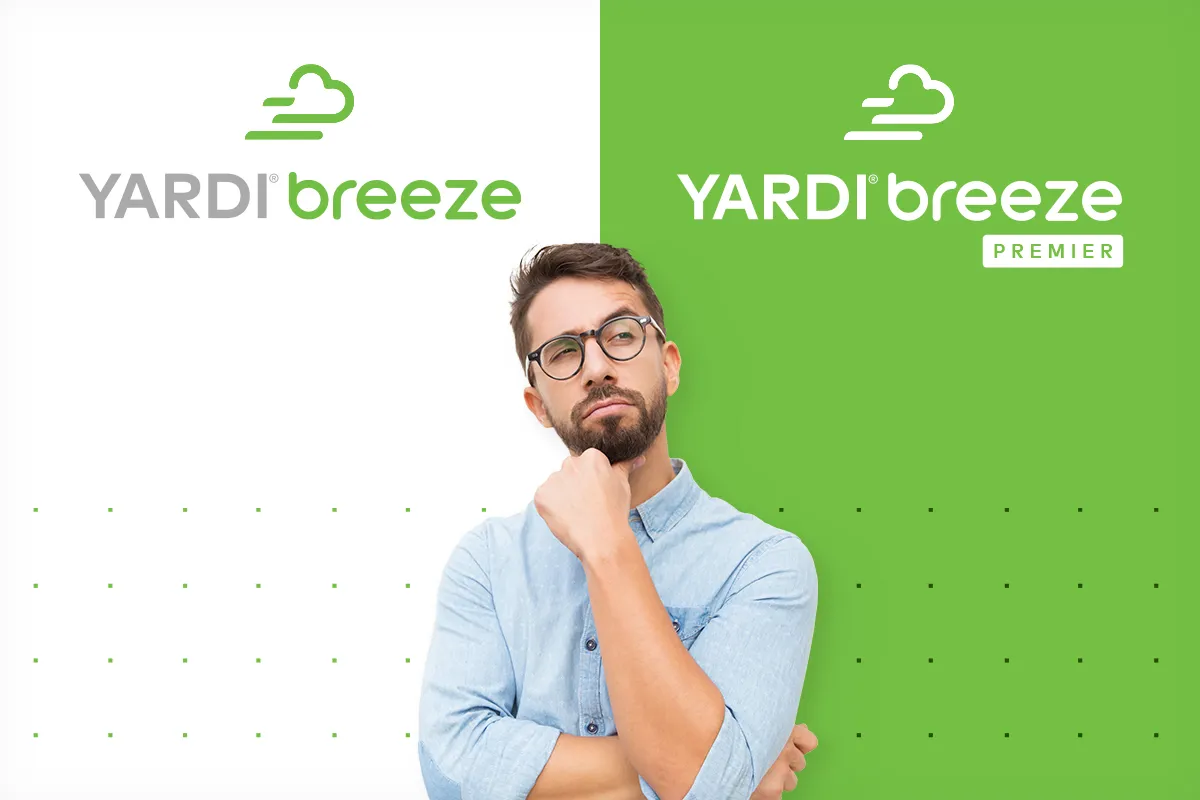 1. You manage so many properties that you're struggling to prioritize tasks
Even with Breeze's calendar, Activity Feed and simple dashboard layout, there comes a point where dozens, hundreds or even thousands of tasks need to be prioritized. Breeze Premier offers CRM follow-up activities, so you'll always know what you and your staff need to take care of on any given day.
Breeze Premier offers follow-up templates to help you streamline lease renewals, property showings and other tasks. Follow-up templates ensure your team can consistently provide a high level of customer service when performing important tasks (e.g., tours, applications, move-ins, maintenance requests).
2. You need to set security permissions for staff as your team grows
With a larger team, there are more eyes reviewing your property and tenant data. Premier helps you control security access down to the menu level. That means maintenance staff, leasing agents, accountants, etc. will only be able to access information relevant to their respective roles.
3. Your office has grown beyond basic accounting
Built-in accounting is a great feature in Breeze. Not every property management software has it, and it's a great way to save money (no external accounting program) and increase efficiency (no importing/integrating accounting data each month). Breeze Premier offers an advanced accounting system with batch processing, customizable financial statements and a corporate general ledger that keeps your finances in line. It can be an essential tool for larger, diverse or rapidly growing businesses.
4. You want greater control over your marketing
We're happy to make a corporate website for your business (additional fees apply). That's available with Breeze. But what if your property management company has multiple properties, possibly in different regions, each requiring its own website? With Premier, you can create property websites with 50+ predefined themes (additional fees apply). You can also customize each website with a theme editor, giving each one its own look and feel.
5. Your residents prefer texting
Texting is a second language to many, especially millennials and Generation Z. With Breeze Premier, your entire business can enjoy two-way texting. This feature makes it easier to:
Set appointments and showings with prospects
Communicate maintenance progress quickly, in real-time
Contact busy owners regarding their reports
6. You need a faster way to pay vendors
A powerful and reliable invoice approval and processing workflow is available to Breeze Premier users. Reduce manual tasks and electronically process vendor invoices faster than ever before. You'll be able to track and manage payments in one place.
What else can you do with Breeze Premier?
Breeze Premier's features appear instantly in your dashboard once you upgrade from Breeze (or start off with Breeze Premier). You'll also be able to:
Track job costs and contractor payables
Compare property performance within a portfolio
Customize owner financials
Rent deferral
Rent control
Walk-in payments via PayNearMe
We encourage you to see Breeze Premier for yourself. Request a personalized demo to get started or call (800) 866-1144.