In early 2020, we introduced Breeze Premier as a property management software upgrade to Yardi Breeze. Premier retains the refreshingly simple experience that Breeze is known for, with expanded capabilities like corporate accounting and customer relationship management (CRM) — just to name a few.
So, is Breeze Premier the right choice for your business? Check out some of what you'll get if you upgrade today.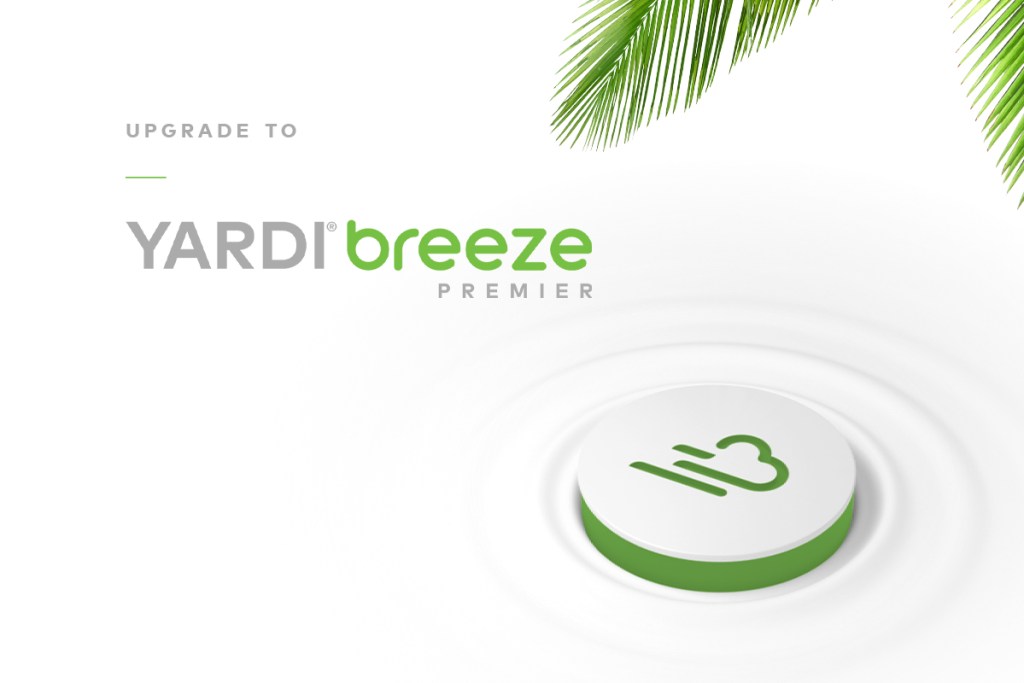 Breeze Premier has something for everyone
If your business is supported by a large team with dedicated marketing, maintenance and back office roles, you'll benefit from new features in Premier.
Control security for all users down to the menu level
Use approval workflows to automate invoice processing
Attract leads with customizable property sites
Prioritize follow-up activities using the CRM queue
Track job costs and contractor payables
Enjoy two-way texting with tenants
Software that grows with you
As your business matures and you take on more properties with different owner preferences and requirements, Premier's advanced accounting and reporting will also come in handy.
Track property and corporate general ledgers
Compare property performance within a portfolio
Customize financial statements
Get batch processing and advanced general ledger controls
Customize owner financials
Best of all, Premier works with all property types supported by Breeze: residential, commercial, affordable, self storage, association/condo and manufactured housing. Let's take a closer look at what Premier offers for each market.
Does your portfolio require you to stay on top of regulations in various places? Do you field maintenance requests while trying to turn several units at once? Premier is residential software that streamlines your workflows and protects your business. It lets you control against unauthorized rent increases, execute leases online and automate move-in and move-out workflows, among many other features.
Breeze Premier is commercial property management software with built-in corporate accounting. This helps keep complicated books organized and efficient. It also makes CAM recovery a breeze, eliminating spreadsheets so you can manage triple net (NNN) and gross leases with ease. Premier also lets you create custom expense pools, allocate expenses to tenants, set up flexible CAM schedules and more.
Affordable housing software needs to keep up with some of the strictest rules and regulations in real estate. Your software needs to keep your properties in compliance and help you produce fast, accurate reports. Breeze Premier eliminates the hassle of paperwork as you manage Low-Income Housing Tax Credits, HUD 50059, Rural Developments and HOME units more efficiently than ever.
The storage industry is booming, which means there's a greater need for self storage software than ever before. According to a 2019 Yardi Matrix National Self Storage Report, 10% of all self storage facilities are either in the planning stage or under construction — that demand is expected to surge over the next decade. To help their businesses reach as many new customers as possible, we expect many storage facilities to take advantage of Breeze Premier. Advanced features such as discount management will keep you competitive in the years to come.
We optimized our HOA software for fast, refreshingly simple engagement with homeowners. Breeze Premier makes community tracking a cinch, so you can always keep tabs on what matters. Track owners and board members while staying on top of violations and other compliance issues in both Breeze and Premier.
Breeze Premier is manufactured housing software with special features for businesses that specialize in community and lot management. Premier is especially useful for those who need advanced accounting and community tracking. It can even track the title process for home purchases and sales.
Ready to go deeper into Breeze Premier?
This article gave you the quick hits, but there's so much Breeze Premier can do for every property type. Ask for a free demo today to get started.
What if you're already a Breeze user?
Upgrading to Breeze Premier from Yardi Breeze is just about as simple as flipping a switch from our end. (Okay, that's a slight exaggeration, but not by much.) Ask about how it works when you get your personalized demo.
How to purchase Breeze Premier
If you're ready to set up Breeze Premier today, call (800) 866-1144 so we can learn more about your unique needs.