As the saying goes, "You can't control the weather." But you can dress appropriately for it. The same is true in real estate. You can't control your market or the economy, but you can always put yourself in a good position to generate leads.
This article covers what is sometimes referred to as a marketing funnel, a way to help you conceptualize the process of lead generation. As you might guess, the top of the funnel, the widest part, represents where most of your leads come in. Further down the funnel, you get fewer leads and more actions or sales.
Here's how to use the marketing funnel to master lead generation in any market.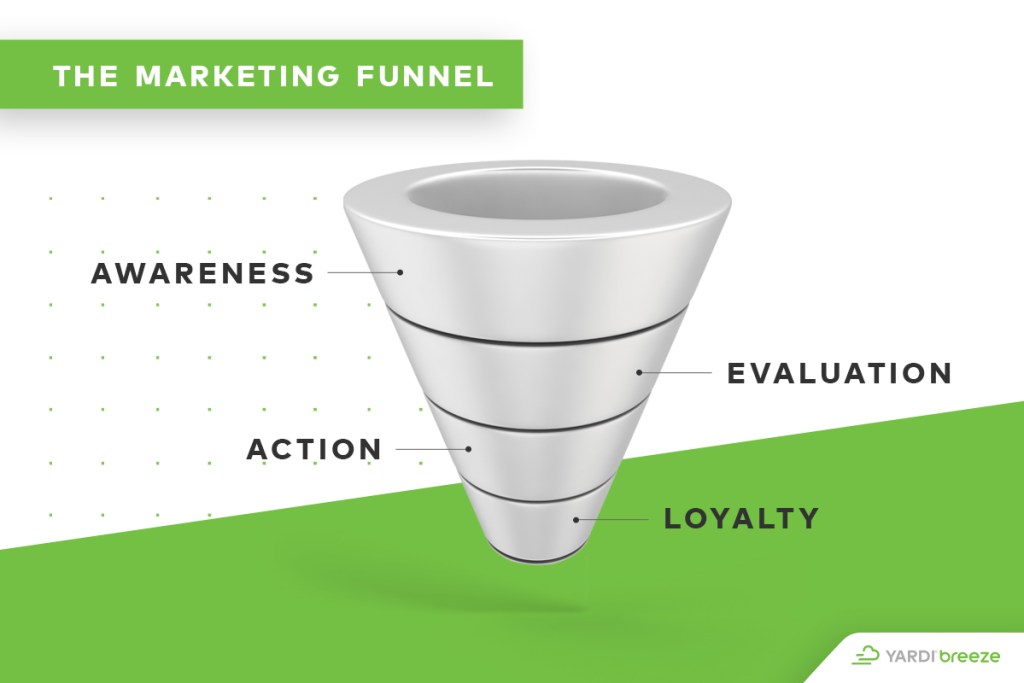 Top of the funnel: Attract attention
The first part of lead generation is obvious — get leads! That means getting attention from people who may have never heard of you before:
Place ads on real estate websites and in magazines
Invest in physical advertising (e.g., mailers, local billboards, city buses)
Attend tradeshows and provide giveaways with your info
This step is about quantity over quality. The goal is to get as many leads as possible so you can connect with each one, determine your best prospects and come out with some conversions (the bottom of the funnel).
The upside is that you get more people to hear about you. The downside is that this broad audience may not be in the market for a rental. So you may spend a lot for very few initial results.
It's possible to skip this step, especially if you have a tight budget. If that's the case with your business, go ahead and focus your advertising on those already in your marketing sphere (the middle of the funnel).
Middle of the funnel: Prospects take a closer look
The middle of the funnel marketing is important. This is the point where your prospects seriously evaluate their needs and consider your properties.
To be effective here, you need to establish a goal. For the sake of this article, let's say the goal is to get a lead to respond to a listing. There are several marketing strategies that can increase your chance of getting a prospect to make contact:
Search engine optimization (SEO)
Search engine marketing (SEM)
Social media (posts and ads)
A website that targets local prospects
Properties posted on an ILS like RentCafe.com
Your prospect might not yet act (that's the next step). Right now, they just want to see if your company and properties are worth their time.
That means your listing is going to have to be engaging. Engaging listings have well-written descriptions, a full list of features and amenities and professional-looking photos (even if you're using mobile photography for your marketing).
Don't forget to include a call to action! Tell your prospects that they should call, email, fill out a form, etc. Doing so will most likely improve your lead generation efforts.
Read: 5 Tips For Writing A Great Property Listing
Bottom of the funnel, part 1: Lead generation becomes an action
Now that your marketing has a prospect's attention, it's time to get to the bottom of that lead generation funnel. Hopefully, that means signing a new resident to a lease.
Marketing to prospects at the bottom of the funnel involves direct communication. This means reaching out to them by phone, email and /or text. Yardi Breeze helps you reach out in whichever way is most convenient.
Discuss your property amenities and features
Help prospects feel confident in your offerings
Show that your properties are better than your competition
Offer to help fill out their application
Ask them to sign a lease (if they passed credit/background and you're ready)
Pro tip: Consider holding live online property tours. Sometimes, you can even hold online tours for multiple prospects at once. This gets more eyes on your properties, saving you the time of setting up individual appointments.
In an ideal world, lead generation would end in a sale, but that's not always the case. Every prospect's funnel will look a little different. For instance, you might be in touch with someone for a few days, show them a property and never hear from them again. In this case, the lead generation funnel ended with a tour. When someone decides to look elsewhere, ask for permission to contact them if something opens up. Even if they're not looking at that time, they might have family or friends who are.
Bottom of the funnel, part 2: Resident loyalty and advocacy
There are different ways to look at the bottom of the marketing funnel. Some people see the bottom of the funnel as "loyalty and advocacy." However, this is only possible when your lead becomes a sale.
A loyal tenant is one who takes care of the property and signs with you again after the lease is up. Sometimes, people leave their lease because of a job, school, relationship, etc. Still, when you offer competitive amenities, you increase the chance that your best tenants will stick around. (After all, it's often more expensive to move in new tenants than retain current ones.)
When you have happy tenants, you gain advocates. These are the people who will go to bat for your company. They might post positive online reviews. Of course, advocates are made, not born. Here are some simple ways to create advocates and get positive reviews:
Ask for reviews at the right time (e.g., maintenance completed on time, during a residents-only happy hour event)
Respond courteously and publicly to negative online reviews
Use the email tools in Yardi Breeze so your communications come from a professional source
Lead generation is the result of good marketing
The better your marketing efforts, the more leads you're likely to get. Still, there's no rule that says you have to think about marketing as a funnel. Sometimes, you might be in the mood for a big list that simply tells it like it is. If that sounds like your cup of tea, check out these property marketing strategies.
For additional statistics and another breakdown of the marketing funnel, see the Yardi Balance Sheet's article on Efficient Conversions.