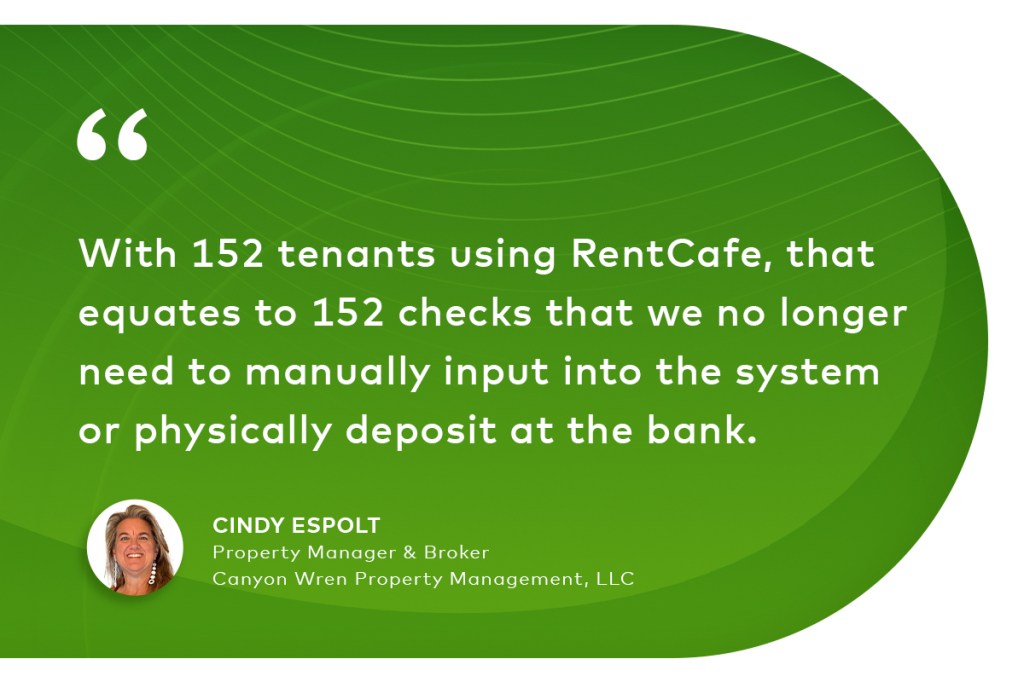 Cindy Espolt is a property manager and broker at Canyon Wren Property Management, LLC. She brings over 20 years of experience to her team, so we were excited to talk to her about her career in real estate. As it turns out, she's been with Yardi since one of the earliest releases of the software. (Anyone remember DOS?) We talked to her about working through the different generations of Yardi software, what it's like managing over 500 units (residential and self storage) with a small team and so much more.
Cindy, what is the makeup of your portfolio?
Canyon Wren manages 316 residential units, including single family homes and apartment complexes, as well as 224 storage units. To do this, we have a small, five-member team and we use Yardi Breeze Premier, which is awesome software.
What's it like using the same platform for two different markets?
The functionality for both markets is quite similar, though there are subtle differences. I appreciate the streamlined process for inputting payments, turning them around and getting them to the bank. Both RentCafe and StorageCafe are excellent tools that have been immensely beneficial for us.
How does Breeze Premier stand out from previous-generation software?
I began my journey with this company 23 years ago, and Yardi was already in use, albeit the old DOS version. Since then, I've experienced four to six different versions of the Yardi software, yet we've never felt the need to switch providers. The transitions between different Yardi versions have generally been smooth, thanks to the consistency within the Yardi ecosystem.
What changes have you seen since implementing Breeze Premier?
For us, the biggest change from Yardi Genesis to Breeze Premier was the fact that Breeze Premier is cloud-based, allowing us to work from anywhere. This feature is huge, especially when I'm traveling, as I can access our database from anywhere. With platforms like RentCafe and StorageCafe, tenants have the convenience of logging in to pay rent online. We also like that anyone can submit maintenance requests online because whoever's available can jump on that and take care of that maintenance issue.
Overall, we've been using Breeze Premier for over a year and a half, and we really like it. But we've also been using Yardi for over two decades, so you can tell we genuinely appreciate the company.
In the 20-plus years you've been in the business, did you ever look at other software?
Before transitioning from Genesis to Breeze Premier, I looked at AppFolio. After engaging in an in-depth tutorial, I found it overly complicated. I probably would have adapted over time, but its interface didn't match the visual appeal of Yardi's reports, which are clear and straightforward. Yardi reports present all the information I need on a single screen without resembling a souped-up spreadsheet. My experience with Breeze Premier has been positive, and the software has been well-received by my property owners as well.
Has using Breeze Premier made you more efficient?
The system streamlines many tasks. Reflecting on earlier methods, tasks like collecting rent, handling maintenance requests and managing tenant transitions are significantly simplified. We use several of its features daily, all designed to save time and enhance efficiency. For instance, with 152 tenants using RentCafe, that equates to 152 checks that we no longer need to manually input into the system or physically deposit at the bank.
Are there software features that stand out as being particularly useful or time saving?
Reporting was always good with other Yardi platforms, but it's even smoother on Breeze Premier. The system provides comprehensive data, so we don't have to go hunting for information. Unlike the Genesis software, which had a complex ad hoc feature, this platform simplifies report creation. The reports offer valuable information for various projects, from lease renewals to vendor insurance. It's also nice that everything automatically pops up on the built-in calendar.
How is it training your new staff on the software?
Most of my team members have been with me for several years, so training was pretty easy. My longest-serving agent has been with us for over 20 years, while the newest member has been with us for just a few years. Yardi offers helpful videos and tutorials. We start with the basics, then we sort of turn our agents loose and let them learn independently. My newest member, who also happens to be my daughter, caught on very quickly and was able to move through the software easily.
What's the roadmap for the future of your business, and how does Breeze Premier fit into it?
With a team of five, we are looking to expand and take on new properties. Breeze Premier enables our small team to efficiently manage hundreds of properties. Its streamlined capabilities mean I don't need to hire additional agents, saving significant monthly costs. Not to mention, the people that are in place are highly efficient already. Without question, growth is coming.