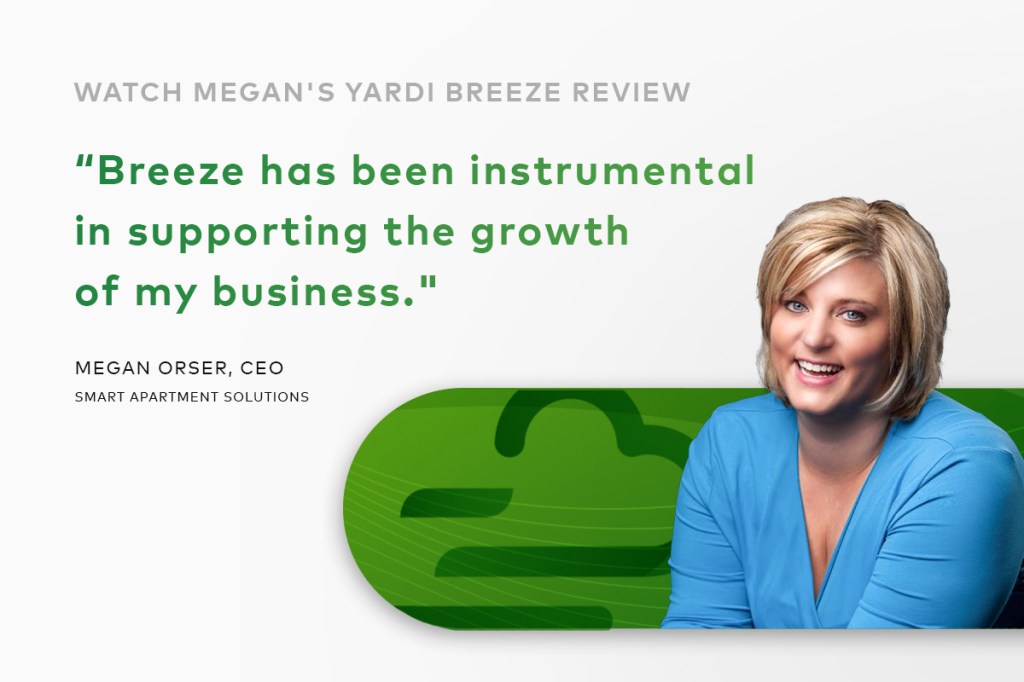 Megan Orser is CEO of Smart Apartment Solutions and Smart Moves LLC. She also happens to be an inspiring, charismatic speaker, passionate property management advocate and technology expert. Below is a summary of Megan Orser's Yardi Breeze review.
Prefer to watch the full review instead? Simply click below to see the full video.
Megan Orser's Yardi Breeze review
Smart Moves is a boutique property management company specializing in residential and commercial property management in Ann Arbor, Michigan. They started in 2014 and now manage over 13 residential properties and 25 commercial units.
When they first started, they used a free property management software, which limited their capabilities. Megan struggled to find software that catered to both commercial and residential property management. Eventually she found Yardi Breeze, which turned out to be affordable and able to grow with her business.
Boosting efficiency
Yardi Breeze provides Smart Moves with access to RentCafe and many other marketing and leasing features, which help them improve their financials and services. When the pandemic hit, they upgraded to Breeze Premier, adapting the business to include virtual tours alongside other online services.
Saving time
Breeze has saved Megan time and allowed her to focus more on her community. Breeze's reporting capabilities have improved conversations with colleagues as well as competitors. In the last year, they added a RentCafe corporate website, making their company more competitive with larger competitors.
Improving service
The biggest impact of Breeze has been the increased level of service Smart Moves can provide to customers. The software has bridged the gap between hands-on technology and personalized service. Yardi products have always supported their career, providing cutting-edge technology while the company actively participates in moving the industry forward.
Getting support from Yardi
Megan says Yardi has been responsive, helpful and creative in finding solutions for her business. Breeze's live chat support has been key to helping her team quickly resolve any challenges they face.
She also enjoys that Breeze features a comprehensive dashboard for easy access. Its intuitive interface allows her team to manage the business more effectively.
Plans for the future
Megan's goals for Smart Moves are to grow her residential units to over 100 within the next two years and expand into affordable housing. She recognizes the industry is moving toward remote work and shorter office hours, and technology like Yardi Breeze helps support them through these changes.
To conclude her Yardi Breeze review, Megan says:
"If you're considering using Yardi Breeze, don't hesitate. The affordability and time savings will make your day-to-day processes more enjoyable. Overall, Breeze has been instrumental in supporting the growth of my business."