Paul Quigley is an account executive for Yardi, specializing in manufactured housing. We caught up with him to find out why violations tracking has been a hot topic of conversation in the industry. He tells us why a tracking tool matters and how property management software like Yardi Breeze Premier can simplify an otherwise complex, manual process.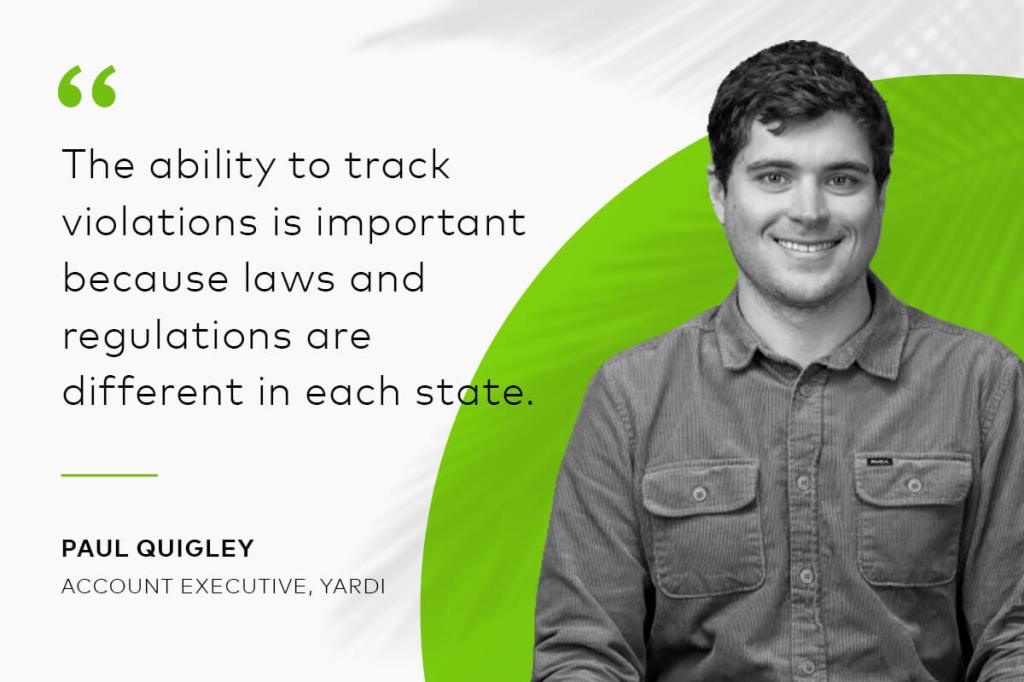 What's the importance of violations tracking in community management software?
The ability to track violations is important because eviction laws and regulations are different in each state. These laws inform how the property manager communicates violations to the resident, whether that be via email or physical printout.
What's the ultimate goal in violations tracking?
It really boils down to whether violations were tracked sufficiently enough to warrant an eviction. Once that process is underway, property managers need all their ducks in a row to get through it. That's where a violations tracking tool like Breeze Premier can be a huge help to owners and operators. It's really quite intuitive and simple.
It sounds like this is about communication as well.
The fact that Breeze Premier ties in with resident communication is huge. Our cloud-based system maintains a permanent record of all communication. To better track violations, you can see when communications took place, verify the appropriate action was taken at the appropriate time, check that the right number of notices were sent and things like that.
What happens if someone operates communities across multiple states?
We have clients with multiple parks in different states. Each park's violation documents pertain to the state the park is listed in. So, if someone has parks in Florida and California, they can have those specific violation notices sent out containing the language and method required by the state.
How do MH operators track violations without the help of software?
If they really don't have any type of software, a lot of this stuff falls through the cracks. Violation tracking becomes a series of manual processes. That means emailing out notices or physically having site staff bring notices to the home.
This is where MH operators can get into trouble. Down the road, when they're actually trying to evict somebody, the property manager's case goes through the court system. If they don't have the exact, specific wording in their violation notices, they can't prove that they notified this resident the correct number of times, in the right way and in the necessary timespan.
How does Breeze Premier streamline the notification process?
Once you create a violation, you can attach photos and videos to it. Then send them in text and email. It makes documentation much more efficient and reliable. Even if the law requires the property manager to mail each notice, it's still very easy to create the violation in Breeze Premier, then print it out as a PDF. It's a convenient one-click solution for any manufactured housing community in a state or a municipality that requires you to physically mail violation notices to the resident.
How does the Activity Feed in Breeze Premier help with violations tracking?
You can use the Activity Feed in Breeze Premier to make sure somebody on your site staff follows up on every violation. You definitely want to use the violation tool as the primary means of keeping track, with the Activity Feed as a complimentary notetaking tool. It's a quick and easy way to schedule follow-ups and inspections as well as other tasks and reminders.
Learn more about the Activity Feed in Breeze and Breeze Premier. Or contact us to see our manufactured housing software and violations tracking tool in action.