New to the industry? You're bound to come across some unfamiliar industry lingo in the form of property management acronyms. It doesn't take long to see that property managers, owners, investors and even software providers have a way of speaking in shorthand. For instance, it's a lot faster to say "IRO," as a single word (or with each letter individually pronounced), than to keep saying "independent rental owner."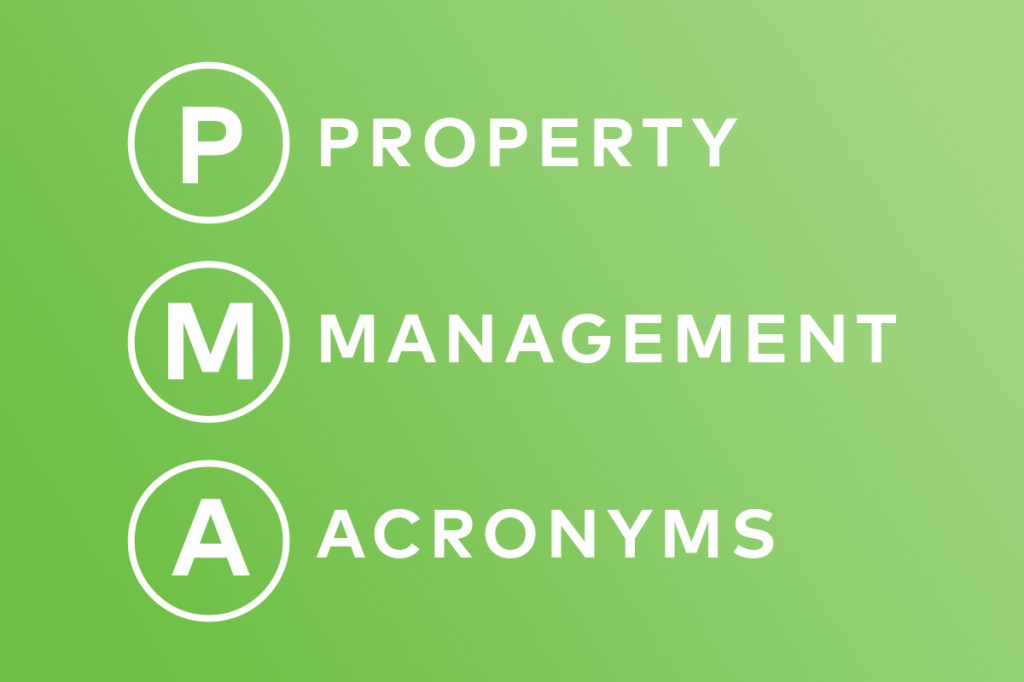 Speaking shorthand make sense for those with industry exposure. Unfortunately, too many acronyms can make it difficult for newcomers to jump into jargon-heavy or industry-related conversations, professional development sessions, articles and reports. Plus, there are hundreds of real estate and property management acronyms.
That's why we defined some of the most frequently used terms. The following property management acronyms are listed in alphabetical order.
Property management acronyms
AHI affordable housing industry
ARM Accredited Residential Manager
BGF Better Government Fund
BOMA Building Owners & Managers Association
CAM Common Area Maintenance
CEC Continuing Education Credit
CPM Certified Property Manager
CRE Commercial Real Estate
DHS Department of Homeland Security
DOJ U.S. Department of Justice
DOL U.S. Department of Labor
EIN Employee Identification Number
EPA Environmental Protection Agency
FEMA Federal Emergency Management Agency
FHAP Fair Housing Assistance Program
FHEO Office of Fair Housing and Equal Opportunity
FMR Fair Market Rents
FSBO For Sale By Owner
GPR gross potential rent
HCCP Housing Credit Certified Professional
HCV Housing Choice Voucher
HERA Housing Education and Research Association
HOA Homeowners Association
HOME Home Investment Partnerships
HUD U.S. Department of Housing and Urban Development
ILS Internet Listing Service
IREM Institute of Real Estate Management
IRO Independent Rental Owner
IROP Independent Rental Owner Professional
IROC Independent Rental Owners Committee
LIHTC Low-Income Housing Tax Credit
LLC Limited Liability Corporation
MH manufactured housing
MHI Manufactured Housing Institute
NAA National Apartment Association
NAR National Association of Realtors
NFPA National Fire Protection Association
NGBS National Green Building Standard
NGO Non-Governmental Organization
NIMBY Not In My Backyard
NMHC National Multifamily Housing Council
NOI net operating income
OO Owner Occupied
PAC Political Action Committee
PHA Public Housing Authority
REIT real estate investment trust
RFP request for proposal
ROI return on investment
RPM Residential Property Management
SaaS software as a service
If you'd like to see a larger list, check out these property management acronyms from NAA.