Stacia Phifer is a business manager at Catalyst, a property management company that oversees some beautiful, recently upgraded properties out of Charlotte, North Carolina. She was a Yardi Breeze user for over a year before upgrading to Yardi Breeze Premier.
We caught up with her to find out what her team likes about Breeze, why she chose to upgrade and what tools she finds most useful in her day-to-day work. If you've been looking to hear from Breeze and Breeze Premier users on their software experience, this interview is just for you.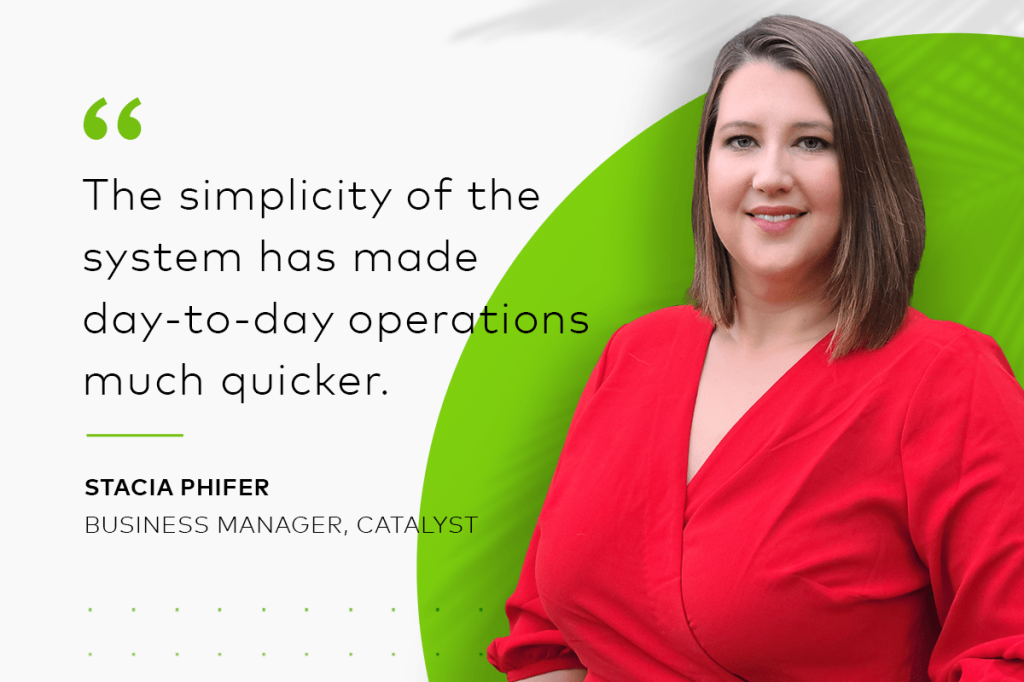 How did you first feel about signing up for Breeze?
Nervous!
What made you feel that way?
I was nervous about using software that was relatively new. Also, I was concerned about being able to not only learn the ins and outs, but to teach my team how to use the software.
How long before those worries subsided?
Pretty much immediately. Once I had access to use the software and explore a little, I was quickly assured that my choice was a good one.
Have you used property management software before?
I've used other Yardi software in the past, as well as other property management systems. The Breeze interface is definitely the most user friendly. It's not intimidating at all, and it's easy for new users to navigate.
What made you decide to switch from Breeze to Breeze Premier? In your view, what's the biggest difference, or benefit, with the upgrade?
I noticed that Breeze Premier had some additional options that piqued my interest: two-way texting, full-service resident check scanning and additional report options.
Have you found that you're now saving time on any particular operations?
Hands down, the monthly report packets save us a ton of time. Being able to crank out all the monthly reports with a few clicks is a huge time saver.
We've been using Breeze Premier for a little over a year. I can definitely tell that feedback is used to make improvements. The simplicity of the system has made day-to-day operations much quicker. 
The CRM queue is a game changer for the leasing team. I also appreciate being able to dive deeper into permissions and user roles. The biggest benefits I've received from upgrading to Premier are the increased efficiency and protection.
Do you have a personal favorite feature? Or something your residents really seem to like?
The live chat feature and the Help Center are pretty genius. The live chat agents are the most cheerful and helpful group of people! It's so nice to be able to get almost instant help and responses.
The Help Center is super useful when learning the software and learning new tasks. I love that it suggests articles that are relevant to the page you're currently viewing. I also appreciate the detailed step-by-step instructions.
What trends have you noticed in the residential industry lately, and how is your business responding to these trends?
The industry is starting to see impactful signs of recovering from COVID-19. We're definitely making adjustments with more residents working from home, who also want more options for recreation at their communities.
Is there anything you think experienced property managers should know about keeping their business competitive today?
Pay attention to the ebbs and flows of your target demographic. We sometimes get in a habit of focusing too hard on what we've done in the past — and the demographic we've rented to in the past. It's important to keep an eye on what people really want and make changes to your property based on that, even if it's uncomfortable!
Share some wisdom with us. What's been the secret to your success?
Build a team around you that plays off each other's strengths and weaknesses. Too much of the same creates a static environment. Building a good team, then training and empowering each member is the key to success.
I always cringe when people are scared to take a vacation because they think things will fall apart without them. The goal for any leader should be to have trust that your team can keep things running seamlessly.
We'd like to thank Stacia Phifer for giving us her time as well as the opportunity to share her thoughts on Yardi Breeze and Breeze Premier.