Dustin Dalee is a manager at Yardi who oversees our upgrade sales team. If you're on a previous-generation Yardi property management software solution, his team would help you upgrade. They're experts at helping businesses decide between Yardi Breeze and Yardi Breeze Premier. In this interview, Dustin discusses what goes into a software change, the reasons to do it, how Yardi stays competitive in a crowded field and more. This a great opportunity to learn more about our offerings and get to know a prominent person on our team.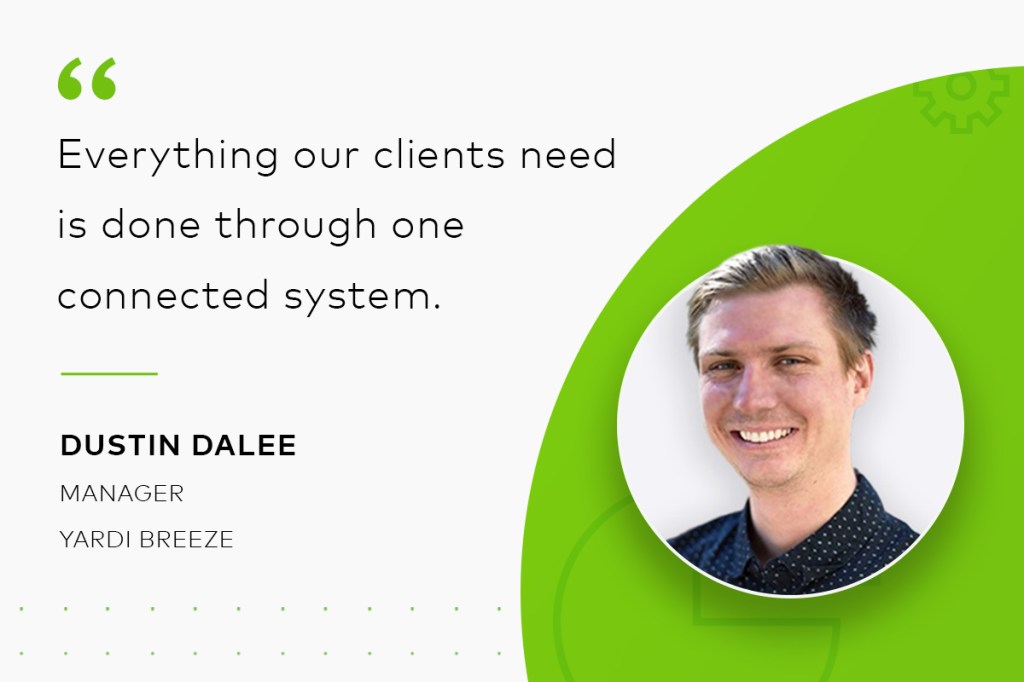 Dustin, could you tell us about your role at Yardi?
I lead a sales team that works with our existing clients, including long-time clients who have been with us since the 1980s. What we do is assist them in upgrading to Breeze or Breeze Premier. We also make sure they're getting the full value out of the system. We walk them through the different ancillary services we offer.
The proptech space is crowded, yet, like you said, we have clients who have been with us for decades. Why is that?
Yes, the proptech space has been crowded, and it's getting more crowded, but clients stay with us because we have great stability and a strong product offering. I think when new tech companies come in, they tend to focus on one specialized tool. The value with Yardi is that we consult clients in the product development process to understand their needs as well as where the industry is heading. This led to the development of Breeze and Breeze Premier.
Why is it so important that clients upgrade to the latest software?
There's a competitive landscape in the market, and companies are turning to technology to help scale their businesses. The most successful property management companies are always at the forefront of tech evolution. To stay in line with consumer needs, we developed much of Breeze and Breeze Premier based on feedback from clients on previous Yardi platforms.
One of the biggest reasons clients upgrade is to go to the cloud. In fact, many of our clients who were self-hosting a prior-generation Yardi product were able to upgrade quickly. Online property management software offers a secure way to host data and allow access at any time. By moving to the cloud, our clients can work remotely in Breeze or Breeze Premier and connect with other integrated Yardi products such as RentCafe.
Related reading: What Is RentCafe & How Does It Work With Yardi Breeze & Breeze Premier?
Simply giving clients the ability to easily post available vacancies on their website or internet listing services provides them with all the tools they need to market and lease their units online. They can execute those leases through Breeze or Breeze Premier as well. Everything our clients need is done through one connected system.
Even so, do you ever run into clients who are hesitant about upgrading?
Sometimes, clients can feel overwhelmed by the thought of change. Our aim is to educate them and help them plan an appropriate upgrade path for whenever they're ready. When they get better insight into the conversion process, it's usually not as intimidating as it seemed at first. When our team reaches out, we're just trying to give them information, so they can make their own decision as far as when they're going to make the upgrade.
What are clients most enthusiastic about when you talk to them?
They're enthusiastic about working from a single system. For example, they might have a Yardi product for property management accounting, another solution for marketing, another one for leasing, yet another one for the tenant portal and so on. We show them that Breeze and Breeze Premier make it possible to do everything in one connected solution. They get excited about it, and they also see a reduction in overall software spend.
They also get excited to learn that we can quickly transfer all their data to the new system. In many cases, our dedicated conversion team can help get their data upgraded and converted a lot sooner than many clients expect.
Does it take time to plan and learn new property management software?
It's important to plan ahead for a successful upgrade. The first step is to meet with our team and have a consultative call. This helps us understand how they're using their current system. From there, we can determine whether Breeze or Breeze Premier is the best fit. We then go over how the upgrade process is going to work and schedule a conversion date. Once their data is converted, we encourage them to make some time to learn the new system.
Most of our clients don't have a full-time Yardi administrator, so we work around their schedule in incremental bits to help them get acclimated to the new system.
Are customers more concerned with saving more money or being able to do more with the software?
It's all about doing more with an improved business system and scaling their portfolio without the need for additional staff. Likewise, they want to empower their staff to be more efficient and scale the business with features like online payments, online maintenance requests, chatbots and full-service invoice processing. The features free up the team to focus on higher-level tasks.
Are there any features that tend to convince people to switch or upgrade?
One of the bigger points of interest for our residential clients is the ability to launch branded corporate and property websites with RentCafe. This is our marketing and leasing solution built into Breeze and Breeze Premier to support online leasing with options for integrated screening and renters insurance.
Historically, a lot of these things have been done manually, but to have an integrated system is really compelling. The most-used feature of RentCafe is probably the resident portal, which automates rent collection and centralizes online maintenance requests. And residents love the RentCafe Resident app.
What made the previous generations of Yardi software relevant in their time? What's making the latest software offerings relevant in our time?
Years ago, Yardi Genesis and Yardi Genesis 2 were some of the most powerful property management systems around. This was especially true for small to mid-sized companies. They didn't need everything a system like Yardi Voyager had to offer. However, a lot of the functionality was built to help users with activities in the back office such as bookkeeping, financial reporting and tenant tracking. The reality is that a lot of users at these companies wear multiple hats. So, they might do more thanback-office activities. That's where Breeze and Breeze Premier come in. In addition to accounting, operations and reporting, our latest property management software includes built-in marketing and leasing tools plus a host of optional add-on solutions to do even more.
We've implemented text messaging to appeal to the modern renter. We've introduced a CRM queue to track customer communications and initiate follow-ups. We leverage artificial intelligence with our RentCafe Chat IQ chatbot. We provide the option for clients to outsource their utility billing and utility invoice processing, among other features. Not to mention, we just rolled out call center services to Breeze Premier clients with RentCafe Connect.
Where should we send people with questions about the upgrade process?
If anyone has questions or wants to get an upgrade started, I recommend our live online support chat. It's available on our site for clients and non-clients alike. Through the chat, we can answer any questions they may have.