Are you interested in a career in software sales like Jenny? Check out our currently open positions.
Jenny Stewart is a sales team leader operating along the U.S. West Coast. She and her team work closely with property management companies, aligning them with technology that will help them meet their goals. We caught up with her to discuss what goes into choosing a tech partner, the features real estate pros are interested in today, how we're positioned to help and more. Jenny and her team have incredible energy and love helping property managers.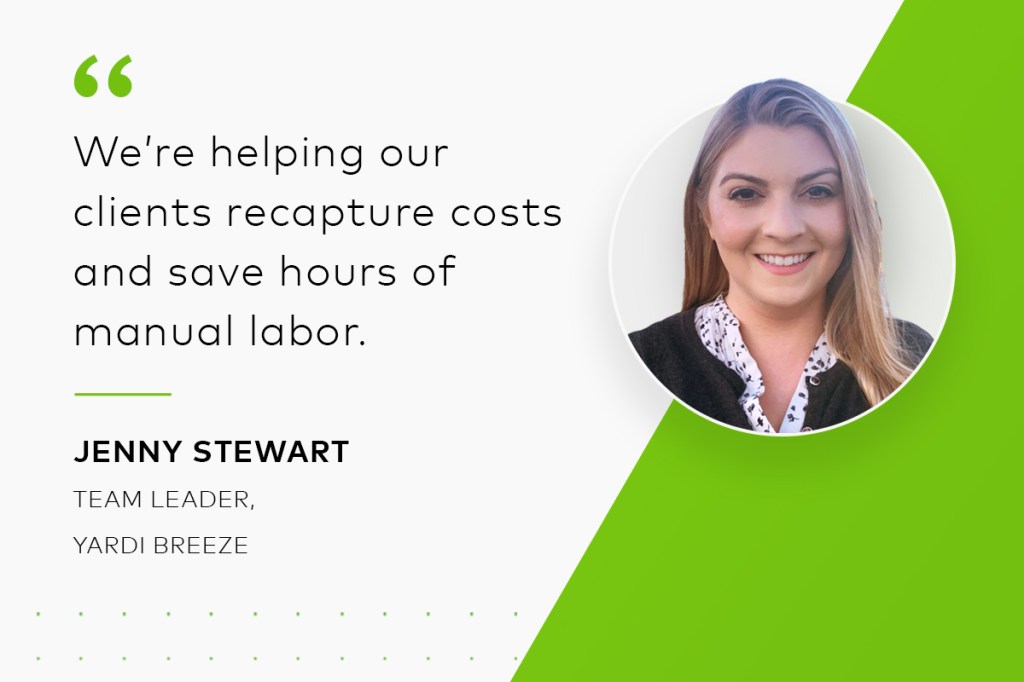 Jenny, tell us a little about what you do.
As team leader, I focus on finding potential clients, learning about their business needs and delivering the right solutions. My team and I work personally with each company to determine which Yardi solution will meet their unique business goals.
Yardi has a 35+-year-long reputation for building trust with customers. What's been key to keeping this tradition alive?
Phenomenal customer support is at the heart of our success, both during the sales process and after someone becomes a client. It's really great to work for a company that cares so deeply about its clients and is focused solely on the property management industry. I think it's pretty unique that over two-thirds of our staff are in roles that directly support clients.
We also have great resources like our online Help Center, live chat, training calendar and more built directly into Yardi Breeze and Yardi Breeze Premier. Our support services are very highly rated because our team truly cares about providing the best possible user experience.
How do you really measure that you're providing phenomenal support?
We get ratings from clients, particularly after every live chat interaction. Our team is very highly rated, and the same can be said of our RentCafe Resident app getting such positive feedback. Measuring our support is about listening to clients, taking care of them and asking them to rate us after they've received support from us.
Editor's note: In the Apple Store, the RentCafe app is rated 4.8/5 stars from 330,000+ user reviews. Live chat support is rated by clients at 4.75/5 stars with an average response time of just 17 seconds. The numbers don't lie!
What does your team need to understand about the industry to be effective?
Obviously, we need to know the basics of real estate and property management. But most important is understanding that the property management industry is dynamic. We have to stay up to date on regulations that may affect how our clients use our software and be versed on hot topics such as rent control and resident screening. Along those lines, we also need to understand current industry trends. For example, how Gen Z renters are going to change the way technology is utilized for marketing, leasing, resident communication and retention. Those trends are really important for us to follow if we're going to continue to meet the needs of our customers.
Likewise, what do property managers and owners need to understand about the market to stay competitive?
They need to understand how technology is changing and why they need to keep pace with those changes. New tools become available all the time to help them automate aspects of their operations so they can focus on what matters, whether that means increasing the number of doors they manage, opening a new arm of the business, etc.
Aside from just keeping up with technology, it's important to provide an excellent prospect and tenant experience and attract new owners. That could mean offering owner and investor portals to increase transparency or building a modern website to attract new clients or prospects. But it could also mean offering tools for easier communication that go beyond text and email, such as a chatbot that answers questions from prospects for you. Staying ahead of the curve with technology is essential to growing a property management business.
What are the primary industry concerns you and your team are hearing?
Due to the labor shortage, we've been working with a lot of companies looking to grow their business without significantly expanding their team. So, in order to do that, our clients need to streamline their workflows. That can be done by implementing features that help cut down the amount of time they're spending on processes like CAM reconciliations, rent collection, paying vendors and more. And that's only possible with the right solution in place.
Have these concerns changed over the last few years?
Definitely. A few years ago, most of the companies I worked with were concerned with having a really solid set of financial reports and providing the option for tenants to pay online. Of course, those are still items of importance today. Now, payment portals are no longer really an option but more of a necessity. Similarly, the leasing process was something clients largely did in person. Today, it's almost always a digital process, and I think that change was really spurred by the pandemic.
What solutions do we offer that resonate most with clients?
Job cost tracking in Breeze Premier is a big one. Obviously, the ones that resonate most depend on the customer's portfolio and needs, but job cost tracking is requested so often because it lets property managers track rehabs and tenant improvements within the system. It's invaluable for companies that need to track projects: how they're progressing against their budget, any change order — that kind of thing. It makes a big difference because it can stop clients from having to buy another solution to track their budgets and projects.
What's your favorite thing to hear from clients?
My favorite thing to hear is how happy they are using Breeze and Breeze Premier. I love hearing how user friendly they find it, how easy it was to get their staff up to speed and how much they love our support team. I remember the first time a client told me that they were going to have more time to spend with their baby now that they didn't have to do their CAMs manually. It's just such a great feeling to know that our system made that difference to them.
What do you find matters more right now to software shoppers – saving money or gaining functionality?
Functionality, and for good reason. The right tools are going to help property managers and owners take care of their regular workflows in an efficient manner, and that's going to lead to them saving money. Take our energy suite, for example. Clients are implementing a service that completely automates the process of receiving utility bills from vendors and billing back tenants. We're helping our clients recapture costs, and they're saving hours of manual labor.
Are there aspects of our property management software that have seen increased interest or importance since the start of the pandemic?
Definitely, and that includes anything that allows their operations to continue uninterrupted, even with a remote or small team. For instance, RentCafe allows the application process to be done entirely online and gives each tenant a portal to make payments. Our full-service invoice processing in Breeze Premier allows our clients to outsource the bulk of their AP process and removes the need to go into the office to collect and scan invoices. Services like these have been invaluable to our clients because they minimize disruptions and maintain efficiency.
Has the role of the property manager changed since you joined Yardi?
Yes, and I don't know if I would have said that if it hadn't been for the pandemic. But it has changed in many ways, and a lot of this is due to the challenges that property managers have faced over the last few years: navigating changing laws relating to the pandemic, labor shortages and supply chain issues. They've also had to adapt to running their properties remotely, including finding new, creative ways to keep their teams engaged and residents happy.
What's changed for renters in that time?
In addition to great service, renters expect digital amenities like modern websites they can easily find on search engines, especially Google. They also appreciate timesaving features like intelligent chatbots and online applications. And of course, resident services like portals and the ability to text their management company matter too. All of these services improve the renter experience and help increase the number of applicants.
What are you looking forward to?
There has been a lot of product development and really exciting features we've added over the last year. I'm excited to see our energy suite being more highly utilized, and I'm excited to see more companies adopt job costs.
I'm very, very excited for call center, a 24/7 maintenance line for our clients' residents. This is going to be a huge timesaver and make it that much easier for property managers to provide high-quality customer service on demand. But really, I'm just excited to keep working with my team to see the impact Breeze and Breeze Premier are going to make to our customers.