Mark Coverdale is industry principal and sales director for Yardi Breeze, and he's been with Yardi since 2007. If you've been to an industry event, there's a good chance you've met him. He's responsible for training our sales team and implementing best practices to keep us ahead of the curve. Mark also has a background in playing and coaching soccer — aka football. If you see him at an upcoming event, say hello!
We recently talked with him about property management, the latest technology, how his team has adapted to remote work and of course, his opinions on British football teams.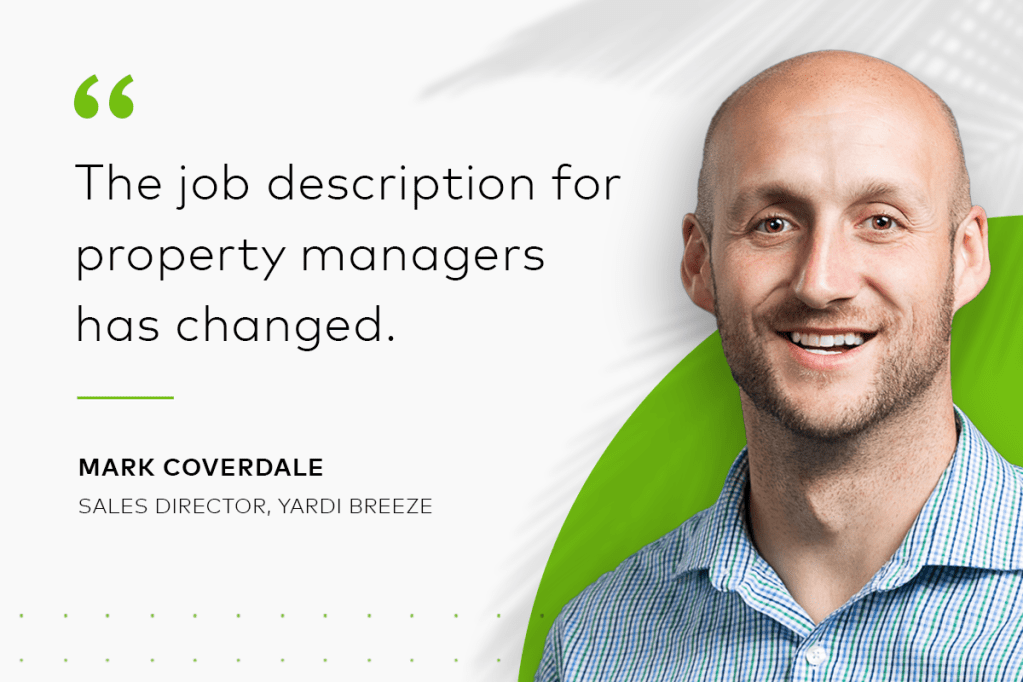 Mark, could you tell us about your role at Yardi?
I have my hand in many different things. Obviously, first and foremost, I'm on the sales side of the house. I work with clients to make sure we're offering them a product suitable for their needs. And being an industry principal entails everything from being on interviews with potential new hires to being part of our corporate training program to making sure all of our employees working with Breeze understand the industry and our products.
What do you like best about what you do?
I think one of the best parts of my job is getting to learn about all these different companies that we work with, how they're going to use our software and how we can help them and their business for years to come. This should ultimately be the best part of the job, but I really do enjoy (and maybe this is the coach in me) working with new hires at Yardi and watching them grow. I've been here for 14 years and grown immensely, and I like to see other people grow. Sometimes you hire somebody, it works out really well, and you see them take on leadership roles. And I remember when they were new and just learning about our products and our industry.
Has your role as a hiring manager evolved since you'd had to onboard people remotely?
It has. Obviously, we were used to people coming into the office. Sometimes, we're hiring someone taking their first full-time job out of college, and they've never worked in an office environment. Or it could be their second sales job, so they're already used to coming in into an office. And of course, we're used to hosting teams in that environment. It forces us to adapt a little bit and think of people who are not just going to be good at the job, but intrinsically motivated to work from home.
Those are some new factors we must consider when hiring. Work-from-home could be permanent or semi-permanent, but for the time being it's definitely a consideration when hiring.
Is it tricky to make onboarding a personal experience?
It is. What we have to do right now is make sure we have regular touch points where we see each other, so one of the things that I do is hold mid-month and end-of-month walks with my team. So, go walk your dog, take a walk in the neighborhood … almost like a mental health check to get outside, away from the house. The purpose of the meeting is to just talk about a deal they recently won, one they may have lost or one they're currently working on or need advice on. The feedback I've gotten has been very positive.
How has your team adapted to remote work?
I would like to see a day where we can do a hybrid approach to remote work. I see why it's convenient to work from home, but when we're working with salespeople who have not been in the role for too long, it is nice to have at least a couple of days a week where we can be in the office, learning from each other and listening to each other. Team leads can hear three or four different phone calls at the same time, and when we have meetings at the end of the day, we can whiteboard some stuff and say, "Hey, I heard this from so-and-so that was really good, why don't you tell them about the scenario?" There's just a lot more to consider when we're working from home, but like I said, things like the walk-and-talk meetings are extremely valuable.
Are there aspects of our property management software that have seen increased interest or importance since the start of the pandemic?
Yes. It's important that Breeze and Breeze Premier give our clients and their staff the ability to work from any location, on any device. They don't have to bring their work computers home. They can bring Breeze up on a laptop, phone or tablet.
And obviously, being a web-based software provider when the pandemic hit, we received a lot of calls from companies who were still using spreadsheets and basic accounting software. All of a sudden, they needed our software to be able to work remote. Breeze also has marketing tools like RentCafe, so tenants can pay rent online. Our clients can even build and distribute owner report packets on the fly, just by clicking a few buttons.
Has the role of the property manager changed since you joined Yardi?
Definitely. From the renter's standpoint, the expectation of the property manager has changed. Therefore, what property managers need from us has changed. There is a lot more instant gratification expected of them now that technology has evolved.
What's changed for renters in that time?
Renters don't want to come into the office on the first of the month to drop off a check. They want to pay online or just set up automatic payments. They want to be able to go on a website and use tools like Chat IQ, our chatbot made just for property management, to get instant replies to their questions.
Property managers are expected to deliver 24 hours a day. That's a big expectation, and it's why they come to us and leverage how we can help them.
Check it out: The Making Of Chat IQ: Patrick Lawler Talks Chatbots & Artificial Intelligence
When I started selling Yardi Genesis many years ago, we would get pretty deep into the accounting part of the program. Now it's a given that you're going to get solid accounting from Yardi software. That means property managers are looking more at the marketing and leasing side of things. They want to know how they can leverage online marketing and leasing technology to provide better customer service. Companies aren't taking many ads out in the paper anymore. It's all online. Property managers lean on us to provide the tools to make it happen.
Any general words of advice for housing providers?
Make sure you have good touchpoints with your residents. Provide them with the tools they desire, especially in multifamily where there's a lot of competition.
What's been your favorite location where you can mix business and pleasure?
I'm a fan of Arizona. I like the weather, the outdoors, early morning bike rides and stuff like that. New York is always fun, and there's always something to do. The clients out there really want a product that's very New York specific, so the fact that we have New York functionality is important.
One of my best work trips was to New York. I went with a sales rep, and we had five clients who were right on the cusp of signing. We had three days, and I said, "You know what? Let's just call people." We just started calling, walking around Manhattan, doing demos on the fly. Where else can you really do that?
This is really important: Will Leeds ever be better than Man City?
I'm actually from a place called Hull, which is on the East Coast of England. I used to play for Hull City in their youth teams, but I grew up a Leeds United fan and I went to college in Leeds. But to answer the question, unless there's a huge, multibillion dollar consortium that takes over Leeds, and they just start buying all the best players, I don't see it happening. That's the main reason why Man City is so successful on the field. They've got that huge investment structure behind them. Leeds United's growth has been more a lot more organic, but I don't think in my lifetime I'll see Leeds consistently do better than any of these top teams that you see today. Great question, though.