The future of property management is not entirely clear. Like you, we at Yardi Breeze want to know what experts have to say about an industry still grappling with the impacts of COVID-19. We're asking what's different, what's temporary, what's permanent and how are property management associations helping facilitate these changes?
We're honored to have the opportunity to share our discussion with Henry Chamberlain, President and Chief Operating Officer at the Building Owners and Managers Association (BOMA) International. This is a position he has held since 1985, making him a treasure trove of insight on the future of property management, especially commercial and office spaces.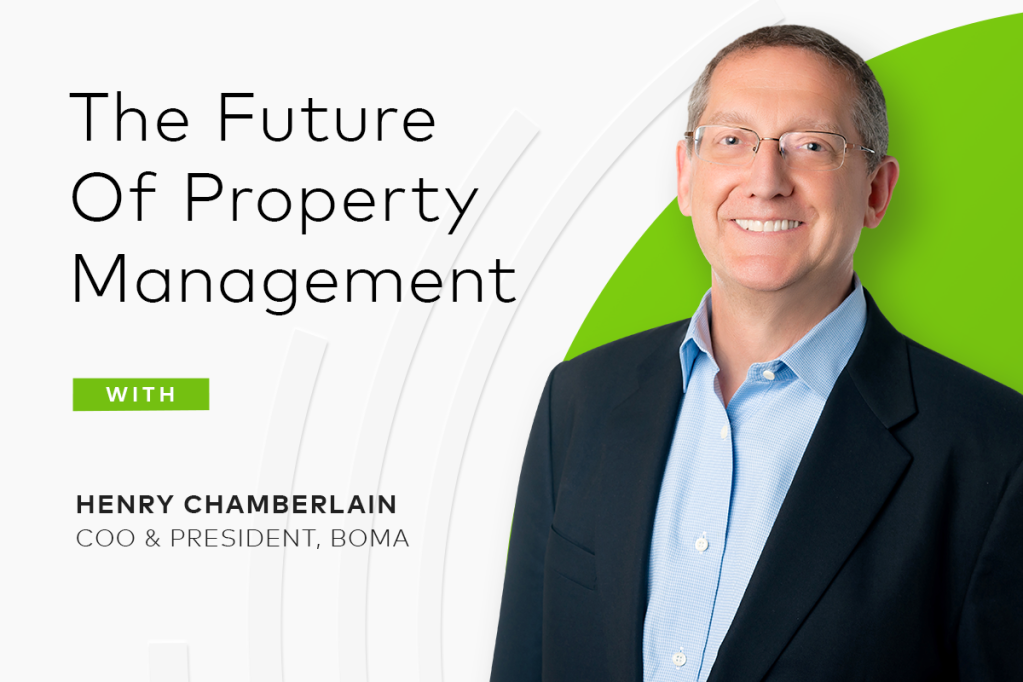 Welcome, Henry! Please start off by telling us how industry practices have changed since the strictest pandemic restrictions were enacted in 2020?
We're still playing through that. The Delta variant has really slowed everything down in a big way. I think a variety of things have changed, one of which is the role of the property manager.
One important thing that needed to happen, and has happened, is improved communication between property managers. They've been talking about the investments they're making in buildings, whether multifamily or commercial, and they want prospects to know what they're doing with technology.
Property managers are now saying, "Okay, I've got my 10,000-square-foot office. What should I think about in terms of redesigning my space?" We're going to move away from 100 square feet per person. That's one of the things you can say is gone.
How will the office be affected by the future of property management?
The question now is how we should spread out in an office. Some of that can be taken care of through telework. You're probably not going to have your full workforce in the office five days a week. Some will have to be there every day, but a lot of people can go three or four days a week, and some just one or two.
The fact of the matter is that people are going to work within dispersed teams and accomplish work in different ways. With all the different email and chat programs out there, people have been very productive throughout the pandemic, so what we've been doing month after month after month has become a habit.
In fact, our work habits have changed, and now businesses are going to lean on the property managers a little bit more to figure out what to do with their space. Should they put in a table for 10 or a cubicle farm for 20? What about staff who don't want to come back in person? Health and wellness are obviously going to be high priority from now on.
Can you talk more about what goes into creating and maintaining a healthy work environment?
Some companies are mandating vaccines. We see that with our annual conferences. Some people are not mandating indoor meetings, but you have to be vaccinated. Others are saying take precautions by masking and social distancing. I think we're going to see some real discussions around the COVID-19 vaccine. Should it become as common as the flu vaccine?
The other thing I'd say that's changed is what companies need to think about in terms of their investments in building infrastructure. We should start by looking closely at indoor air quality. This might mean better air filters and more outside air circulating. Then we'll need to see if we can use balconies, finished rooftops and ground floor areas. Last, we'll have to better utilize Wi-Fi by bringing in 5G for analytics and AI.
In other words, how can we think of the building — not just our own space, but the entire facility — in a different way to create flexibility?
The real estate industry is always lagging in terms of technology, but I think COVID-19 was a big cattle prod for the industry. Touchless apps on phones, sensor technology to monitor indoor air quality, where people are located in the building… you're going to see higher-performing buildings going forward, which is really good.
And in fact, that dovetails with another trend: mandates for carbon reductions. The fact of the matter is buildings need to become even higher performing. We're going to electrify the grid eventually, but buildings are going to have to perform better, and those investments in infrastructure are what tenants are looking for.
It sounds like professional property managers are going to play an even bigger role.
That's right. And companies that weren't heavily investing in the property management piece, I think they're going to invest going forward. Given tenants' increased expectations for services, I think owners are really looking for more property management support.
What's something that you think is no longer going to work, a practice that has to be eliminated going forward?
I think people have gotten past the point of saying, "If you're working from home, you're not working as hard." Frankly, I think people are working harder at home because they're working earlier in the day and even into the evening. There has to be a balance there, so I think five days a week in the office is going away.
I mentioned before that the 100–125 square foot per person office is dead. We're not going back to that again. We're spreading out more. We hotel in creative ways. When bringing teams back together again, we're going to move back to something like 200-plus square feet per person. I also think working full-time in the office is going the way of the dinosaur. It's been shown we don't need to do that to stay productive, as long as people can get together often enough that you can create a culture, do onboarding and have your creative brainstorming.
What about business travel?
I don't think business travel is coming back 100%. As a side note, I wonder about myself. Leading into the pandemic, I was traveling 100-plus days a year. Maybe I'll do 50 next year. One of the things I've been curious about is whether people will still be going out on sales calls. If not, they'll have to invest in more tech to deal with the fact that there's less traveling to and from those in-person meetings.
For the property management staff that require in-person contact, what adaptations do you see sticking?
I think we're going to be reinventing ground floor real estate. I'll use Copenhagen as an example of what's possible. It's a great city, and if you go, you'll see they've released a lot of ground floors as common areas for people in the community. The public can get a break from the rain, use some Wi-Fi or relax a little bit. Opening up the ground floors of commercial properties for other purposes can really benefit the city. I think that's a trend that's going to come our way.
What should property managers be doing to future-proof their businesses?
I think Yardi plays a big role because data analytics is a growing field going forward. Property managers can monitor building operations, then show all that sensor data to their tenants. That way, the property management team and the tenants can fine-tune consumption. Data analytics is obviously here to stay.
Another part of this is that analytics allow people to do some really interesting things remotely. You don't always need someone on-site manually adjusting energy consumption — you can just program that to take place.
Any health and wellness precautions you see sticking?
We're going to have to look at cleaning protocols and be ready to handle future outbreaks like we're seeing now. Some of these are airborne pathogens, so wiping down surfaces has an impact, but it isn't enough. The real problem is ventilation in our indoor spaces.
I think you're going to see buildings with better ventilation, opening up stairwells, even bringing back the gyms. If we're healthier, viruses and flus may impact us less harshly.
Property managers are going to be monitoring what kind of investments are made in their buildings. It's technology that's baking in the flexibility, letting you be smarter about your space and even more productive.
Have hiring practices changed? What should businesses be doing to not only build their team, but retain current talent?
Yes, I'm a big proponent of continuous learning. Our big focus right now is on recruiting and developing the next generation of talent in the industry. Companies really need to think about how they're going to onboard people. They need to be partnering with groups like BOMA so we can give them entry-level education. They can brand it and create their own cultures with these skills, but we have to introduce people to careers in real estate.
What needs to be emphasized in the training and development process?
Communication. Not everybody starts out a great communicator, so we're helping people figure out how to communicate effectively in order to lead a team. That's something we focus on with some of the engineering folks who tend to work alone. Give them supervisor responsibilities, and now they've got to lead. That's a very different responsibility.
Companies really need to think about investing in mentoring opportunities and developing people throughout their entire careers.
Property management companies also need to be flexible, offering the ability to work from home when possible. They're going to have to get comfortable with an extended workforce while knowing how to support that crowd and continue to create the synergies of the office.
On the other hand, they also need to think about the fact that people, for the most part, don't stay forever. We have 30 and 40-year members within BOMA. But if millennials hang around for two or three years in one place, people wonder whether they have any ambition. There's a different dynamic.
We need to invest in people, their careers and their credentials. They may end up somewhere else, but I think training is an imperative. It's something you have to do.
What will commercial property management look like when it gets back to normal?
I don't think we're going to get back to a new normal until January 2022, because of the Delta variant. You know, we all think we all like working in a big team, but not everybody really does. And now we're successful working from home. The fact of the matter is that working from home is less expensive. If you're taking care of the kids, buying lunch every day, dry cleaning…this has been a big change. And it won't be a little thing to go back to where we were before.
At work, companies really need to emphasize why coming back to the office is necessary: the productivity, finding it fun to see each other again, getting together in small teams, coming in two or three days a week. I think it's up to the managers out there to make work comfortable for their teams. They need to figure out how they're going to provide the mentoring, the leadership and the bonding around the business they're trying to accomplish. We're seeing a new workforce model, and everyone's kind of figured out this is the new reality.
Are there any areas where you're concerned about remote work?
Onboarding people remotely is not the best way to do it. They don't meet their colleagues. They do on the screen, but they don't actually meet them. You don't really get a feeling for this person's skillset, because you have a formal agenda on the screen without the ability to plop down in a chair and chat about stuff.
People are all trying to get their work done, and they're being as productive as possible. But because they don't have the same relationships and emotional ties with each other, and the same level of respect, you do become a little more siloed. So, you don't collaborate with X-Y-Z divisions as much.
But, if you're trying to be a big collaborative team, you really need to get together in person at times, or that isolating effect gets worse. It doesn't get better.
We're all going to have to be flexible. We might have to be uncomfortable again, if our latest adaptations don't work down the road.
That's right, but it's exciting. And the great thing about real estate is it's an entrepreneurial industry, always looking for ways to create new value.
Creating higher performing buildings is going to be to everybody's benefit, not only economically, but for the environment. This has really been a chance for the industry to re-evaluate itself to see how it wants to operate and where it needs to invest money going forward.
I like to say our best days are in front of us. There are going to be some really good things that come out of this.
Does BOMA offer resources to help professionals ease into the future of property management?
BOMA has great educational resources. We also have a whole coronavirus resource area that includes the research and analysis we've done on how our industry has been impacted by COVID-19 and how to navigate those challenges.