Since the early 1990s, Beverly Rosa has been a property manager and owner at Tara Management Services, a full-service agency that both manages and sells real estate. Interestingly enough, she's been using Yardi software since 1985 (literally around the time Yardi was founded). That makes her one of our earliest clients and someone who has seen the full evolution of property management software.
We thought it would be great to hear what's given her business longevity, how she sees the market today and what's next in the field of property management. We're excited to let Beverly take it from here.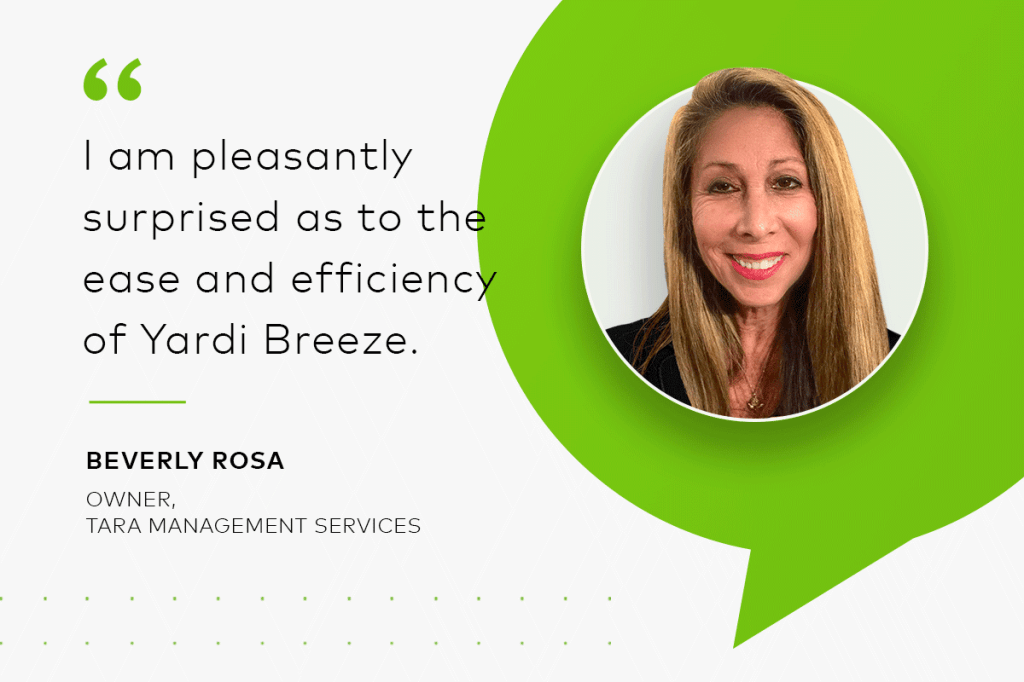 Tara Management Services has been a successful small business since 1993, which is really impressive. How have you managed to stay around so long?
It has been difficult at times, but there's no choice but to move forward. I'm fortunate to have clients who are very loyal.
I looked at your website and saw you currently have no vacancies. How does this reflect the state of your market?
Here in Philly, we had an influx of New Yorkers who made an exodus out of the city. If they did not go to Miami, they found Philadelphia to be affordable, friendly and easy to adjust to.
Also, many tenants stayed put during the pandemic. However, I had a flurry of activity from January until the end of May. With office buildings now opening up and universities holding in-person sessions, it will be interesting to see what happens in the fall. I have had about a half-dozen tenants that have relocated because of work, and some are requesting month-to-month leases in the face of the unknown.
As a property manager and owner, you've seen up and down markets many times over. Before you had Yardi Breeze, how did you manage your portfolio through it all?
I have been a Yardi client since 1985-86 and faced no software challenges. Need I say more?
How was the transition to Breeze?
Since I am a dinosaur — Tara just recently hit the EFT button — the transition came with a lot of apprehension. I am a creature of habit, yet every time I step out of the box, I am pleasantly surprised as to the ease and efficiency of Yardi Breeze.
Which features in Breeze make work especially easy and efficient?
I use Yardi Bill Pay and the electronic funds transfer, which together give me freedom from being stuck in the office writing checks. I still have so many more functions to utilize and can't wait to see what's next.
Editor's note: See why we think Bill Pay is the future of property management.
Do you expect to use Breeze to work remotely, not just now, but in the years to come?
Well, if I sell one of my high-priced listings, who knows what I will be doing! I want to finally get to the place where I work because I like to work and not because I have to work.
However, I take my computer everywhere I go, so Yardi really is a "breeze!"
Editor's note: We promise we didn't pay her to say that.
Is there anything you think property managers and owners should know about the importance of technology in this day and age?
Time is more important than money, and technology is the key to success. By the way, I worked for the first computer school in Philadelphia in 1969, so I have seen it all. Yardi is great, and the staff are knowledgeable, accessible, patient and pleasant.
We'd like to thank Beverly for her time as well as her kind and thoughtful words. We're honored to have gotten the chance to speak with a property manager and owner who's been with Yardi longer than over 99% of us have worked here!