We're excited to introduce you to Vivian Grosh. She's an accounting manager with Palisades, a real estate company that develops and manages high-end properties in Los Angeles. We had the opportunity to ask her about her business, the real estate industry overall and her experience with Yardi Breeze Premier.
It was great for us to see how different roles within her company are able to work within one property management software solution. Just as we designed! Likewise, we hope you enjoy what she has to say.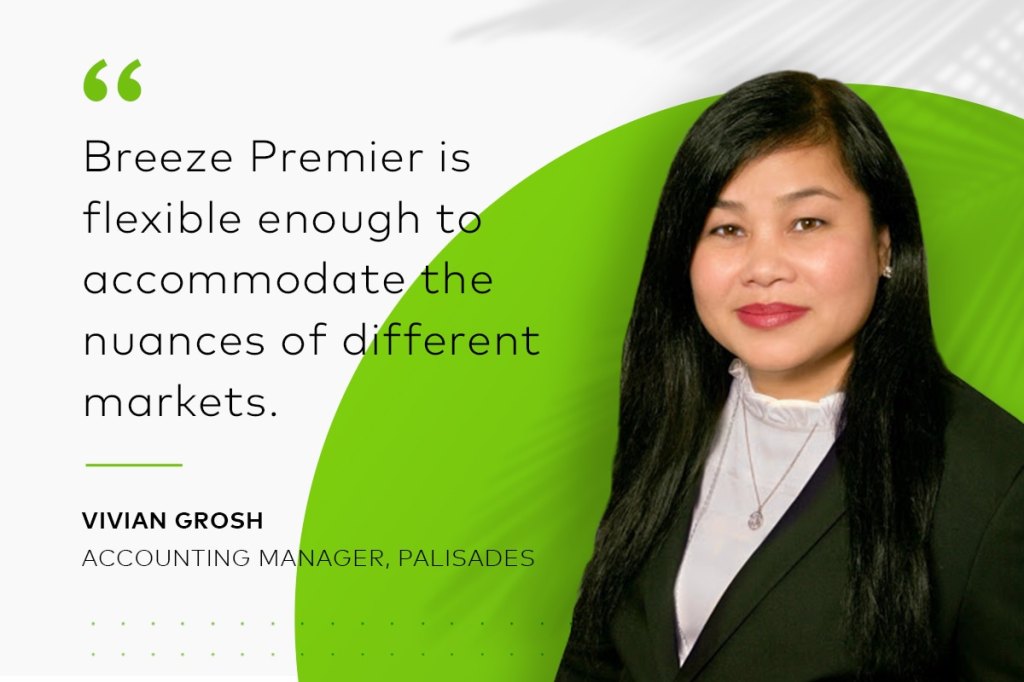 It's great to meet you, Vivian. Can you provide a brief introduction of yourself and your role with Palisades?
I have been a real estate accountant for over 20 years. I have an MBA in Finance and a B.S. in Accounting. I have worked for public REITs and private companies all over Los Angeles. With Palisades, I work as one of the company's two accounting managers.
What is Palisades' organizational structure?
We are a small company. We have three partners who each oversee finance, operations and investor relations. Then there are two accountants, a portfolio manager, and four development managers and financial analysts in varying roles and responsibilities. The partners formed the company with great plans of developing ultra-high-end properties with top-of the line design and luxurious finishes in some of the most sought-after communities in LA.
Other than Breeze Premier, are there property management systems you've used in the past?
I have been on Yardi for over 15 years, having used both Voyager and Enterprise. I've also used MRI and Timberline. I'm a big fan of Yardi and all its offerings.
What was the main driver that brought you to Breeze Premier?
We are a development company by trade. We buy properties and build new construction from the ground up. We have developed condos, apartments and residential/office/retail mixes. We are also now venturing into hospitality, which will be our biggest project ever.
We prioritize big-picture accounting and reporting that we can offer investors. The challenge is that we have our hands in several areas of real estate: commercial, residential, retail, asset management and project development. We needed a software that's flexible enough to accommodate the nuances of different markets, and we found that in Breeze Premier.
What were some of the challenges you were looking to solve?
We tried to keep track of our overall investment costs to date with basic spreadsheets, but it can get very hairy to try to keep everything up to date on a monthly basis (not to mention weekly and daily). Breeze Premier gives us real-time cost tracking.
What makes Breeze Premier stand out from other options?
Our other alternative was an accounting software that required us to keep individual accounting databases per project. That's rough, especially when you're trying to keep up with seven active projects and their extensions, as well as corporate entities. Plus, we had to exit out of one set of books before we could access the next entity's database.
What about Breeze Premier had a stronger effect than expected?
I think Breeze Premier is easy to manage, so it's not intimidating for non-accountants to navigate.
Obviously, this has not been a normal year. Has your office been able to work remotely? How do you manage that, and what tools/tech do you use to keep your team safe but efficient?
Our entire office managed to work remotely, thankfully. Breeze Premier surely made that easier, and so did Yardi Bill Pay. And, we have smart, tech-savvy staff that connected us on platforms such as Slack, Zoom and Asana. There's been no real stoppage in our work processes.
Do you expect remote work will continue into the future? What advice would you give other real estate companies who are looking for ways to make that happen smoothly?
I am a big proponent of remote work. I feel most efficient making use of the time that was previously spent on the road to commute to and from offices. In LA traffic, that averages about an hour or two each way.
The key is communication and constant follow-through. For accountants, the challenge with remote work is keeping up with implementing internal controls. Yardi helped with that as well. For example, managers can review their projects' invoices because each invoice is linked through Yardi Bill Pay. Managers can code and approve them for payment.
For job costing, our development managers can oversee cost-to-completion with just a few clicks. They can also see if an invoice has been paid, so there's no need to check in or wait on accounting for answers.
To close, please share your hard-earned wisdom with the world. Is there anything you think property managers should know about staying competitive in this day and age?
Marketing is a huge factor in real estate, and we are a very social, network-centric industry. Our company is fairly young, and so are our partners, managers and staff. (I'm the oldest in the lot, but hands-down the best looking).
All of us understand the power of social networking and intense marketing. For example, we recently engaged Fredrik Eklund's LA real estate company Douglas Elliman Eklund Gomes Team (of Bravo TV's Million Dollar Listing) to market our newly developed condo project, 8600 Wilshire. Fredrik did a video on Instagram Live with himself and 8600 Wilshire's Ma Yansong, an equally sought-after genius known for his work with MAD Architects. It was a blast to see their fans react to the interactions between the two.
We'd like to thank Vivian Grosh for giving us her time as well as the opportunity to share her thoughts on the real estate industry and Breeze Premier.