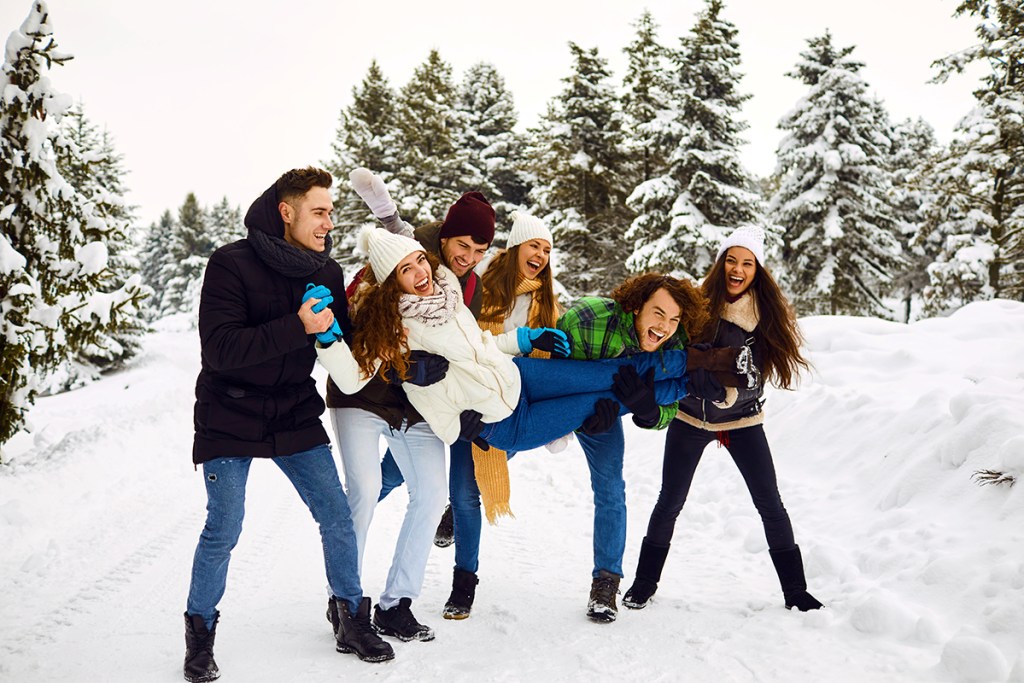 You can help your residents fight their doldrums by giving them something truly special to look forward to, a winter community event. Here are some unique hosting ideas.
1. Indoor or outdoor movie date night
If you have access to a movie projector, an outdoor movie date night is a clever winter community event. It may sound crazy at first, but with the right clothing equipment (and a little help from the weather), no one should be uncomfortable. Check out the following tips for making it a cozy experience:
Recommend clothes appropriate for the weather
Bring extra blankets in case anyone gets chilly and for cuddling up close
Supply safe electric heaters to prevent burns and eliminate risk of fire/smoke injury
If it's an all-ages event, make sure the movie you pick is kid friendly but enjoyable for adults too (e.g., Frozen or The Princess Bride)
Supply snacks and drinks for everyone
Hire a childcare provider for little ones who are too young to enjoy the event quietly
If there's a snowstorm or it's simply too cold to be comfortable, have an indoor backup plan. If you have a rec room, use that. Otherwise, there's no harm in rescheduling.
Use Yardi Breeze to email residents about the event: announcements, reminders, backup plans, etc.
2. Family sledding day
Is there a beautiful blanket of white powder covering your neighborhood? Is there a great hill nearby? Don't let it go to waste. Send out an e-vite to get your residents together for this fun winter community event.
Sledding is a simple activity that doesn't cost you much, if anything, to put together. All you need is the right location and a little help from mother nature. Plus, most people with small kids have their own sleds. You can always bring a few extras.
To sweeten the pot, consider making a big thermos of hot cocoa to bring to the hill. That will give people something to enjoy between sled rides, especially if they get cold or soggy from melting snow. Is there anything better than a cup of hot chocolate between your hands on a cold day? No way.
3. Winter camping class
Winter camping isn't for everyone, but with the right clothing and equipment, it can be a lot of fun. There's something about learning to overcome the elements that's exhilarating. And it's a great family activity kids of all ages can enjoy. There are even some benefits over summer camping:
No bees, mosquitoes or other bothersome insects
Fewer crowds
Lower prices for campsites
Beautiful, snow-covered scenery (sometimes)
Creating your own class isn't as hard as you might think. If you know someone who knows all about winter camping, ask if they'd be willing to help host your winter community event. Teach participants to dress in layers, pitch a tent, insulate their bed, cook in the cold, build a fire, stay hydrated, treat frostbite, etc.
A winter camping class will give your residents an experience they've probably never had and won't soon forget. We suggest consulting a lawyer before undertaking an event like this to make sure you're not liable for anything that happens to your residents during the class or when they're winter camping on their own. Attendees may need to sign a consent form.
Interested in learning more? Look over these winter camping tips from the Sierra Club.
No snow? No problem
You don't have to live in a snow-covered wonderland to host a winter community event. Instead of sledding, organize a scenic hike. Instead of winter camping, just go normal camping.
Community events help build stronger relationships with your residents. Bonding in the winter sets you up for easier renewals in the busy spring and summer leasing seasons. Afterall, residents who see the value of their community tend to be more understanding when their rent goes up.
For more on that, topic, see our article on how to raise rent without losing tenants.