You know what's really scary on Halloween? We're not talking about the office manager who goes full Rocky Horror Picture Show every year. (Don't judge a book by its cover.)
The scariest thing is being unprepared for the trick-or-treat bonanza that's about to go down on Oct. 31. You can't control who knocks on your doors, but the number one thing is to make sure your residents feel safe.
With that in mind, here are some trick-or-treat tips for property managers who want a safe, fun Halloween at their properties.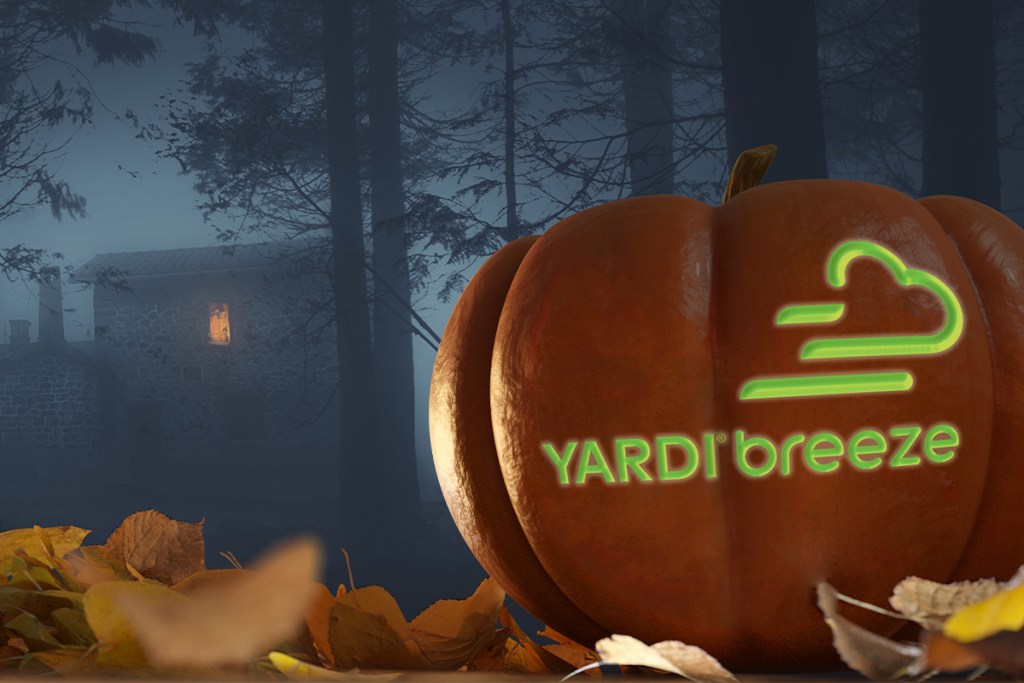 1. Make sure your property is well lit
Trick-or-treaters who show up to your properties are likely to be excited (and quite possibly on a sugar rush). This means they're moving quickly, increasing the chances of slipping or falling. It's important to eliminate any liabilities on your end by making sure the walkways and doorsteps are well lit. Make sure your maintenance crews have recently checked the outdoor lighting on your properties.
2. Clean up tripping hazards
Clear walkways before tric arrive. If there are tripping hazards on lawns, remove them. In a perfect world, everyone would stick to the sidewalks and walkways, but it doesn't always happen. If you have sprinklers that stick out, consider blocking them with Halloween decorations.
3. Send a friendly reminder to your residents
Yardi Breeze users have an advantage on Halloween. They can use their software to send a message to all their residents. Here's what you might include in the message:
Keep pets somewhere safe, preferably behind a gate or in another room
Remind them about local trick-or-treating ordinances (e.g., start/end times)
Ask them to test their outdoor lights, so you can fix any issues in advance
Give residents a number they can use if they see suspicious or illegal activity
Provide other rules that apply to your properties on Halloween
4. Make sure fire extinguishers are ready
Jack-o-lanterns are popular Halloween decorations. Any time there's an open flame, such as inside a carved pumpkin, there's a fire risk. Make sure your residents know where your property's extinguishers are located and that the extinguishers are in working order.
5. Test smoke detectors & locks
Ask residents to test their smoke alarms, and make sure your staff tests ones in communal spaces. You never know if (or where) someone is going to knock over a lit candle or Jack-o-Lantern.
It's also a good idea to test your property's locks. Remind residents on the first floor to also check their window locks. If they leave their windows open or unlocked most of the time, Halloween is a good time to close them.
6. Remind residents about renters insurance
Some property managers require renters insurance, but even if you don't, it's still a good idea for your residents to have it.
And the timing couldn't be better. In fact, property-related insurance claims increase 24% on Halloween. More than half of these crimes involve home theft. That's all the more reason to get your tenants insured.
7. Set up security cameras in public areas
Most trick-or-treaters are just kids out having fun. But surveillance cameras will help deter trespassers and vandals on Halloween. Some systems can be monitored from mobile devices. Always comply with state and local laws when placing security cameras.
8. Keep some staff on-site for security
Cameras are great, but extra security staff is even better. After all, you're going to have a hard time catching a bunch of masked vandals who are caught on camera. On the other hand, having someone there to keep an eye on things is more likely to prevent the act from taking place.
9. Create signs for units that welcome trick-or-treaters
Not everyone is home on Halloween, and likewise, some people don't want to give out candy to trick-or-treaters. If you have a sign that your residents can post to their doors, indicating they're participating in the fun, there will hopefully be fewer people knocking on the doors of non-participants.
We recommend printing these signs out. Make extra copies and keep them in highly visible places such as the laundry room and your main office. Your staff can also put them in your residents' mailboxes.
10. Use LEDs or electric candles for lighting effects
When you're looking for that spooky atmosphere, LEDs and electric candles are great alternatives to open flames. They're safe, long-lasting and consume very little energy. They also come in a variety of fun (aka scary) colors.
11. Residents who aren't home should keep a light on
If vandals or thieves are on the prowl, they're going to look for dark, empty nests. Encourage residents to keep a light on if they're going out. They can also put lights on an automatic timer if they're not going to be home.
12. Set out a communal bowl of candy
Some people set out a bowl of candy with instructions on how many pieces each person should take. This bowl will probably be emptied out pretty quickly. But that's okay! If it's clear that there's no candy to be had be knocking on doors, trick-or-treaters will probably just move on. After all, there's really no time to waste on Halloween.
13. Advertise your vacancies
Kids may be doing the trick-or-treating, but property managers can take advantage of the fact that most of them will be accompanied by adults. With all this extra (local) foot traffic coming your way, why not advertise your vacancies?
Display your business cards where adults are most likely to see it. You can put them on a chair or table near a communal bowl of candy. Heck, you can even greet them as they approach.
Looking for more ways to protect your properties? Check out these safety tips that you can follow year-round.
Something for your residents
We hope you found something in these trick-or-treat tips worth trying.
If you're looking for some last-minute party tips, check out these 6 Halloween ideas for procrastinating property managers.
And our friends at RentCafe have offered up these great kid-friendly decorating tips.