There are so many property management conferences and events, we couldn't possibly list them all here. We can, however, tell you about the ones we'll be attending this September and October.
These conferences are ideal learning opportunities if you want to network, grow your business or check out property management software like Yardi Breeze. Many feature meet-and-greet events, educational sessions and guest speakers. You'll also be able to see products in-person, ask questions and get to know the people behind the brands.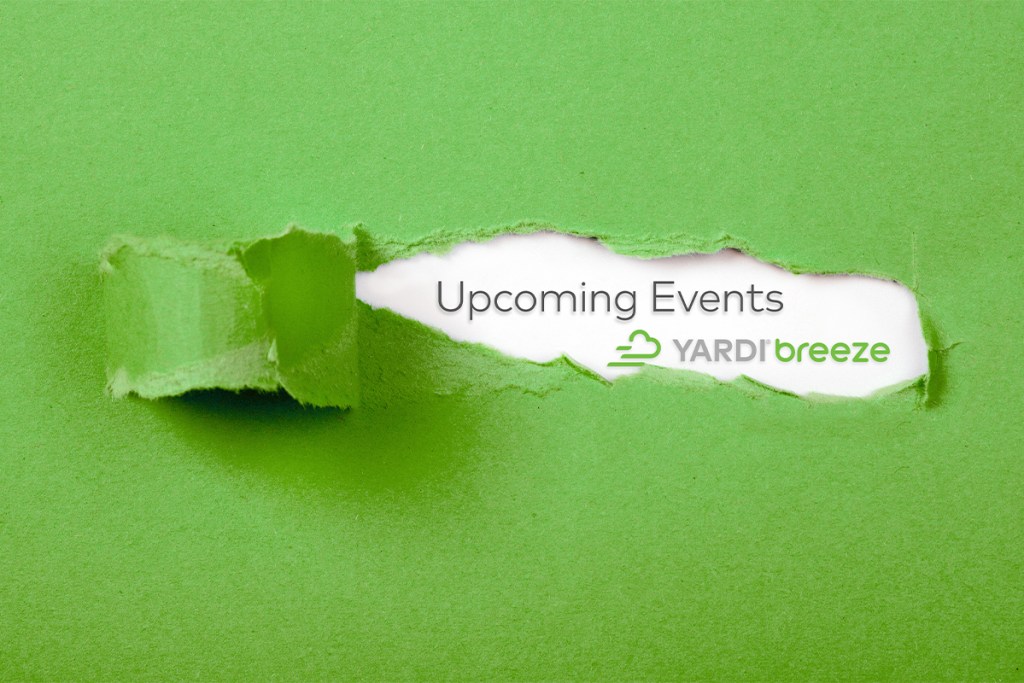 Get local
Not everyone can attend national or state shows. Local chapters typically require smaller buy-ins, and an afternoon per month offers a valuable chance to share ideas with peers.
Not sure where to start? Try the Yardi Breeze events page or contact us about any of these upcoming events.
Oxon Hill, MD, Sept. 10 – 13
The speakers and sessions at this event will cover a wide range of real estate topics, from email marketing tips to updates on the Fair Housing Act. Property managers will join real estate agents for four packed days of professional development. Yardi Breeze will be there, so stop by!
Lake Buena Vista, FL, Sept. 12 – 13
This state-level property management conference is aimed at property managers of single family homes. If you're in that market, you should try to attend at least one NARPM event per year. They're one of the better-known property management organizations and put their resources toward excellent speakers and sessions.
Join us at booth 3.
Fort Worth, TX, Sept. 12 – 15
A special keynote speaker awaits this crowd. Retired NBA player Walter Bond will entertain and motivate you with his life lessons on finding success. The conference will also feature sessions about risk and the economy as well as hours of important education. There will be lots of vendors, prizes and REALTORS® from every corner of the state.
We'll be at booth 602.
Long Beach, CA, Sept. 18
This local property management conference is a great option for anyone with a busy schedule or limited budget for travel. Spend a single day, 9 a.m. – 4 p.m., finding prospects, strengthening relationships and networking with local property management pros.
Be sure to stop by booth 300 (that's us).
Los Angeles, CA, Sept. 24 – 26
This exciting event has it all: hundreds of exhibitors, hours of masterclass learning sessions and keynote lunches. There are also two nights of celebration for those who choose to go. With an event of this size and scale, the networking options will feel endless. The trade show (not counting masterclasses) is free for CAR members.
Yardi Breeze will be at booth 232.
Chandler, AZ, Sept. 25 – 26
This event is perfect for locals who don't need the thrills or costs of larger conferences. The rates are low, and the sessions will hit points that matter to self storage property managers. This year, speakers will discuss the economy and the state of self storage in Arizona, among other topics.
We'll be at booth 32 if you want to talk storage.
Pasadena, CA, Oct. 2
Southern California-based property managers, investors and maintenance pros can hop over to lovely Pasadena for a full day of professional development. The venue offers plenty of room for attendees to visit exhibitors, ask questions and attend speaking sessions. The show ends at 4 p.m., making it ideal for anyone short on time. Not short on time? Don't miss the post-show mixer.
Yardi Breeze will be offering demos and taking questions at booth 202.
The Woodlands, TX, Oct. 13 – 15
This property management conference lets you choose from four educational tracks:
Staff/team leadership
Daily operations
Property development
Strategic viewpoint
Which one best aligns with your business needs? There's also a lot of fun stuff happening: charity auctions, networking events at the sports-themed Chill Zone, charity poker and more!
Yardi Breeze will be at booth 917 to show you how refreshingly simple self storage can be.
Phoenix, AZ, Oct. 15-18
The NARPM Annual Convention and Trade Show is the nation's biggest property management conference for single family owners. Yardi Breeze will be hosting a breakout session called "6 Ways Software Can Simplify Property Management," and there are hundreds of other sessions. NARPM is a great partner for single family professionals, so we recommend attending this show or one of their local events at least once per year.
We'll spend all three days at booth 47, so don't miss us!