For many urban dwellers, parking spots and constant traffic are at odds with the benefits of living in city limits. Sure, public transportation, walking and cycling are all reasonable alternatives to owning a car, but sometimes the hassles outweigh the benefits. In Malmö, Sweden, a new apartment complex ditches carports for bike racks to help tenants embrace a car-free existence.
For tenants of the recently completed Cykelhuset Ohboy apartments in Sweden, bike-friendly amenities allow for a carefree – and car-less – experience.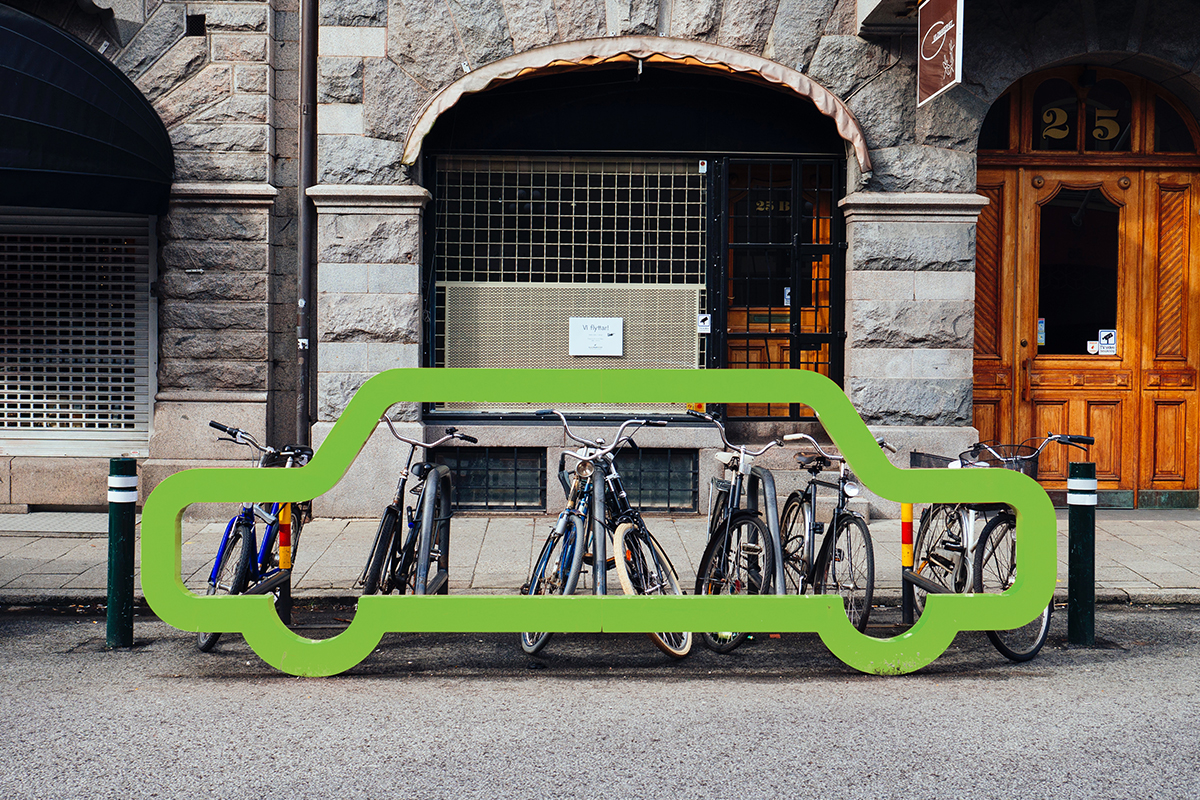 "It's a perfect city for biking," says Cykelhuset Ohboy spokesperson Ellen Mendel-Hartvig. "It's super flat, and you can get anywhere within 15 minutes."
Located just minutes from the city center, Cykelhuset Ohboy, a 7-story bicycle house/hotel, is an easy trek by foot or bike from major shopping districts and the central train station. Large delivery mailboxes will help residents shop online for items that are too difficult to transport without a car. And the building's fleet of cargo-bikes will help with heavy loads and transporting children to school or daycare.
"The strategy is to look at why people have to use cars, and substitute bikes," Cord Siegel, one of the architects at Hauschild + Siegel, which designed Cykelhuset Ohboy, tells Fast Company in a recent interview.
The Un-Motor Lodge
In addition to 55 rental units, Cykelhuset Ohboy also doubles as a hotel, with 31 lofts available for nightly rentals. Available for shorter tenancies – a few weeks to a month or two, the 237-sq ft lofts include a small kitchen and can sleep up to three people.
In a play on the traditional "motor-lodge," guests can ride their bike right up to their front door. Bikes can be parked out front or hung inside on wall hooks. The building also provides rental bikes, which can be used throughout a guest's stay.
In addition to bike-friendly elevator and "bike-up" entryways, the complex has widened doors and hallways able to accommodate electric bikes, cargo-bikes and even delivery bicycles. There's also a planned electric bike charging station and bike-repair facilities outfitted with tools, bike washes and air pumps.
A Fantastic Life
With an overall goal to reduce the number of cars on Malmö's streets, it's no surprise Cykelhuset Ohboy incorporates a variety of environmentally friendly elements. Local supplies are integrated into the construction of the compound's mezzanine and stairways. The balconies, meanwhile, come with irrigated garden boxes so residents can grow their own vegetables. In addition, the building's design creates cross-ventilation between the small lobby and interior stairwell, making air conditioning unnecessary.
Today, thirty percent of Malmö residents use their bikes daily, making Cykelhuset Ohboy a welcome addition to the neighborhood.
What's In It For Landlords?
"We get all these people emailing us and saying they're interested in renting an apartment," Mendel-Hartvig. "It's all for people who want to live and have a fantastic life without owning their own car."
We can't imagine many American properties going car-free just yet, but bike storage and repair amenities are popular with today's renters. If you decide to add some, don't forget to send out a resident email and edit your online listings to showcase the update. If you're a Yardi Breeze user, both things are easy to do – you can even do them from your phone. Not sure how? Get in touch.