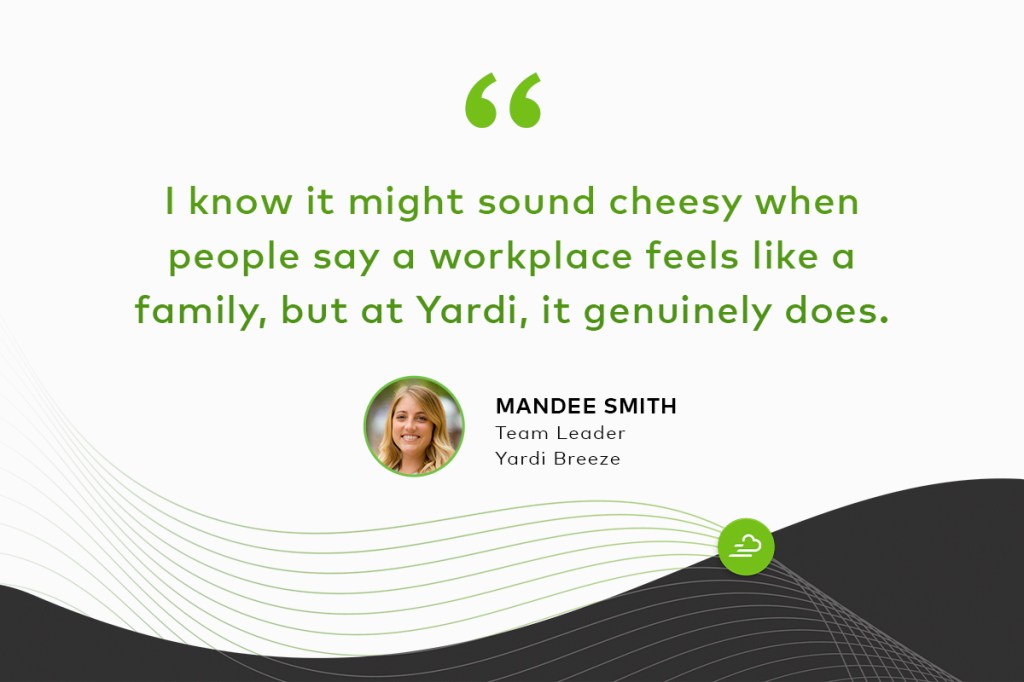 Meet Mandee Smith, a sales team leader who helps clients get the most out of Yardi Breeze. After graduating college, Mandee embarked on her professional journey, swiftly gaining experience through various roles within Yardi, from client success to sales. With a passion for fostering a positive team culture, Mandee celebrates the unique talents and passions of her team members. As a model of success in the tech industry, she tells us about her career path and what it takes to thrive and find enjoyment in the modern workplace.
What roles have you had at Yardi?
I initially joined the Yardi team handling client success. We addressed queries about client databases and helped troubleshoot issues. This role gave me a deep understanding of Yardi's customer service ethos, emphasizing personalized attention to every client.
Later, I transitioned to a smaller unit where I was responsible for a select group of 10 clients. This role allowed me to try on a marketing hat, offering clients insights on how to optimize RentCafe, one of our flagship marketing solutions. The close-knit nature of this team meant I built strong relationships with clients, meeting them weekly and maintaining regular communication.
My next move was to Yardi Breeze sales. The team was expanding, and given my sales background, I was asked to help spearhead the Breeze sales team focused on serving current clients. It's been a rewarding journey, especially because it's given me the chance to lead teams and initiatives.
However, I took a brief detour last year, leaving Yardi for a startup role, which was quite the adventure. But my connection with Yardi was strong, and I returned after a 10-month stint.
What brought you back?
There were several things that drew me back to Yardi. At the heart of it was the company's culture. I know it might sound cheesy when people say a workplace feels like a family, but at Yardi, it genuinely does. It's an extremely strong and stable company, and that's something I was looking to get back to.
Can you describe your day-to-day responsibilities as a team leader?
As a team leader in inside sales, my responsibilities are twofold. First and foremost, I support my team by training them and overseeing the sales process. This involves strategizing, managing and keeping us on track to meet our goals. Second, I manage my own individual sales pipeline. This dual role keeps my day dynamic and engaging. I frequently switch between different tasks, from team calls to strategize our approach to directly nurturing my own clients' businesses. The variety ensures that no two days are the same, making my role both challenging and rewarding.
What is your favorite feature of Yardi Breeze?
My favorite feature of Breeze has to be the report customization in Breeze Premier. While it might sound basic, it's incredibly valuable to our clients. The ease of use combined with the flexibility it offers makes it a standout feature. Whenever I mention this capability to clients, I can feel their excitement. They often express how much they've been needing it.
What feature do your clients love the most?
Choosing the most-loved feature by our clients is hard, but if I had to pick one, it would be the RentCafe online leasing execution bundle. This bundle offers clients a more efficient online leasing workflow, so simplifying tedious processes like document exchanges. Property managers receive real-time updates about each applicant and their current stage in the leasing process. The bundle also provides property-specific websites for each individual property, which clients find extremely valuable. Many of our Breeze Premier clients reach out to integrate this feature if they haven't already done so at signup.
What are some common traits you see in successful people here?
Three key traits stand out:
Self-motivation: Given the level of independence in sales roles, it's crucial for individuals to manage their time effectively.
Goal-orientation: We have monthly targets, and those driven by achievement tend to excel.
Strong customer service skills: Managing existing client relationships is a significant part of our role. We need to discern whether a conversation is purely sales-driven or if it's about addressing the client's immediate needs.
How do you foster a positive team culture?
We prioritize fun and personal connections in our team huddles. If a team member has a unique talent or hobby that they're passionate about, we encourage them to share it. For instance, one member showcased their juggling skills, while another shared music they produced outside of work. These moments help us bond and appreciate the diverse talents within our team.
What skills do new hires need to develop the most, and how do you help them?
The primary challenge for new hires is discerning when to assist clients with their support needs versus when to steer the conversation towards new Yardi products the client might benefit from. They need to strike a balance between understanding a client's current needs and focusing on future possibilities. It's about knowing when to delve deep into support issues and when to pivot to sales. For those unfamiliar with this dynamic, there can be a learning curve. That's where I come in! I provide guidance and help new team members navigate this balance effectively and make them long-term team members at Yardi.