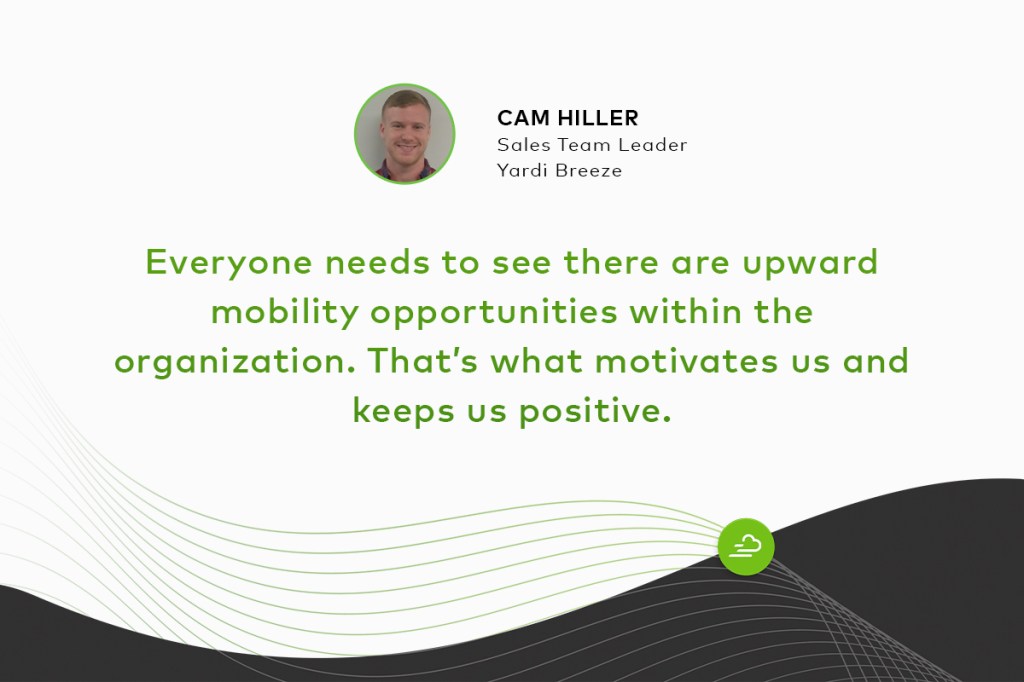 Cam Hiller is the team leader of the Yardi Breeze and Yardi Breeze Premier sales teams in the Yardi Dallas office. He's been at Yardi since 2019. Cam manages a team of sales representatives and is responsible for his group's productivity, success and strategy execution. He spoke to us openly about the compassion and understanding shown to him by Yardi management during a difficult personal time, as well as the importance of working where you know you're valued as an individual.
Can you describe your day-to-day responsibilities as a team leader?
I manage 13 sales reps including associate account executives, junior account executives and account executives. My primary responsibility is to manage their productivity and revenue expectations. I'm always available as a resource for them, assisting with scheduling meetings, negotiation calls, client interactions and anything else they need help with.
What made Yardi the right fit for you?
I struggled finding the right workplace after college. My first job was at a startup SEO management company where the culture was cutthroat and lacked employee engagement and care. I browsed LinkedIn, found Yardi and saw the potential to spend decades there. I applied, got the job and quickly felt like what I saw online matched my experience. The culture is fantastic, and everyone is collaborative and friendly. There is no cutthroat sales mentality.
Moreover, my management team was compassionate and understanding when my son was diagnosed with cancer. I share this story because I want people to know that there are compassionate and flexible organizations out there. They truly care about their employees. I don't think most people know of a corporate culture like this. Not many company executives will say, "Drop everything, do whatever you have to do — your job will still be here." I think that's unique.
Where do you see your biggest impact working here?
I believe that the biggest impact I've had relates to positivity. When people come to work with a genuine smile on their face, it can be contagious. I'm not sure if this is something I developed myself or picked up from others in the organization who share the same mentality. What I do know from experience is that a positive, friendly sales approach is not always a given in the software industry.
At other jobs, I've had managers who were rigid with their expectations. They weren't friendly or accommodating, and they didn't necessarily help the team feel at home. It might sound cliché, but when you're a manager, you need to remember that salespeople are people. I always take an upbeat approach to management, which carries over to my interactions with clients.
How do you foster a positive team culture?
I take a top-down, inclusive approach to coaching. I encourage my more tenured team members to develop their own coaching and management styles, and I provide them with opportunities to mentor new hires. Everyone needs to see there are upward mobility opportunities within the organization. That's what motivates us and keeps us positive.
Ultimately, my goal is to help my team advance their professional careers. It doesn't matter if that's going to be with my team, another part of Yardi or even another company. In the last year, I've helped a handful of people on my team grow into different roles. Just because you're hired on one team doesn't mean you're stuck there, especially if you decide it's not for you.
What are you looking for in the resume of a potential new hire?
I don't put as much stock into resumes as others might. Still, the resume is how we first get to know people, so I look for something that stands out and shows the candidate has put in the effort to make their resume unique. They don't need an elaborate design, but they do need to have something that gets our attention. The time spent on the resume, how they describe their job experience — small factors can make a big difference. A good resume tells a compelling story about a candidate's professional experience and who they are as individuals.
What do new employees find the most challenging when they first come in?
The biggest challenge is probably the vast amount of information to learn here. Most of our new hires are recent graduates, and the advice we give them is to soak up all the information they can during their first six months on the job. Although Yardi does a fantastic job with training on an individual level, there's still a lot to take in, from technical accounting to reports and more.
The challenge, but also the key to success, is to approach each day with a positive mindset. You can't retain every single thing you learn, especially not right away. Over time, you get better and better as you learn more about your role, the property management industry and where our software fits in with our clients' lives. The new hires who stick with it generally find the most success and get tapped for bigger opportunities.
Thank you, Cam Hiller, for giving us this fantastic interview about Yardi's work culture. We are thrilled about your son's recovery from cancer and wish your family continued joy and success in all your endeavors.