Paul Kretschmer is the writer for the Yardi Breeze and Yardi Breeze Premier online Help Centers. He's delivered hundreds of articles on virtually every feature in the software: navigating the dashboard, adding user roles, filling out property details, etc. Thanks to his efforts, as well as the work of our development and support teams, we've been able to reach the 1 million views benchmark sooner than expected.
As proud as we are of this accomplishment, a new year is coming soon, and that means bigger expectations than ever. We spoke with Paul about how we got here, what it means for Breeze clients and what's coming in 2023.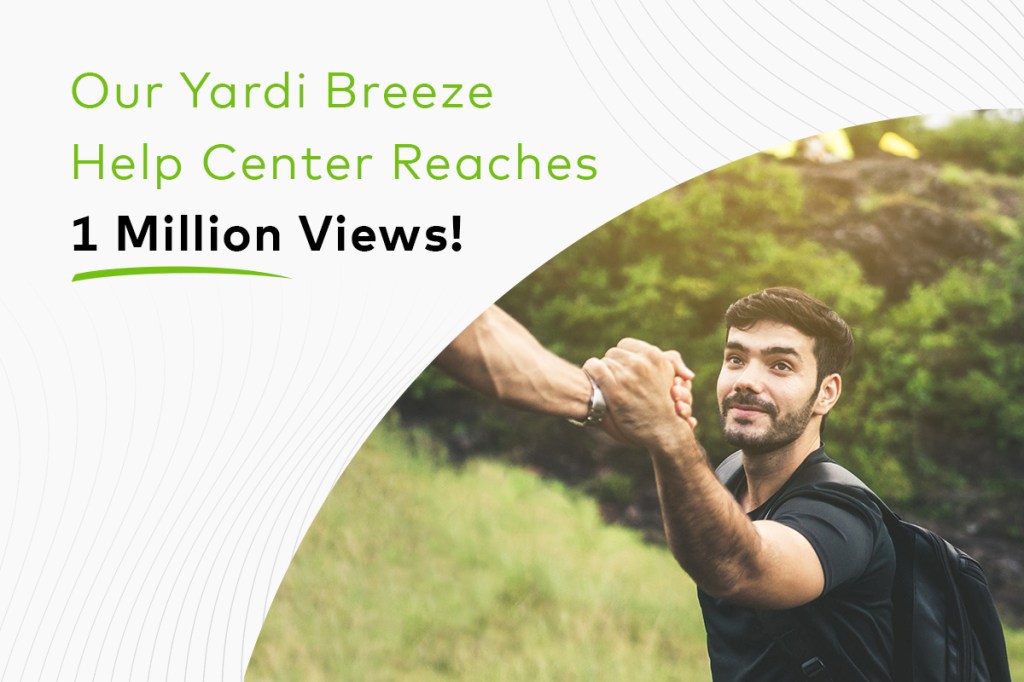 The Breeze Help Center views recently surpassed 1 million. As the Help Center writer, what does this mean?
It's amazing, to be honest. Breeze is only four years old. When it started, we had just a handful of clients, and the Help Center was small. We were building a new kind of product and a new kind of help tool. Now we have over 6,000 clients between Breeze and Breeze Premier, and about 500 articles in the Help Center.
When I started at Yardi almost 20 years ago, we had printed manuals. We had online help too, but it was based on the content in the printed manuals. That made it very hard to make changes. We would update the manuals about once a year and do a new version of the online help at the same time. If I wanted to make a change or correction, it could take a year for it to appear.
With the Breeze Help Center, any changes or updates I make are instantly available. Being able to respond to suggestions or corrections is great.
When you write an article, what are your goals?
When I write, I have two goals in mind: I want the information to be useful, and I want the article to be readable. I just want to get the facts out there and keep it simple. Of course, if I'm writing about a complicated feature, the article is going to have to explain that complexity. But even then, I want to make the language clear and easy to digest.
Do you ever write articles in direct response to client feedback?
Yes. Sometimes direct feedback from a client will prompt a new article, but more often, it's feedback that Client Services gets from clients passed on to me. And I'm always happy to respond — it means that there's a need for the topic and that there will be readers for it.
What articles tend to be read the most?
The most-read articles are about common procedures that are somewhat complicated — things that clients are going to have questions about. Here's a list of the articles with the highest number of views:
How do I add GL accounts?
Initial setup
Beginning balances
How do I reconcile my bank statement?
Have you ever written help content that wasn't popular with clients?
Yes. On a regular basis, I run a report that tells me which articles have received a large number of negative ratings. I look at each article and try to discover what I did wrong. Maybe the title was misleading, or maybe I skipped over an important part of the procedure. If I can't find a problem with it, I ask the support staff for help. Typically, problems arise when we don't consider the procedure from the client's perspective.
Anything big or exciting coming to the Help Center in 2023 that you can share?
In the fall 2022 release, we added the ability to create your own dashboard in Breeze Premier. In 2023, we are going to add this feature across all markets, covering residential, commercial, self storage, manufactured housing, affordable and condo/HOA. This is something clients have been requesting for a long time, and we're excited about offering it to them. We're also adding the ability to put reminders on the dashboard and color-code activities. We're building it out so clients can personalize the screen in a way that works for them.