Don't miss this IRO Summit review of the best questions from independent rental owners.
Thank you to everyone who helped make our third annual IRO Summit a great success. Yardi Breeze once again partnered with the National Apartment Association (NAA) to host the event. We had tons of engagement from attendees, including important questions and idea swaps that we're already putting into action. Look out for an upcoming article that addresses some of the most common questions we received with answers from our session leaders and industry experts.
IRO Summit, which was free and open to anyone who wanted to attend, kicked off with a special introduction from Matthew Haines, IRO Committee Chair at NAA. We also included bonus videos featuring product demos of our latest proptech solutions for Yardi Breeze and Yardi Breeze Premier. If you'd like to see a demo, please reach out and request a personalized experience.
For now, please enjoy all sessions from the event on YouTube.
Feel free to revisit any of your favorites or catch up on anything you might have missed.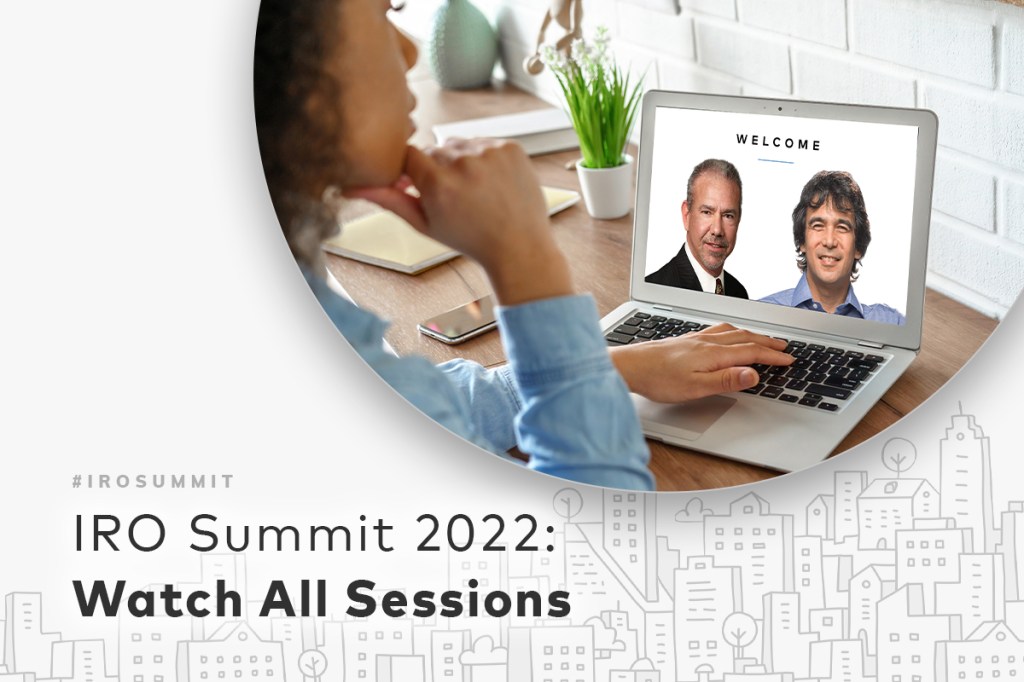 IRO Summit 2022 sessions available online now
The Housing Advocacy Landscape | Nicole Upano, AVP, Housing Policy & Regulatory Affairs, NAA
Market Trends & Forecasts Impacting IROs | Jeff Adler, Vice President, Yardi Matrix
You Bet Your Assets! ESA Processing & More | Victoria Cowart, Director of Education & Outreach, PetScreening
ILS IRL (Internet Listing Services In Real Life) | Megan Orser, CEO, Smart Apartment Solutions & Smart Moves LLC
What Keeps You Up At Night? | Rob Chiang, CEO, RC Real Estate Services Inc. & Dawn Ford, Managing Member & Broker, Smart Apartment Solutions (panel moderated by Chis Ulep, Vice President, Yardi Breeze)
From Move-In To Move-Out: Best Practices For Risk Management | Trip Stanford & Kent Simpson, Industry Principals, Yardi (panel moderated by Cheri Quattlebaum, Senior Manager, ResidentShield)
IRO Summit 2022 session descriptions
Nicole Upano leads a discussion on the latest legislative and regulatory developments. Legislation is her specialty, and she'll show you how the industry should be managing ever-evolving legal requirements.
According to Jeff Adler, the rental market is experiencing record growth. However, with a looming recession, there could come headwinds. This session covers an update on the economy, with a focus on the labor market and inflation. He also discusses key rental trends and forecasts to help you make educated decisions. He also touches on the single family rental sector, which has gained significant momentum since the pandemic.
Service or support. HUD or DOJ. FHA or ADA. Do you know the differences? In this session, Victoria Cowart discusses what you need to know about assistance animals and accommodation requests — from the 101 basics to the 2020 HUD Assistance Animal Notice. Both on-site teams and regional management will appreciate the content that she covers on one of the hottest HUD complaint topics.
The Internet Listing Service game is fierce in real life, and it's only getting trickier to manage, especially for Independent Rental Owners wearing multiple hats. With over 95% of apartment searchers turning to Google, Bing and YouTube to start their search, your online curb appeal is more important than ever. Megan Orser's session offers time-saving tips that help keep your property top of mind for future renters!
Our IRO Summit panel discusses the professional stressors independent rental owners face that make it hard to sleep, as well as the strategies they use to reduce the tossing and turning. Topics covered include maintenance, supply chain issues, staffing strategies, virtual showings, adopting new technology, risk management and more. Host Chris Ulep is joined by long-time IROs Dawn Ford, Managing Member & Broker of Smart Apartment Solutions, and Rob Chiang, CEO of RC Real Estate Services Inc.
Risk management matters through every step of the rental process: from the moment a potential renter applies to even after the lease is terminated. In this session, two Yardi industry principals and moderator Cheri Quattlebaum discuss how technology can help you approach risk management. They cover tools that save time and effort while addressing property damage, debt-related issues, occupancy, reputation management and more.
We hope you join us at the next IRO Summit for more free educational sessions, prizes, giveaways and more!