Victoria Cowart is a leading industry expert and educator who helps property managers understand laws and regulations around pets, pet screening and assistance animals. Not sure of the difference between emotional support animals (ESAs) and service animals? Need to make sure you're in compliance with the law when presented with an ESA letter? Her passion is to help you get there just as she's helped countless other large property management companies and independent rental owners. We caught up with her to discuss the complex topic of pets and assistance animals (i.e., emotional support animals and service animals) in property management.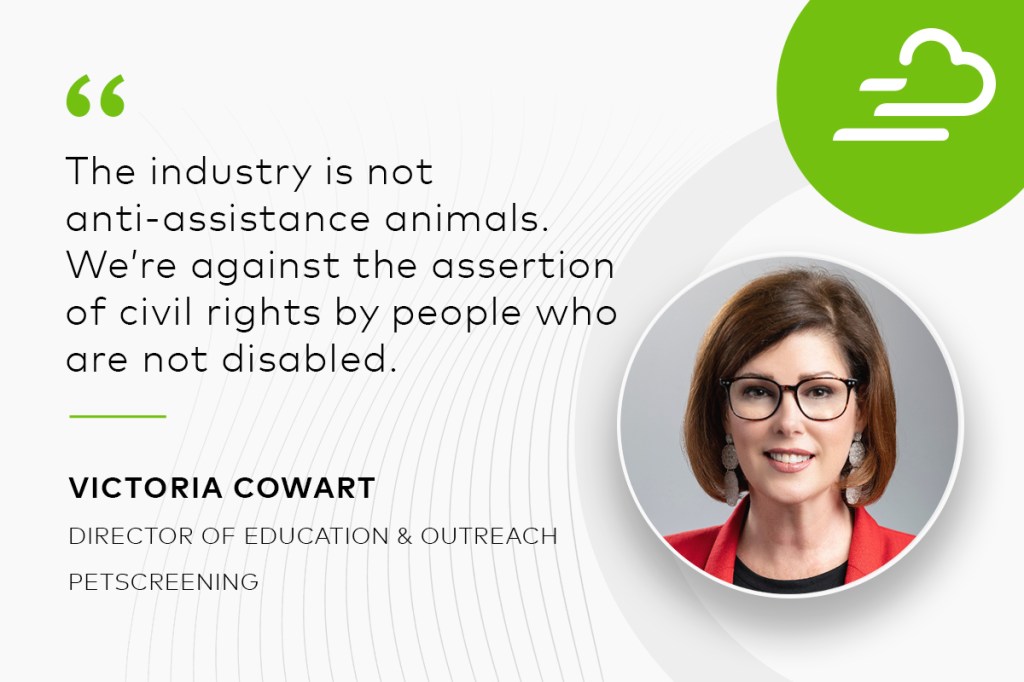 Victoria, what is your background in the industry and with NAA?
I began in the industry as a leasing agent many years ago. Eventually, I helped form the Charleston Apartment Association and went on to become its chair. Through that role, I had the opportunity to attend National Apartment Association (NAA) events. At some point while attending those events, I joined up with the Communications Committee. That's the committee that helps produce Units Magazine, the most beloved magazine in the industry.
I ended up chairing the Communications Committee as well as the PAC Ambassadors Committee and PAC Committee. And then just last year, I chaired the Legislative Committee. More recently, I was a regional vice president for Region Four with NAA, comprised of North Carolina, South Carolina, Georgia, Kentucky and Tennessee.
And now you're with PetScreening. What is that, and what do you do there?
We assess pets, essentially. We screen them and give a Pet FIDO rating of 1-5 for each pet in our clients' communities. The property management team can use that score as a risk assessment. It's really, truly pet screening. Think of it like credit screening for people, but it's pet screening for pets.
Is this having an impact, helping property managers get more comfortable with pets?
Actually, when I'm talking with potential clients, I share that many of our current clients are doing away with restricted breeds and weights in favor of the criteria we use and the service we provide via PetScreening. It gives them something to work with in terms of parameters. But we do include in our conversations that our system is customizable for breed, weight and age restrictions. If the pet has even one data point associated with the community's restrictions, the PetScreening system will produce a zero FIDO score. However, I genuinely feel that the FIDO scoring is more relevant and a much better risk predictor than criteria like breed and weight.
There are, of course, some communities that will say they don't want any pets on the property. Others don't want pets below a certain age because they recognize that puppies in training, for instance, are much more likely to do floor damage than house-trained dogs. However, I was elated to see research that came out recently in which over 18,000 dogs were studied, and breed was a predictor of only 9% of the dog's behavior.
What makes your FIDO scoring a better predictor of risk?
It considers everything that the individual pet parent tells us about that pet. All the data points on that pet, as well as whether they upload vaccination documentation. Then we look at the answers to 23 different pet parenting questions, and all of that runs through the algorithm. The lower the score, the higher the risk. We don't actually assign these scores. It's an algorithmic churning of all the data the pet parent tells us.
I want to turn away from pets and talk about assistance animals, meaning emotional support animals and service animals. How did you get into that arena?
While I was serving with NAA as a member of the Legislative Committee, there was an opportunity to help produce an emotional support animal toolkit. So that's how I got into the assistance animal piece. Working in that capacity became such a passion point for me.
Is there some skepticism in the industry about emotional support animals right now?
I would not say the industry is anti-assistance animals at all. What we're against is the disingenuous assertion of civil rights by people who are not in fact disabled. The ones simply trying to avoid pet policies, fees, rents and deposits.
Is it a lack of respect that's frustrating?
Exactly. Property managers get frustrated when they find banned breeds in the community. It's not as though the customer comes in and says, "I'd like to get a pet in my home, and I want to chat and find out what's permitted and what's not." That respectful relationship is often not what industry members are experiencing. And if they are, it doesn't stand out because it pales in comparison to the routine shocks to their senses they get when they knock on a door and there's an unauthorized animal in the home.
When property managers confront pet parents about that, the pet parent's response is often to say, "I'll just get it certified as an emotional support animal." There's a genuine frustration in the industry around that. But again, I wouldn't say our industry is opposed to assistance animals. Serving people is in the DNA of this industry, which includes helping disabled renters have the animals they are entitled to. And it makes us happy to help, but that joy can be overshadowed by the false assertion of rights by folks who are not disabled.
In your experience, what's enabling all this fraud?
I think it's a combination of factors. The industry and HUD are on record as being opposed to online animal certification providers. These providers allow pet parents to go online and simply get what I call a doggy driver's license along with a vest and certificate. None of it is based on an actual need for an assistance animal accommodation.
But there are also online therapeutic providers who are not measuring up either. They're supposed to have personal knowledge of the requester. I don't think that a questionnaire or a review of a questionnaire gives one personal knowledge of the requester.
And the need for an emotional support animal or services animals is supposed to be tied to the disability, right?
Yes. The phrase we use is nexus. Before recognizing an assistance animal, property managers have a right to reliable documentation from a health care provider with personal knowledge of the renter's situation. This documentation must confirm the disability when it cannot be confirmed visibly or through records (such as disability income or benefits). It also needs to state that there is a disability-related need for the assistance animal. But because those letters are frequently falsified, there's a lot of angst in the industry. This is all about civil rights for the disabled. This is about the Fair Housing Act, and we take it seriously.
What can a property manager do if they suspect a fraudulent letter for an emotional support animal or service animal?
I have an entire session on this called You Bet Your Assets. The truth is, this industry is uniquely exposed to HUD complaints and HUD lawsuits. And when I say uniquely, think of someone traveling or seeking to travel on an airplane. If somebody in the professional airplane world mistakenly tells someone they cannot travel with their service animal, then automatically the service animal doesn't qualify. If the aggrieved individual files a lawsuit, it's extremely unlikely that the staff member who told the person no is going to have their personal assets at risk.
In property management, a simple misstep regarding assistance animals is often a HUD violation. HUD is going to look at who on the property denied the resident or prospect as well everyone in the chain of command. And even if HUD says there's no finding here, an individual can still file suit independently if HUD finds that there's cause for concern.
Any final words of advice on how property managers should handle pet screening & assistance animal requests?
There are two classifications of assistance animals: service and support. Two different paths, two different things that you do with those. For documentation, we're on the support animal side only. The property management team should be receiving the requester's documentation. They can forward it to the appropriate management team member or evaluate it there on the front lines. As long as they stay in accordance with their company's operating procedures on this topic.
That said, whoever is evaluating the requests should not ask the health care provider about their relationship with the requester, nor should they ask about specifics of the disability. They can, however, authenticate the document for reliability confirmation only.
We at PetScreening do all the Assistance Animal Accommodation processing for our clients, free of charge. We also engage with the pet parents in their communities. To do this, change the pet parents a very reasonable fee for their pet screening. When we get their pet profiles, our algorithm produces the FIDO scoring. Our work on all fronts of this conversation helps our clients to authenticate assistance animals and distinguish them from pets. We take work off the site teams, help our clients control risks and clear the way for them to earn additional revenue through pet screening.