Matt Russell is a digital marketing consultant for RentCafe websites by Yardi. That means he works directly with clients who want to use Yardi to build their corporate or marketing website.
According to a NMHC/Kingsley Apartment Renter Preferences Report, nearly 80% of apartment hunters will visit a property management company's website. A well-made site adds professionalism and legitimacy to your business, but not having one (or having a bad one) does the opposite.
We wanted to talk with an expert who could walk us through just what goes into the making of a RentCafe website: How are clients trained to update their site? What customization goes into it? How does Yardi keep up with changing trends in technology? Matt was able to provide expert answers to those questions and much more.
For a client perspective on Yardi marketing websites, check out this interview with housing provider Raven Cerny. Or see her website for yourself: Petra Management Group.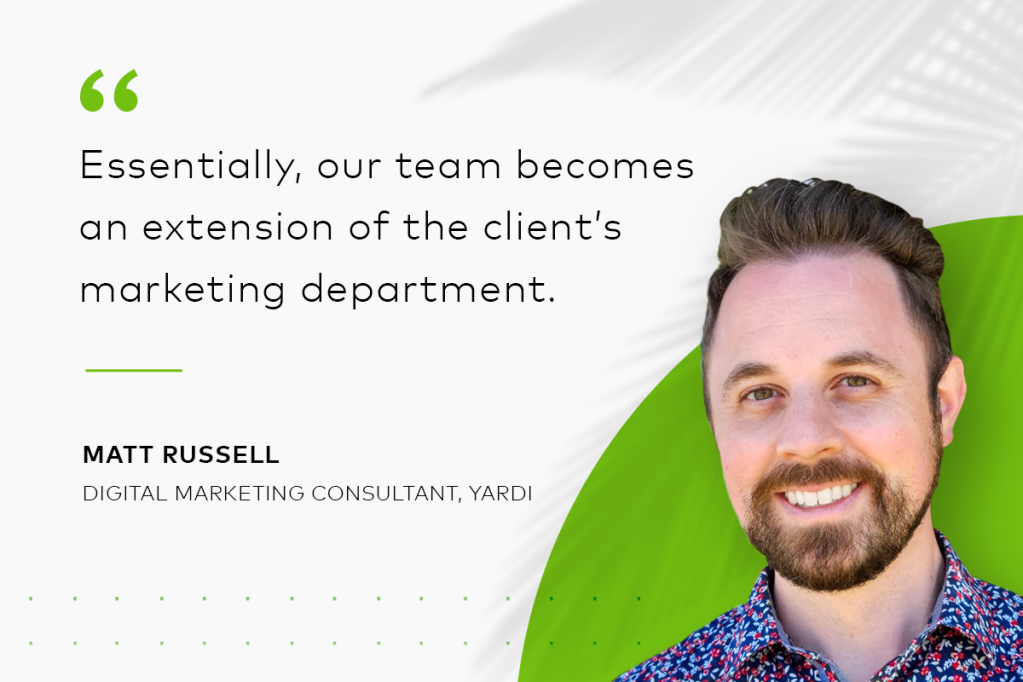 Thanks for joining us, Matt. Please start by telling our readers how you help create RentCafe marketing websites for our clients.
As a marketing consultant, I'm one of the first points of contact for clients. I help with migrations, private themes, project management — anything related to the marketing website.
For instance, if a client has their portfolio on a third-party platform, we help them migrate all their properties over in a streamlined, efficient way. Essentially, our team becomes an extension of the client's marketing department. We utilize Yardi resources to help them move over their property info, their content — anything they have — over to RentCafe.
So is this process more of a creative vision or technical process?
I can break my job into two categories, art being one and science being the other.
Part of the art of my role involves truly listening to my clients. I can learn about their business, their location, where they're headed, their resident demographics, all of that. I'll look at their logo and any other marketing assets they already have. Once we know what the client is looking for, we start dialing in colors based off their existing assets. We may assist with finding stock photos that complement the direction of their portfolio.
The science piece of it can be broken into a few chunks. First is the project management aspect of the work: making sure that we're efficient in partnering with the client. I mentioned earlier that we help dial in their color schemes. If they have a large portfolio, we'll show them how we can create unique schemes for each marketing website. That way, if a prospect is jumping between different property websites in the same portfolio or ownership group, there's a very similar look and feel. Some clients have multiple ownership groups, so for them, we create different global and art styles for each group.
So the art and science pieces are pretty closely related, right?
Yes. And one other task that our team really loves to do, and needs to do, is stay up to date with best practices. If Google has updates, we make sure that RentCafe remains up to par with those changes. This affects mobile friendliness, speed tests, all those technical elements.
Is it a lot to learn all that and stay current?
Definitely, and that's why clients come to us. We have to know all the new features well enough to train our clients on them. Some clients may not even notice this, but their site manager automatically updates every month. That means we have new features coming out every single month. Our team will go in, test each new feature, get to know it, etc.
Do clients tend to know what they want, or do they kind of say, "Hey, you're the expert, what you say goes"?
Every client has a different level of expertise. That's why we have to stay up to date. Whenever we meet a new client, we have a kickoff call where we ask them a lot of questions and do a deep dive into their portfolio.
What topics do you cover in that kickoff call?
We talk about the importance of being mobile friendly, their goals, what they want from their custom pages and the look and feel of the site. It's important for us to know where they're at and discuss some industry best practices to help get them set up for where we're headed.
If a client needs specialized training, we'll actually build out training tools for them. So we'll build a document that goes through different features, showcases their actual portfolio and shows them how to do things within their system.
Why have Yardi build a website over a third-party site designer?
Yardi is a one-stop shop: From the time a prospect begins their apartment search online to the moment they sign a lease and start paying rent, our websites handle all of it.
Whether it's advanced SEO marketing, signing up for lead experience analytics, floor plans, payment processing — everything is managed in one spot. RentCafe sites make everything super-efficient because our clients only want to use one service, and it does everything they need.
What are the most popular or requested features?
The most requested feature right now is for our property websites to be on RentCaffeine. This is the latest site building software we're using. It's built mobile-first and delivers content at extreme speeds.
RentCaffeine also makes it very easy to keep your property website up to date. It uses widgets, so people can swap out photos, add amenities, change descriptions, update calls to actions or anything else. Customization becomes very straightforward.
So this leads into the next question: How are you making each website unique?
Our team is really focused on photos and color schemes. These are the main marketing website pieces, other than the text they use, that help create the brand. From there, we customize the website based on the user experience the client wants to provide. Clickable buttons can be put anywhere, photos can match their branding guidelines, their demographics, all of it.
What's an example of changes you made based on client interest?
I had a client whose entire portfolio was inside New Orleans. We talked about how everything they do is related to the city and the music, and how that should look for their clients. Their residents were really into New Orleans. It was a whole identity that we helped them flesh out, and it's something we do with every client.
Creatively, how do keep your ideas fresh after building so many marketing websites?
My team loves hearing out each client's story and context. We build a look off of their existing website or portfolio. It's all based on who they are as a company, their brand identity. Once we get a handle on that, we can knock it out of the park.
We'd like to thank Matt Russell for giving us his time and discussing how he and the rest of the RentCafe team go above and beyond to craft unique website experiences for Yardi clients. Since finishing this interview, he has switched roles and is now a UX/UI designer for Yardi apps and software. We wish him best of luck on his new opportunity!
If you're a Yardi Breeze or Yardi Breeze Premier user and are interested in discussing a marketing website for your business, please email us at any time.