From humble family-owned beginnings with a single, renovated hotel, North44 Properties has grown into a property management business that keeps over 400 units in its portfolio. Regional manager Manuele Mizzi oversees the management of properties in six markets across Canada and the United States. We're excited to share our discussion with Manuele about his business's switch to Yardi Breeze Premier to manage his residential properties.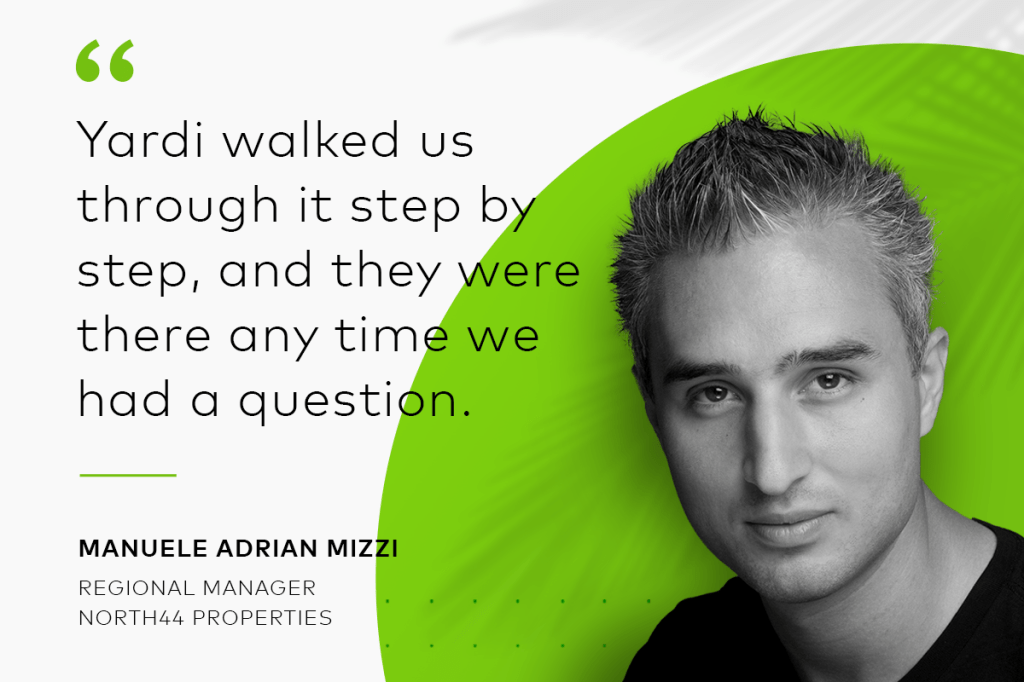 Tell us a little bit about North44 Properties. What are your goals, how did you get here?
We're a family-owned business. Our story begins with an old hotel back in the early 1900s. Now, that hotel is an apartment building. I've been at North44 for about 11 years. When I came on, we were in three cities: Toronto, Markham and Thunder Bay. Since then, we've gone into Sault Ste. Marie, London and Charlotte, North Carolina. We've grown a fair amount and have satellite offices at every location. I manage all the satellite offices from here in Toronto.
Our goal from the very beginning was to work in all types of housing. We have both market rent and social housing. Although you won't see it on our website, we deal with five of the big social housing providers in Toronto.
Having come from Genesis, an older Yardi software platform, is there something Breeze Premier does that really stands out to you?
Breeze Premier is an easy-to-use platform, which I really like. And it's a more modern package. I've trained every staff member we have on the Breeze Premier system, so I can say that it's easy to train on.
It's not hard to pull reports or do anything in the system. Breeze Premier lets our staff gather more dynamic information, and it links up to our bank account. We are now very attentive to the smallest details that we're entering. This is good because sometimes the hardest part in a property management company is AP. Normally AP is not in the same department, and on top of that, you have bookkeepers and accountants who will look at things after they're in the system. Breeze Premier allows a seamless flow of information between all departments.
Did you explore other property management software besides Yardi products? If so, what factors helped you choose Breeze Premier?
No, we didn't have a need to look elsewhere. What was the point, right? We were happy clients for a long time. I've had the pleasure of meeting Mr. Yardi and heard his story. We're happy with Yardi — the systems work the way we want them to work, so we upgraded to Breeze Premier.
Now that you've implemented Breeze Premier, what results are you hoping to achieve?
The quickening of processes that took us so long before. Breeze Premier gives staff members the opportunity to go back over their work. It gives us time. The system is so dynamic and helps everyone at North44 stay on the same page. With Genesis, we were entering data into an older system that took a lot longer. It's been very nice to have a little bit more breathing space as well as the remote work ability. I'm not always at the office, so having the ability to work from home has been really helpful.
How has your experience been with customer support?
It's been great. We're able to live chat with customer support right in the system. That helped us out instantly, especially at the beginning when there were more questions. I reached out to the Breeze Premier team for help and to learn the system better. They were so helpful and patient, and when they didn't have an answer, they got back to us in a timely manner. Customer service was able to fix everything. They took us through the intricacies of implementing and navigating Breeze Premier.
Bravo to the team, because they were great!
Is there anything you think new property managers should know about growing a business in this day and age?
Technology is our friend. It helps us communicate better with our tenants and employees, and the information we get from it is more accurate. We have to admit that technology has helped us to be better at what we do.
How did the team at North44 embrace the change when you upgraded?
Yardi walked us through it step by step, and they were there any time we had a question. There's a learning curve, but Yardi helped us through everything. Sure, there have been glitches, but either we find them or the Yardi team finds them, we work out solutions, and we move forward. It was really exciting to have something that our entire office could work on. With Genesis, we could not all be on the system at the same time.
Upgrading from Genesis to this new solution will make your life much easier. It works similarly to Genesis. The difference is Breeze Premier is more dynamic and can be used from anywhere.
We'd like to thank Manuele Mizzi for giving us his time as well as the opportunity to share his expertise as a multinational housing provider.