The pandemic aggravated an already deepening affordable housing crisis, and the unemployment wave hit retail, hospitality and leisure sectors the hardest. However, manufactured homes remain a viable solution to the housing crisis. Despite the facts, modern manufactured homes are often referred to as "trailers" or "mobile homes" by the general public, even though they are almost indistinguishable from single family residences.
In fact, manufactured homes are built in compliance with HUD regulations. REITs and other large institutional investors are entering a historical mom-and-pop dominated industry and taking advantage of value-add opportunities.
From financing to building quality and tenants, manufactured homes have evolved to be defined by affordability, not mobility. This article addresses the most common myths about manufactured housing communities.
For more on industry stereotypes, check out 6 Myths About Property Managers & The Rental Housing Industry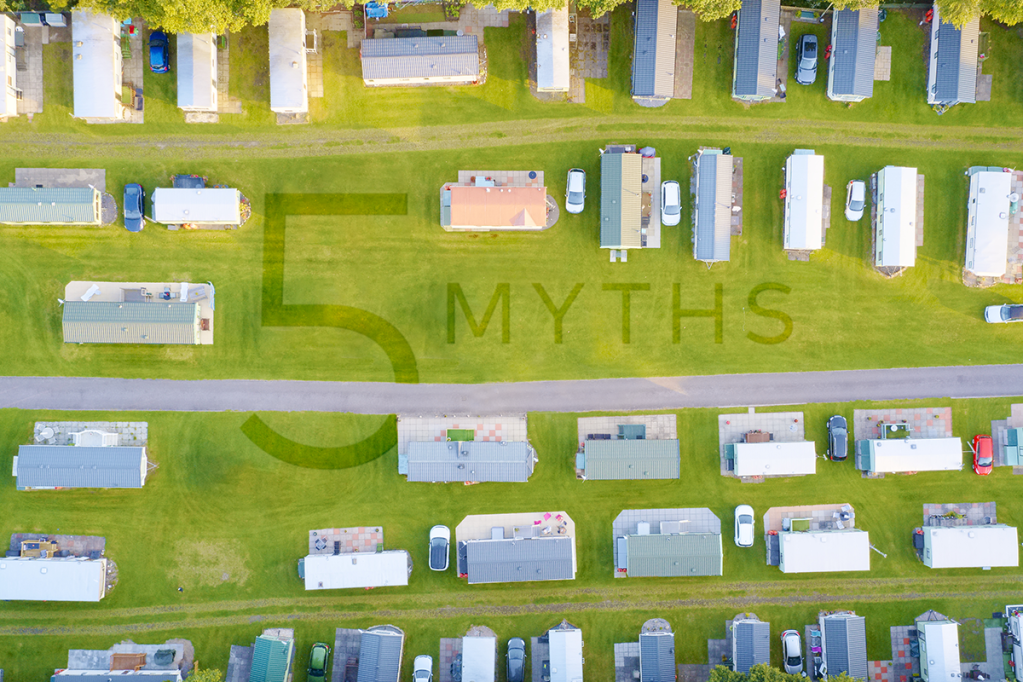 Myth #1: Manufactured homes are hard to finance
One myth regarding manufactured homes is that they are hard to finance. While this used to be the case several years ago, the situation has changed with increased investment interest. Now, both GSEs and private lenders have ramped up financing manufactured housing.
The first half of 2020 saw a spike in loans, as the U.S. Federal Reserve slashed interest rates in order to offset the economic impact of the ongoing pandemic, with many owners taking advantage of the opportunity and refinancing their portfolios.
Myth #2: Manufactured homes are poorly built
Homes that may fit the outdated stereotype include ones built before June 1976, when updated HUD codes were implemented.
Today's homes are built under HUD's strict Manufactured Home Construction and Safety Standards. They are then transported to the site and assembled rapidly to ensure minimal weather exposure that can result in increased expansion, contraction and warping. While many still see them as old-fashioned mobile housing, manufactured homes are actually a specific type of factory-built housing that very closely resemble single family residences.
Manufactured homes are also believed to depreciate over time. Like any property, this can happen if the structure has been moved or it wasn't cared for. But, as with any type of real estate, location is everything. A well-located community can maintain or increase its value over time.
Myth #3: A manufactured housing community is a bad investment
Demand for manufactured homes keeps increasing, and the pandemic has only accelerated the need for affordable housing. The sector can be seen as a safe investment in times of uncertainty since there tends to be low residential turnover and relatively high rent. Occupancy hit an all-time national high in the first quarter of 2020, at 93.5%, according to JLL data.
Overall, the manufacturing housing market has become increasingly sophisticated. This is due to advances in technology such as online property management software and investment management software. It's easier than ever to track trends in rent and occupancy to increase investor returns.
Myth #4: There's a high barrier to entry for investors
Compared to other asset classes, the manufactured housing sector has one of the lowest investment barriers. With limited new supply and an aging existing stock, investors have plenty of value-add opportunities in this niche sector.
Myth #5: Manufactured community managers only target low-income residents
While most asset types use letters to differentiate properties by age and construction quality, manufactured housing communities are differentiated using a star system, ranging from four stars to two stars, each targeting a different type of tenant.
According to Fannie Mae data, the median annual household income of manufactured home residents who own their homes is about $35,000.
The same data shows there is a $350 all-in cost difference between renters of manufactured homes compared to site-built homes. This could be an incentive for debt-burdened millennials to choose manufactured housing, then use the savings to invest or pay off loans.
Another growing demographic is comprised of aging Baby Boomers with disposable income who opted to reduce retiring costs or simply added a second home. These residents are mostly considering 55+ communities, which offer amenities comparable to those of traditional senior communities, but at a fraction of the price. 
Check out 2022 Freddie Mac research on opportunities to expand manufactured housing.
How community managers can help change the stigma
There is a stigma around manufactured homes that comes from the poor quality of many pre-1976 trailers and mobile homes. Many strides have been made since that time, but the stigma remains.
So, what can community managers and owners do about this?
Mike Callaghan, managing partner at Four Leaf Properties, shared his ideas with MHN News. He said, "If we want to get rid of the 'trailer park' stigma, we need to get rid of all the trailers … the notion that upgrading communities requires displacement is totally false." He also mentions that manufactured housing valuations are at an all-time high in 2021, making the case that this is the time to invest in upgrades.
He concedes that the first step in removing the stigma is to break through development barriers. We need modern communities that deliver the lifestyle experience people are looking for, he argues.
Despite the barriers, he is optimisitic. "With few options to buy existing properties at reasonable cap rates, the lion's share of new capital is going directly into new development," he said. "We are going to see unprecedented levels of new community development in 2022."
Final thoughts
While manufactured homes are gaining popularity, false assumptions, myths and stereotypes continue to influence some investors. Still, the truth is that the manufactured housing sector is experiencing an increase in popularity among investors and tenants alike. And that's happening because these communities are a bright part of our future.
This article was originally published in Commercial Property Executive