Guest written with the StorageCafe editorial team, our go-to experts on the best self storage features and amenities.
Self storage is a growing industry that currently provides over 1.5 billion sq. ft. of rentable self storage space in the United States. Our goal is to help facility managers develop strong relationships with their customers. That's why we partnered with StorageCafe to discuss the key self storage features renters want today. We'll focus on:
Storage unit size
Climate-controlled environments
Protection plans
Additional services
1. Find the right size
One of the first things you'll have to do with customers is help them find the right sized unit. This handy storage unit size guide shows what each of the standard storage unit sizes can hold.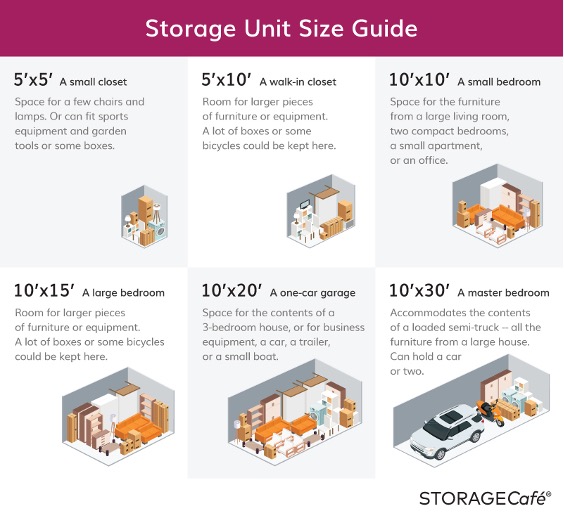 How to discuss storage unit sizes with customers (3 examples)
A 5′x5′ unit is the right choice for customers who plan on storing a few boxes of sports equipment (e.g., fishing poles, golf clubs), decorations, clothing or small furniture such as stackable chairs or a foldable table.
A 10′x10′ unit can typically hold the furniture from an entire living room or two compact bedrooms. Alternatively, it can store an ATV, lawnmower or other equipment similar in size, plus some extra boxes with personal belongings.
A 10′x20′ unit is about the size of a standard one-car garage and can hold the contents of a medium-sized home. You might recommend it to customers who are in the process of moving and need quite a bit of space.
2. Promote climate-controlled units
Climate-controlled units are often preferred over standard, non-climate-controlled units. But many customers, especially first-time self storage renters, might not know why these units matter.
A climate-controlled unit is the safest choice for customers with valuables or sentimental items such as photo albums, vinyl and artwork. Delicate items including furniture, electronics, appliances, shoes and clothing also do a lot better in a climate-controlled environment. Climate controls may be necessary if your facility is in an area where temperature and humidity tend to fluctuate or reach extremes.
3. Offer additional services your facility provides
If your services set you apart from your competition, make sure your customers know! List all available services on your website and share them when you communicate with customers. Such services include:
Deliveries
24/7 site access
On-site transport dollies
Moving supplies for purchase
Valet self storage
Self storage for business
When businesses were required to socially distance during the pandemic, many turned to self storage while they rearranged their offices. Make sure prospects know whether your facility is suitable for the storage of business items. If you successfully market the advantages of self storage for business — affordability, flexibility and ease of use — you might find yourself with a new, steady stream of income.
4. Self storage protection plan
We always recommend self storage protection plans for tenants. (You can even make it mandatory.) That said, you're likely to have customers who are on the fence about paying extra for a protection plan. If your facility provides a plan, walk your renters through each policy. Be sure to explain what is covered and what is not. Ultimately, your goal is to convince customers that a protection plan is a good idea.
Remember to promote your business online
Between your business website and social media channels, it's easier than ever to expand your potential customer base. This is where facility management software can help. Yardi Breeze Premier users even have the option to let Yardi make a professional website for their businesses. We can build a corporate site and individual property pages for each property you manage.
If you're a Breeze Premier user and want to learn more about self storage software, give us a call at 800-866-1144. And if you're not with us yet, you can request a personalized demo whenever you're ready!