Thanksgiving is upon us, and it's not entirely clear what the rules of safe travel are anymore. Luckily, the CDC has rules for celebrating Thanksgiving. Let's take a look at some ways you and your residents can still enjoy turkey (or turducken, or tofurkey, etc.) while social distancing.
Please note: The CDC strongly recommends Americans avoid travel for Thanksgiving. This article can assist those who decide to travel or host/attend a social gathering with people who live outside their dwelling.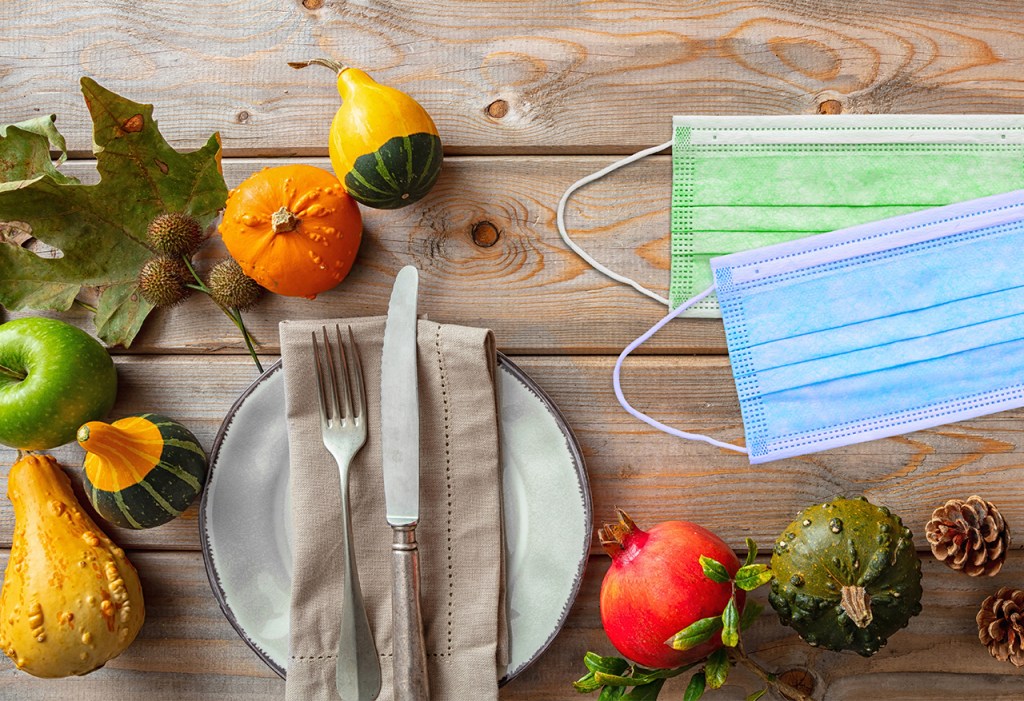 1. Get the flu shot
The typical flu season lasts peaks December to February, and the CDC recommends all healthy individuals get a seasonal flu shot each year. The flu vaccine decreases the risk of getting influenza by 40-60%. It also tends to reduce the severity of the illness if you do get sick.
Use this vaccine finder to locate a flu shot clinic near you.
With COVID-19 spreading faster than ever in many parts of the country, it's wise to get vaccinated against the flu as early as possible. Also, it can take up to two weeks for the vaccine to be fully effective against common strains of influenza, so it's important to get vaccinated well in advance of seeing family and friends who may be at risk over Thanksgiving.
It's all about community health
When you protect your residents, you protect your properties and investments as well, so encourage your residents to get a flu shot. Frame it as a positive act: Shots protect their community, not just themselves.
2. Social distance at least 6 feet apart
Social distancing is one of the best ways to prevent the spread of COVID-19, but it's difficult when everyone is together around the dinner table. Try to keep about two arm lengths of separation between you and anyone who doesn't live with you.
This means the traditional Thanksgiving table might look a little different:
Set up a buffet-style meal rather than pack food on the table
Eat outdoors, if possible
Sit in different areas of the house or room, rather than a single table
Limit the number of people at the gathering so everyone can uphold the 6-foot rule
3. Wear a mask 
When combined with social distancing, a mask is your best bet at stopping the spread of the coronavirus. It might feel weird to wear one at Thanksgiving, but it could be a life-saving choice, especially if elderly or at-risk people will be there. Residents can wear a mask with two or more layers — or multiple masks — to help keep everyone safe.
4. Put hand sanitizer everywhere
Handwashing is better than sanitizer, but your residents and their guests/family are probably more likely to use the bottle of sanitizer next to the couch than to get up and walk to the kitchen or bathroom. Residents should put bottles of sanitizer in convenient locations around the house.
5. Keep disinfectant wipes next to the sanitizer
If everyone at your Thanksgiving gathering makes an effort to socially distance, wear masks when appropriate and keep their hands clean, there's a higher chance that infectious diseases such as coronavirus won't spread.
The other thing you'll want everyone to do is wipe down anything they touch and avoid touching anything they don't need to. For example, if everyone is around the TV, they can wipe down their sitting area when they leave the area.
It might be a good idea to pre-determine seating arrangements as an extra precaution.
6. Encourage residents to think outside the box
Thanksgiving is one of the most-recognized holidays in the United States. Almost everyone (who isn't an essential worker) has the day off. Traditionally, it's a time for family and friend reunions. We bust out the "good china," prepare our best recipes and forget about our troubles and cares, if only for a while. 
To come close to that level of comfort, 2020 might require you to think outside the box:
If hosting, provide disposable plates, cups and utensils
If attending someone else's meal, residents might want to bring their own plates, cups, utensils, etc.
Stay out of the kitchen and any area where food is being handled
Wear a mask if you aren't eating, especially if you're around food
Don't send anyone home with leftovers, or don't take anything home that you didn't take with you
7. Skip Thanksgiving altogether
It might sound rough, but there's no harm in saying no this year: no to hosting, no to attending. Crowded airports and flights increase transmission risk to you and your family. Better safe than sorry, if safety is an issue in your plans.
8. Send COVID-19 updates to your community
Social distancing guidelines are different in every state and county. Sometimes, conditions worsen or improve overnight.
Use the CDC COVID-19 Data Tracker to provide accurate data for your residents, and send email updates via Yardi Breeze to help them stay informed.
Provide the latest infection rates and government policies
Ask sick individuals to self-quarantine so you can keep the rest of your community safe
Suggest grocery delivery options in your area (e.g., Instacart) to reduce spread of the disease
Be available to answer questions and adapt with your team as the situation evolves
Disclaimer
The tips in this article are meant to reduce the risk of COVID-19 transmission. However, nothing, including proper use of masks and social distancing, can eliminate the chance of getting sick. We hope this article helps you think about the ways you and your residents can stay safe this Thanksgiving.