The holidays are upon us—already. Who knows what happened to the time between July and today, but here we are! It's the holiday season, and your residents are expecting community festivities to lift their spirits
Need of a few holiday event ideas? We've got you covered. Keep reading below or check out our festive and affordable holiday decorating tips.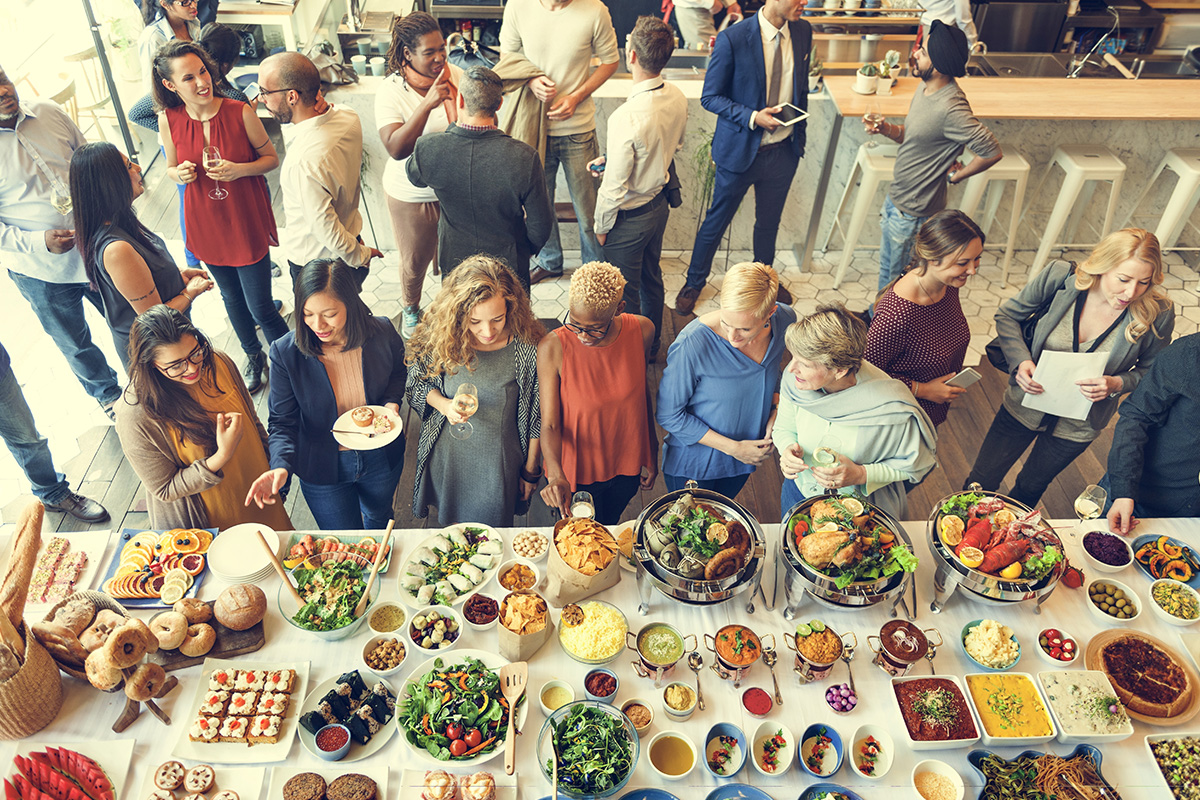 1. Potluck
Shared meals are a terrific way to build a sense of community at your properties. The potluck invites tenants to prepare and share a dish. Their stories, laughter and support often tag along as well.
Consider these tips to get your potluck off to a great start:
Request RSVPs through a tool like Evite to gauge participation.
To minimize duplicates, make a way for guests to list the item they will bring.
Set the foundation for the meal by providing a ham, turkey or other holiday entree.
Encourage participants to bring a card listing food ingredients, especially potential allergens.
2. Fashion show & competition
We're never too old to play dress up! Host a costume party or ugly sweater contest for your tenants. Let residents strut their stuff on a runway as they vie for fun prizes and bragging rights.
Residents will certainly take pictures. Why not add a picture frame prop to the mix? Place your community's name and most popular social media handle on the prop. You'll get a bit of free marketing when residents put their pictures on social media.
3. Holiday decorating contest
Let the Griswold holiday spirit add sparkle and fun to your property! A community decorating contest will bring out the creativity of your tenants. Turn doors and balconies into canvases that showcase the holiday spirit.
Post judging criteria online along with the contest rules so that residents know how they will be scored. Include criteria such as creativity, craftsmanship, interactive quality and attention to theme. Want to make sure your tenants get the message? Send an email through your tenant portal.
4. Gift exchange
They say it's better to give than to receive. With a holiday gift exchange, tenants get to do both! Establish a price range for gifts along with any other guidelines for participants. Then watch the spirit of giving fill the property.
Rather than just meeting and exchanging the gifts, create an opportunity for residents to mingle. Host an exchange party with holiday-themed drinks and snacks. A few icebreakers may help bring people out of their shells before exchanging gifts with their fellow renters.
5. Holiday film party
Film viewing parties are an inexpensive way to bring residents together. Provide a few snacks and the entertainment takes care of itself.
Come up with a theme, such as "best dys-fun-ctional families," "worst romantic comedies," "international films" or "holiday blasts from the past."
Market, market, market!
Market your events to boost participation! Create posts for social media and your blog, if you have one. When the events take place, snap plenty of photos to share on those platforms as well. These events are great opportunities to show prospects how fun it is to live in your communities.
By Erica Rascón, The Breezeway guest author