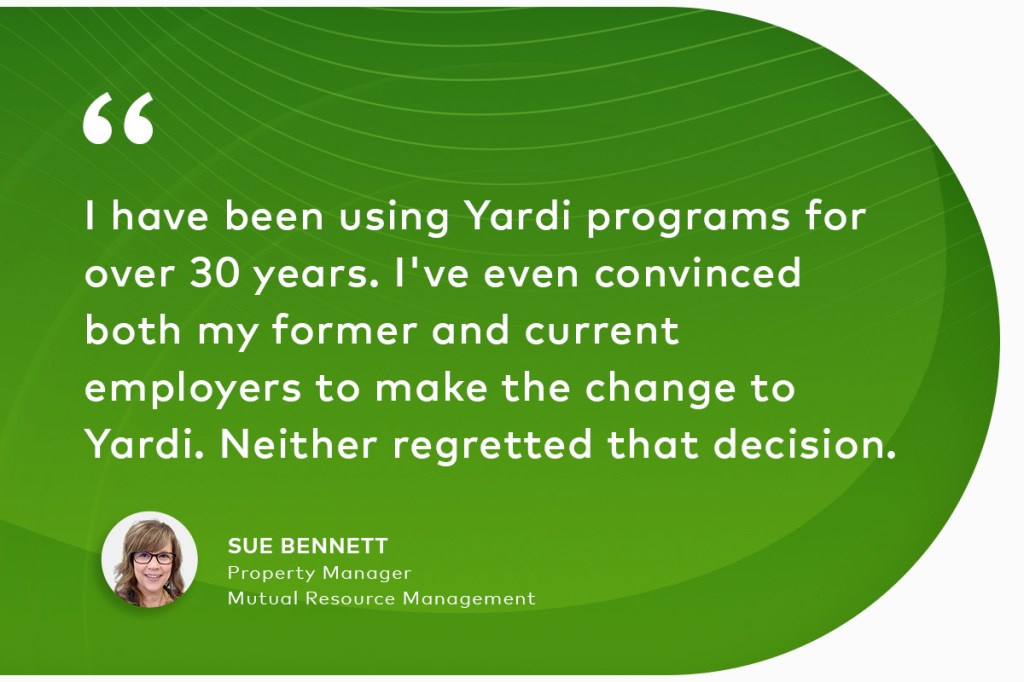 Sue Bennett is a property manager with Mutual Resource Management (MRM), a management company with over 1,000 condos in its portfolio. She's been in the industry for over three decades, and amazingly, she's worked with Yardi products for most of that time. She's seen Yardi mature from its origins to what it is today. The way she describes it, the product her business currently uses, Yardi Breeze Premier, has made her work smoother and more streamlined than ever.
In this interview, Sue sheds some light on why she's stuck with Yardi all these years and why Breeze and Breeze Premier have been such a big help to her team.
Why choose Yardi?
I have been using Yardi programs for over 30 years. I've even convinced both my former and current employers to make the change to Yardi. Neither regretted that decision. Throughout my career, Yardi has been a constant in my life, starting with Yardi Enterprise, then Voyager, Genesis, Breeze and finally Breeze Premier.
Yardi Breeze Premier has everything we need to run our communities with minimal software training, and support is always at our fingertips.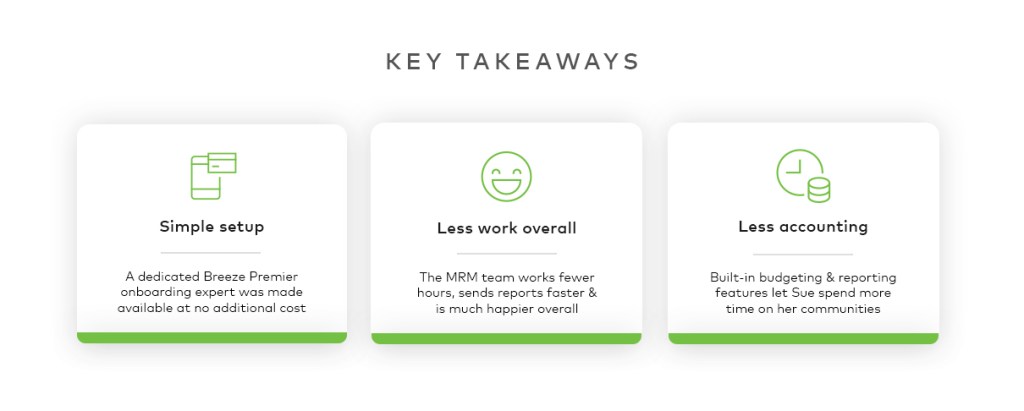 What was the onboarding process like?
Change isn't always easy, but even staff who have never seen Breeze find it easy to embrace. The online Help Center remains a valuable training asset, letting my team find fast answers to most questions. When we need a little more assistance, we get fast, attentive responses via live chat.
What is your primary responsibility today?
My time has been taken up on the accounting side, like budgeting and reporting, for much of my career. Before switching to Breeze, my office used an antiquated program that required triple entries for all bookkeeping. Talk about time-consuming! Now that MRM has upgraded to Breeze Premier, I have more time to focus on the management aspect of my job and spend far less energy crunching numbers.
What would you tell a businesses that's hesitant to switch or worried about the stress of learning new software?
My advice if you're unsure about switching software: embrace change. You won't regret it. There will be hiccups along the way, but Breeze support is always there to help. Live chat is at your fingertips, as is the Help Center. You will never feel like you're alone.
We'd love to show you how Breeze or Breeze Premier can help you easily manage your properties, saving you time and money.