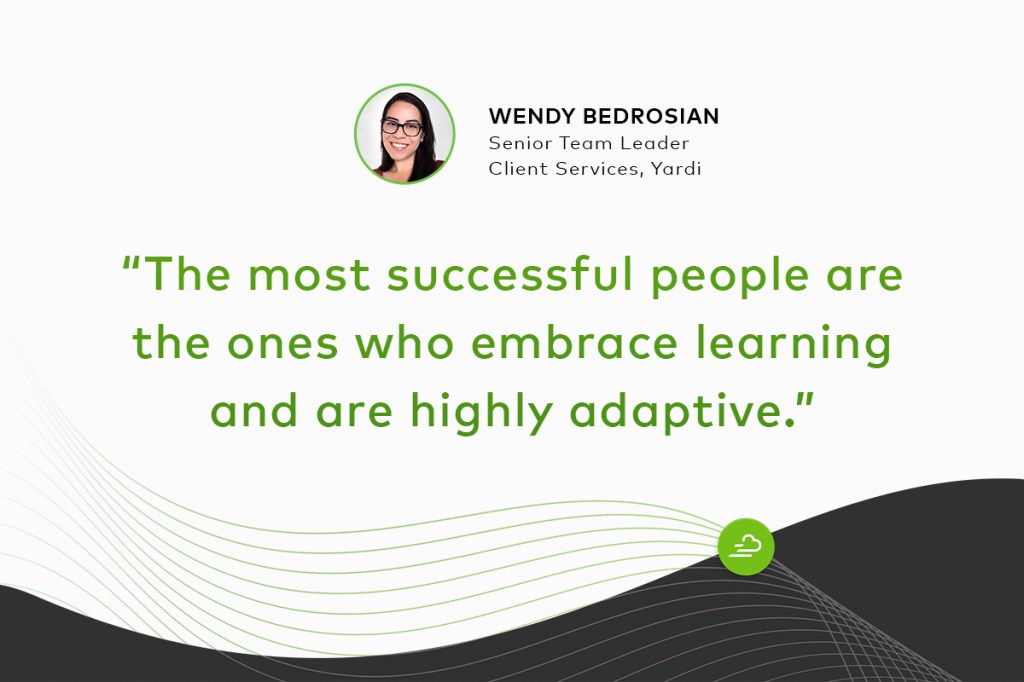 Wendy Bedrosian has been with Yardi for seven years. In that time, she's worn many hats and is currently a senior team lead in the client services department. In fact, she's been in a leadership position at Yardi for four years. She quickly rose up the ranks from associate technical account manager, where she supported Yardi Voyager, Yardi's flagship property management platform for organizations with complex business needs. It's the natural next step for bigger businesses that outgrow Yardi Breeze and Yardi Breeze Premier.
While speaking with Wendy about her fast ascent into leadership, it became obvious that she knows what it takes to stand out and thrive. It's Yardi's positive work culture that helps everyone succeed, she says. She believes opportunities are available at Yardi for anyone who is open to learning and continual growth.
Now it's time to meet Wendy Bedrosian!
What is your role at Yardi?
I'm in charge of three Breeze Premier teams on the West Coast. One team onboards new clients, helping them convert from older products to Breeze Premier. They also help clients upgrade from Breeze to Breeze Premier. A second team handles day-to-day live chat and phone support for clients who've already gone through the whole setup process. The third group is my RentCafe team. They're responsible for implementing our RentCafe offerings such as property websites and lease documents.
What led you to this role?
I didn't see myself in leadership initially. But as it turns out, there are plenty of opportunities to mentor others here. That has turned out to be one of my favorite aspects of my role. We're always hiring new people, which means there are always opportunities to mentor others. I just really embrace that part of the job.
What does it take to be successful in client services?
When you start off, there's so much information being thrown at you. My advice for somebody moving into any team-based role is to be a sponge. I think it's important to be eager to learn and always willing to constantly evolve in your area.
What helps you evolve & develop your craft?
Education is the key to success. Luckily, Yardi is really big on education. That's one of the things I love about working here. The most successful people are the ones who embrace learning and are highly adaptive. This is an ever-changing industry, and things change very quickly.
How does Yardi help in terms of education?
One thing I love about Yardi is we have so many internal resources. But there's always so much to learn. I say that because there's not one person at Yardi who knows everything. We're successful as a team because we all specialize in different programs and products. It's important to be able to play your part and stay on top of your education.
Do educational resources present themselves, or do employees need to take initiative to find them?
Whenever someone is hired at Yardi, our corporate training team does a great job of teaching new employees all about the resources we have available. That includes our online learning platform, Aspire, as well as CRM tools that are always available. So those are examples of resources that present themselves.
Sometimes, clients dictate what you become an expert in. If you have a client who reaches out about financial reporting, you might start getting hit with financial reporting questions from your team. Eventually, you may even become the financial reporting subject matter expert at the company. As long as you're embracing those possibilities and have a good understanding of what you don't know, you'll find opportunities to grow.
What trends are you seeing in the workplace right now?
Most people are looking for stability in a job, opportunities to grow and a healthy work-life balance. We also want to enjoy working with the people on our team. On top of that, people want to be challenged and truly feel their unique abilities are being embraced and utilized. There are a lot of big companies out there, and I think people worry about being looked at as numbers as opposed to individual contributors. No one wants to feel lost in the crowd.
Yardi has a great way of humanizing everybody who works here. Even with 8,000-plus employees, our organization is set up so that you never feel like a number. Within your team, it's going to feel like a very small company. Even though the business is always growing, it feels like a small world. That's definitely a good thing, and it's what allows us to have all the great things we look for in a healthy workplace.
I hear all the time from our new hires that they feel Yardi cares about them. A lot of them have come from larger corporate environments and mainstream, nationally known brands. They will often say that Yardi is such an improvement. The culture here has a well-earned reputation for being great.
Glassdoor Honor: Yardi Named Best Place To Work
What are some ways Yardi embraces individuality?
It can be challenging to identify where someone will excel just from a resume or interview. But sometimes we're able to look at a resume, and based off their experience, we'll see they may be good working on a particular product or team. We take the individual into account to help them find their best role here.
Final question: Where do you see the impact in the work you do?
I really love working with our clients. I think they're wonderful, and I really like that we become partners with them. We're not just a vendor as though we're pushing cable or internet packages. I really feel like we meet our clients halfway. We want them to be successful. It shows in our work. It's satisfying to develop rapport with our clients and know we have their best interests at heart. That's what keeps them using our software, and it's where we can really see the impact we make.
We'd like to thank Wendy Bedrosian for taking the time to share what it means to find great success at Yardi. If you or someone you know is interested in a career at Yardi, check out our current openings and apply online today!