Tanner Buuck has been at Yardi for four years. He's the team lead for the manufactured housing sales team and oversees a group of product experts that work throughout the United States. He also works cross-functionally with different departments, such as development and client services, to inform product development and get new solutions to market. He's the perfect person to talk to for an update on manufactured housing tech as we enter the second half of 2022.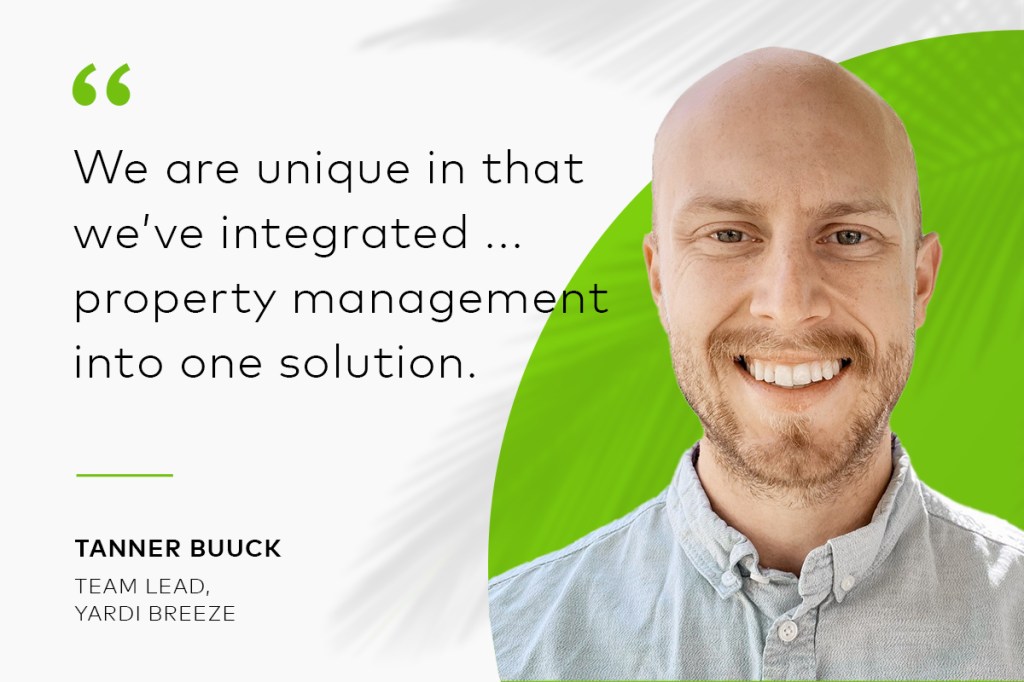 Tanner, what are the main issues we're helping MH operators tackle?
I think one of the key issues we help resolve is around ease of use for the site staff. In our experience talking with clients and prospective clients, it's important to offer a system that's easy for staff to use to do their day-to-day tasks. When we show the program to prospective clients, they really like the dashboard. We also get a lot of positive feedback on the ability to customize Yardi Breeze Premier to access rent roll, delinquency reports, occupancy stats and more from the dashboard.
We are unique in the market in that we've integrated accounts receivable, accounts payable, general ledger and property management into one solution. Many of our clients were using different programs before coming to use, so we help them restructure everything into Breeze Premier.
Any Breeze Premier updates that are exciting in 2022 and beyond?
One upcoming update for our manufactured housing tech is that you will soon be able to tie expenses to individual homes. Right now, you can attach an expense to a property. However, some operators have park-owned homes that they rent out like single family homes. They need to keep track of expenses like refrigerator repairs, carpet replacements, etc.
The other major update planned for fall 2022 is going to be the enterprise option for larger manufactured housing operators. We're going to have our enterprise system Yardi Voyager sync up with Breeze Premier's manufactured housing module. This way, our clients can use advanced Voyager accounting functionality on the back end. On the front end, the site staff can use Breeze Premier for property management and collections.
What other tech trends are popping up that MH operators should know about?
I get a lot of interest in alternative payment solutions. That includes walk-in payment services that allow residents to pay rent at their local convenience store instead of dropping off a check at the property management office. That's an important tech trend that manufactured housing community managers should definitely know about. But we should also continue to help residents pay online or even automate their ACH payments.
Another topic that comes up all the time is utility billing. Community managers want to know how to automate utility billing programs and recover costs. They want to know that they're going to save money, and in fact, they are. Almost every client that we sign on for Breeze Premier needs utility billing. It gives them the ability to look at a single energy dashboard and dive into usage analytics. They can see if there's a leak at a property, where they need to shut off the water, etc. They even get direct analysis from our team about which site is being affected and more. It's a really important component to modern property management. It can help communities meet sustainability goals and improve their bottom line.
Want to learn more about what Breeze Premier has to offer MH operators? Check out the latest features and options.