Peter Zimmons is a controller at GL Rogers and Company, a commercial property management company that specializes in hospitality and retail investment, management and development. The business currently holds nine properties in its portfolio and takes in $2 million in revenue. Needless to say, Peter and his small team have found success in commercial real estate. They're also intent on keeping up with tech that moves them forward. We caught up with him to discuss what it takes to succeed and where technology fits in with his vision of property management. Let's meet Peter Zimmons!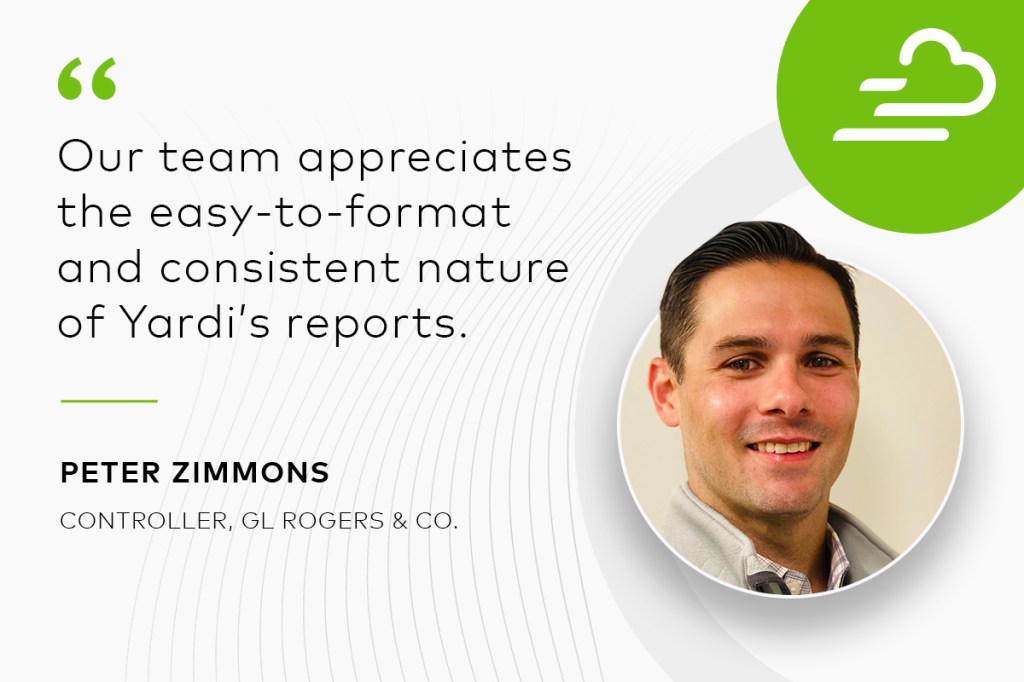 Peter, please tell us a little about yourself. What's your background, and how long have you been in property management?
I've been in real estate for about a dozen years now. I've worked for a handful of companies that managed a variety of different asset classes and have been exposed to multifamily, commercial and mixed-use including ground-up development.
GL Rogers and Company is the management company that I work for now. We're a small team of just five people, and it's a second-generation, family-owned business. Everybody here wears a lot of hats, doing everything from property management to bookkeeping and financing. Right now, we're all getting involved in ground-up development right here in New Hampshire.
What does your portfolio look like?
We primarily manage commercial space that includes medical offices, hotels and some fairly internet-resistant brick-and-mortar retail stores. Ultimately, our combined revenue totals about $2 million a year.
What problem is property management software solving for your business?
We recently expanded geographically, and some of the assets that we manage are about an hour drive from our home office. To be able to tackle the needs of an office building in Portland, Maine, versus a retail center in Nashua, New Hampshire, it's important that we get up-to-date information and have a systematic approach to rent collection, check payments, bills and more.
We also needed to be able to report on activities within our management team. In that way, everybody in our organization has a solid foothold on what's going on within the portfolio at any given time.
Prior to Breeze Premier, what property management tools did you use?
I just started with GL Rogers last year, but my understanding is they were on Yardi Genesis prior to making the migration to Yardi Breeze Premier. At my other companies, I've had exposure to Yardi products such as Voyager.
I've also worked with several other software brands that were all relatively comparable products. My single biggest takeaway from Breeze Premier is the importance of automated reporting. Our team appreciates the easy-to-format and consistent nature of Yardi's reports, and so do our investors and lenders.
Are there any features in Breeze Premier you haven't implemented yet but think will be good for operations?
Right now, we're not only expanding our physical portfolio, but we're also expanding our online capabilities in Breeze Premier. We haven't set up CAM recoveries yet, but it's something that is definitely on our radar. We think that setting them up the right way will help us save a ton of time later on.
We're also building out the maintenance requests because, again, our portfolio has expanded. It was a big move for us to add a field tech, so being able to communicate with him on a consistent basis is immensely important.
What shortcomings did you face with your previous property management software?
With other providers, getting set up and adding new features could be cumbersome. I've been involved with onboarding paperless AP workflows through different payment processing programs. Working with some of them took a considerable amount of effort to set up and implement. That's why condensed, out-of-the-box report packets built into Breeze Premier are great. We can automatically populate reports, so they're at everybody's fingertips and everybody has the right information.
When tenants can initiate their own maintenance work orders, we can focus on capital improvements or longer-term project management. Before, it was four or five of us sitting down in a room talking about priorities. And the thing with writing something down on paper is that five different people are going to come up with five different priorities and five different lists. Breeze Premier lets us populate a dynamic, ever-changing list that we can prioritize by urgency and due date.
Are other commercial property management companies adapting the latest technology at a faster rate, or is the industry lagging behind in any way?
I think where some companies struggle with is where to start, you know? Maybe it's leasing because it's just taking too long to draft documents and get them out to tenants, have the tenants respond, things like that. I think some companies get kind of overwhelmed.
But tech is on everybody's mind. It's the ease of tying everything together in one suite containing all the different bookkeeping functions like AR, AP and GL. I think that the biggest thing with Yardi is that you can do more with tenant correspondence while seamlessly tying together the property management functions.
How do commercial tenants handle change, such as a change from paper checks to online automated payments?
Part of the responsibility of the property management company is to help tenants see the light. We need to get them to adapt and show them the time-saving benefits, especially when there are standard recurring charges for us such as rent, CAM estimates, utility costs and things like that. We want to standardize payments 11 out of 12 months of the year. I say that because there might be one month of CAM reconciliation that is a little different.
We now spend less time having to follow up with regards to missing checks and that kind of thing. Online processes take the guesswork out of instances like that, and we always have a digital paper trail.
What would you tell someone who is on the fence about committing to property management software?
I tell everybody that Yardi is probably the most robust provider of a whole-system solution. I think people have come to know it as the gold standard in property management software. And the fact that some of the additional components like job cost stay under one umbrella — I tell everybody that's why I would choose Yardi if I were starting over from scratch. They have everything you should need to run your company.
What's the roadmap for the future of your business?
At this point, we need to stay flexible, whether we're working remote, in the office or trying out flexible scheduling. Companies in different industries are going to continue to deal with these new issues. I think a lot of people are learning to adapt to circumstances outside of their control, focusing on the core tenets they need to continue to operate. It forces a lot of people into some creative problem solving. It's extremely beneficial to have a tool like Breeze Premier that lets you get 95% of your work done in a consistent digital environment.