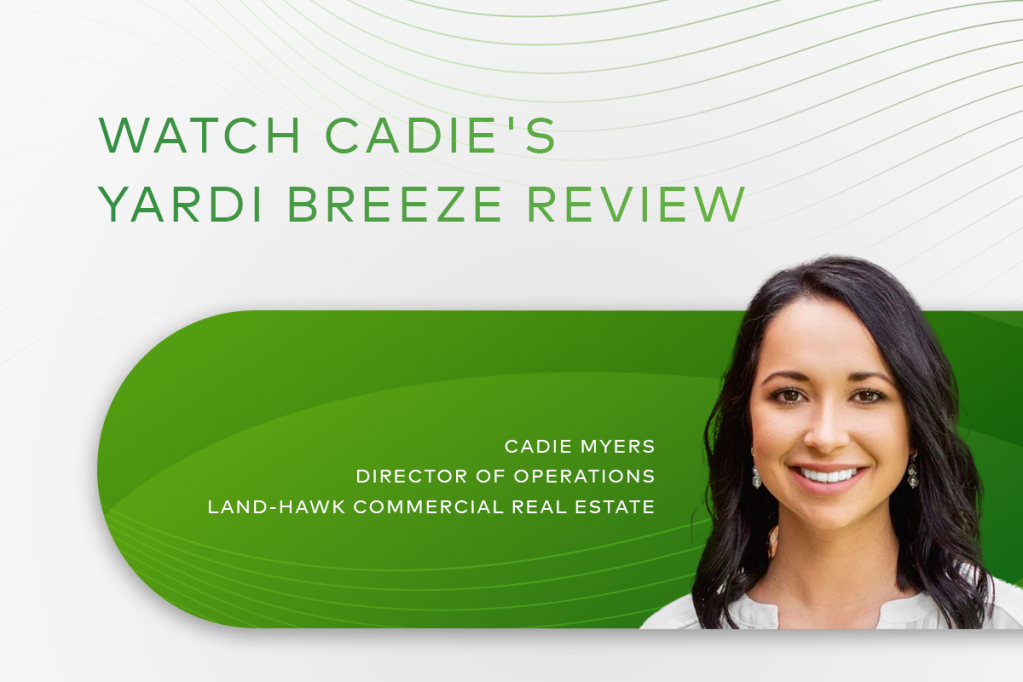 Cadie Myers is the director of operations for Land Hawk Commercial Real Estate. The Land Hawk team manages all aspects of the properties for their owner. We interviewed Cadie in 2020, and most recently, she provided a great Yardi Breeze review. Just click on the video below to watch it now.
If you'd rather read a recap of the interview, the rest of this article summarizes Cadie's Yardi Breeze review.
Cadie Mayers' Yardi Breeze review summary
Before upgrading to Yardi Breeze, Land Hawk used Yardi Genesis, a previous-generation property management software. Cadie was actually the one in her office who discovered Breeze. She showed her boss a demo of the software, and he was impressed enough to implement it.
The user interface is so user friendly. It is just very clear. The chat feature is a huge help. I can ask any question, whether it's how to use the software or a bookkeeping question. There's always someone right there I can chat with, and I don't have to be inconvenienced by a phone call for a quick training session.

Cadie Myers
Built for the whole team
Three people use Breeze at Land Hawk: Cadie, an assistant who uses it for payables and a maintenance worker who logs in to track his work. One of the things Cadie likes about Breeze is that she can see a log of what she's doing as well as what other users are working on. This transparency helps Land Hawk stay organized and efficient.
Here's a quick recap of some of her favorite features:
All payables appear immediately as they come in or go out
Approvals happen in real time
Vendors are easy to find and set up
The entire team can work together
Training opportunities
Every year, Cadie attends REfresh, a virtual Yardi Breeze user conference. She participates in online training throughout the two-day conference, and she loves that she learns something new every year. This year, she learned more about posting management fees. One brief video showed her how to do postings, and after watching, she taught her assistant how to post these fees as well.
Support when she needs it
When Cadie started on Breeze, a representative was with her every step of the way, helping to take her data from Genesis and get it into Breeze. It's been smooth sailing ever since. Every now and then, she emails back and forth with someone on the Breeze team, but for the most part, they use the live chat feature to get answers quickly.
Breeze offers property managers plenty of room to grow
As their portfolio grows, Cadie thinks Breeze will continue to be very helpful. She highlights the available training options and ability to chat with someone who will work with her, even when her questions are complicated and take a little more time to resolve.
On a final note, Cadie has this to say about her experience with Yardi:
"Yardi is a good company. Their customer service is great, everyone's super friendly, and they're involved in nonprofit charity work. I would suggest Yardi to anyone."
If you're interested, here is an example of Yardi's work with nonprofits and charities.
We'd like to thank Cadie Myers for her fantastic Yardi Breeze review. We hope our readers found even more reasons to check out Breeze and Breeze Premier.