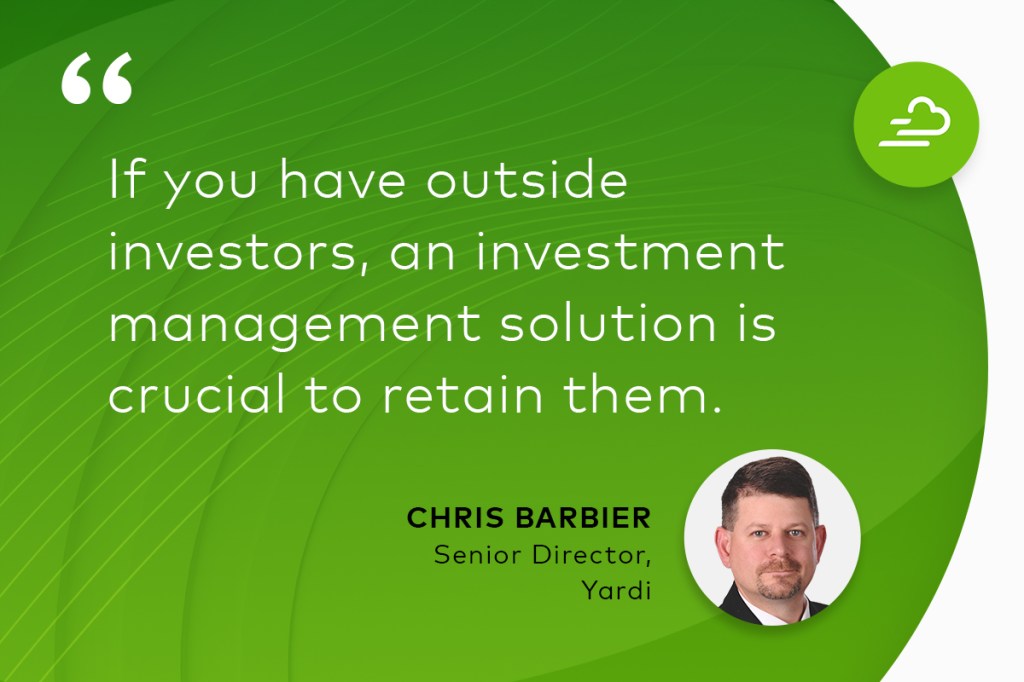 The property management software industry is heating up. There seems to be a new investment management solution in real estate every day. Each claims to help you manage your portfolio and track performance. While many of these solutions are good at what they do, very few let you do everything you need to run your business from a single platform. And only one tool offers a single connected solution of property operations and investment portfolio management.
The article serves two purposes. One, we need to cover the importance of an investment management tool for your business, as well as who would be a good fit for these solutions. Two, it's important to understand the difference between a single connected platform and point solutions integration. They may seem similar at first, but they're nothing alike — and your entire office will feel the difference if you get it wrong.
One investment management platform for all
A single connected platform for investment management software eliminates compatibility issues, concerns about data transfers and time wasted switching between programs. There are dozens, maybe hundreds, of investment management tools on the market today, and many of them may seem similar at first glance.
Yardi's approach is unique compared to every other cloud-based investment management tool in property management and real estate. That's because Yardi Investment Manager is the industry's only connected solution. It exists with Yardi Breeze Premier on the same platform. That level of integration and transparency is a key differentiator for investors.
Got outside investors? You need an investment management tool
It's always hard work for real estate owners to bring in new investors. There's a lot of outreach marketing, fundraising, data sharing, discussions, etc. If all goes well, you get an influx of much-needed capital to put straight to use. But this also means you need a way to track the money, show results in the blink of an eye and keep all your investors happy.
If you have outside investors, an investment management solution is crucial to your ability to retain them, attract new ones and bolster the financial security of your business.
Investment management software serves several roles in your digital business infrastructure. It acts as a portal for communication (for management and investors alike), provides insight into what's happening operationally and gives investors and your team access to tax documents and reports. It essentially tracks all capital activity: what money have investors put in, what money they've gotten out.
The investor portal
Outside money means you're awarded with the tricky task of maintaining good investor relations and ongoing communication. Investors want to know how their money is being used, where the returns are coming from, what your plans are for growth and so on. They also want the ability to monitor all this themselves.
The self-service portal comes is the most important part of any cloud-based investment management suite for investors because it lets them see what they want, when they want, with numbers updated in real time.
Why a connected solution matters
Any investor management platform is better than none at all. But to work as efficiently as possible, without the need to jump between disparate systems, you need a single connected platform that shares the single source of the truth as the rest of your property management software.
A single connected solution offers several benefits over point solutions. On a security level, there's no transfer of sensitive investor information between programs. That also means you're not moving data in and out of a disparate system, spreadsheets or manually manipulating that information to suit your investors' needs. That kind of manual labor is time-consuming, and a lot of organizations just don't have bandwidth to rekey or reupload data into a disparate system(s).
All property, renter and investor information can be published seamlessly, without having to move data around, because Breeze Premier manages your assets and investments. This ability goes all the way down into what's happening with individual assets. It's a lot easier to provide this level of transparency in a single platform. It's not better or worse than a lot of the functionality offered by other systems, it's just more efficient. Additionally, it's much easier to grow and take on more investors without having to hire staff to perform this manual labor.
Investor confidence & a competitive edge
There's a lot of money out there just waiting to be invested in various asset classes. This includes multifamily buildings, manufactured housing communities, self storage facilities, subsidized affordable properties and commercial assets.
There are also a lot of property owners competing for that money, and they need a competitive edge. An integrated investment management platform lets them offer investors a great tool that no one else offers and showcases the investment portfolio with all data kept up in real time. It can also be a way to increase investor confidence. It shows investors they're not just getting their reporting on an email or in the mail but rather gives them 24/7 access to all their data through the investor portal. They don't have to ask or wait for it.
Who should get investment management software?
Any organization with outside investors should have an investment management solution. If you or someone in your organization is interacting with investors, or even just one investor, then you need a tool to help manage that relationship as well as the investment assets.
For reference, there are Breeze Premier clients with only two investors and clients with hundreds, even thousands, of investors. Here's something else cool about Breeze Premier and Investment Manager: adding more investors doesn't cost extra. That's because price scales with the size of your portfolio, so it's the number of units, not the number of investors. In other words, you can manage unlimited users and won't have to pay more unless your portfolio expands.
Who should not get investment management software?
This tool is only necessary for businesses that interact with investors. If you're purely a fee manager, for instance, this tool may not be for you. Wait until you're expanding or building up investors.
Chris Barbier, senior director of sales at Yardi, contributed to this article.